Provincial Grand Master Mark Matthews first visit to Lancaster Group following his investiture in November 2022, was to Runic Lodge No 6019 to witness the initiation of Peter Smith.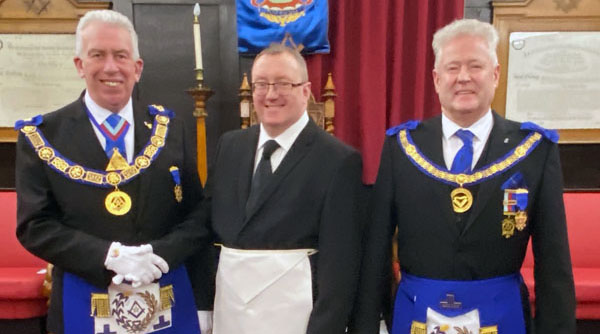 Mark was accompanied by Assistant Provincial Grand Master Peter Schofield and acting Provincial grand officers, Dave Boyce Assistant to the Provincial Grand Director of Ceremonies, Sylvester During Provincial Junior Grand Warden, Dave Shaw, Provincial Junior Grand Deacon, Tim Gill Provincial Grand Standard Bearer and Mark Little Provincial Grand Steward. Lancaster Group Chairman Neil McGill and vice chairman Scott Devine were also in attendance.
Mark Matthews was offered the gavel of the lodge by WM Chris Larder, who is also Lancaster Group Secretary. This was swiftly returned to Chris! The initiation ceremony was seamlessly conducted by the WM and his wardens Sam Hodgson and Terry Nealons.
The candidate Richard Smith on being admitted to the lodge was guided through the ceremony by the junior deacon Stuart Bateson on completion of which, Peter was invited to restore himself to his personal comforts. On re-entering the lodge Peter was presented with his entered apprentice apron by the senior warden Sam Hodgson. On closing the lodge, the brethren retired for the festive board.
Peter Smith is 46 years old and is married to Julie. He has three stepsons at various ages Peter was born in Morecambe and is a "sandgrown'un". He is employed as a nurse in the Urology Department at Royal Lancaster Infirmary.

Peter is the chairman of the Morecambe and Heysham Model Railway Club and is currently building his own model railway at home. When not involved with model railways Peter enjoys camping with my wife.
Peter has had an interest in Freemasonry from a young age. He was invited to a gentlemen to dine evening by his friend director of ceremonies David Tattersall who later became his sponsor. Peter is looking forward to progressing up the ladder in Runic Lodge.