The February 2023 meeting of Prospect Lodge No 7880 was a very special meeting, it was to celebrate the 50 years of Masonic service that Ken Ingham had achieved and the lodge was full of brethren wanting to help Ken celebrate his 50 years as a Freemason.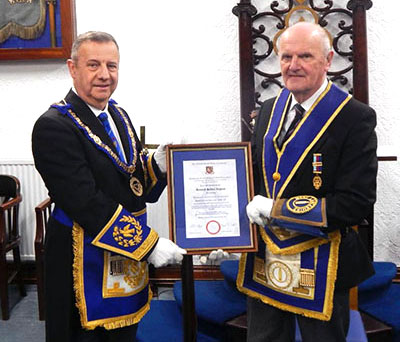 Prospect Lodge WM Terry Cunningham welcomed Assistant Provincial Grand Master Peter Lockett and Chorley and Leyland Group Chairman Peter Allen to join in the celebrations. The WM then offered Peter Lockett the gavel of the lodge which Peter accepted and took the chair to lead everyone through Ken's Masonic career thus far, as well as some of his life away from Freemasonry.
Members and their guests learnt that Ken had been a chorister at Worcester Cathedral, attending Kings School, Worcester as a border. The culmination of his career as a chorister was to sing a part especially written for the cathedral choir, an oratorio 'Hodie', composed and conducted by the English composer Ralph Vaughan Williams. This love of music has remained with him ever since and he enjoys listening to orchestral, sacred and organ music to this day.
Ken joined the Lancashire Police constabulary as a 19-year-old, serving at Leigh, Bamber Bridge and Chorley on operation roles. He was seconded to Bruche as an instructor and at the Home Office Central Planning Unit at Harrogate. Whilst Ken was at Harrogate, he heard of a post for training in the Royal Hong Kong Police. He retired in 1985 and moved with his wife to Hong Kong and spent six years there.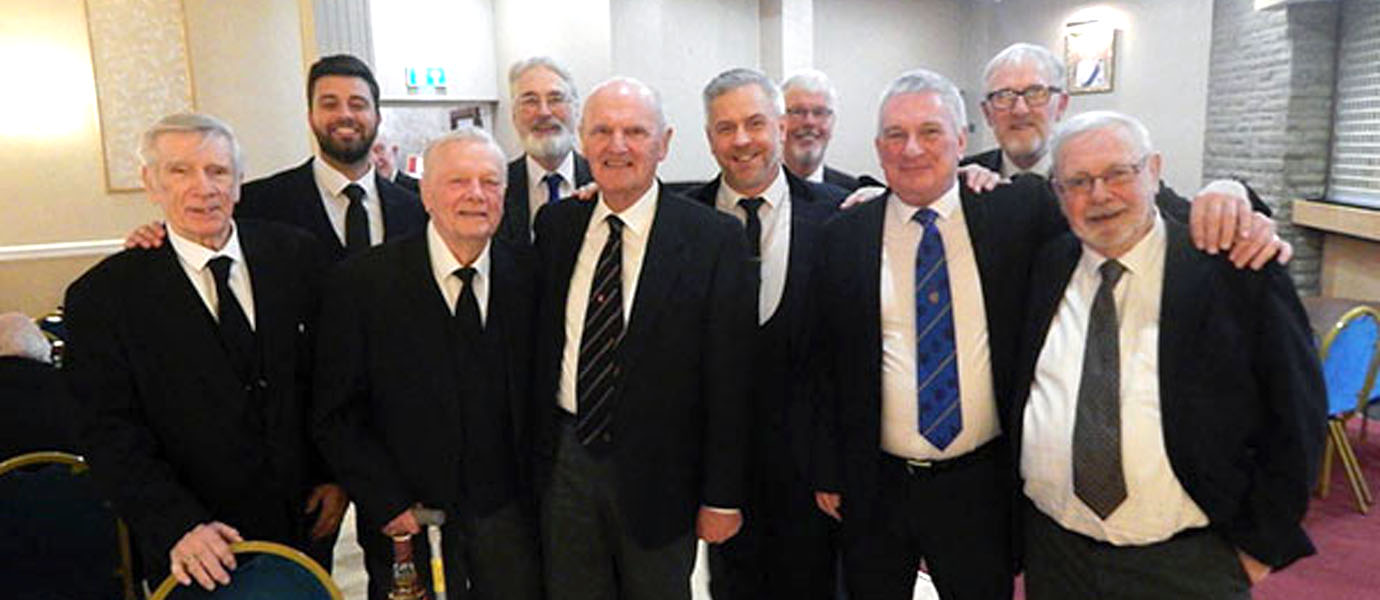 Ken's Masonic life has been no less colourful. He was proposed into Prospect Lodge and initiated on 23 January 1973. He became a joining member of the Royal Sussex Lodge No 501 in the Province of Hong Kong and Far East. Having progressed through the floor offices, Ken was installed as master on 26 October 1980, serving as master again in 2017 to 2018. He was honoured by the Province in 1990, when he was appointed Past Provincial Junior Grand Deacon. Promotion to Past Provincial Junior Grand Warden followed in 2000.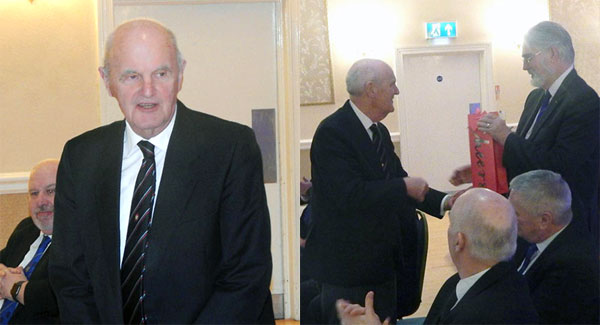 Ken was exalted into the Royal Arch whilst in Hong Kong, becoming a member of the Royal Sussex Chapter No 501. He later became a joining member of the Earl of Lathom Chapter No 730 in West Lancashire. He served as first principal in 2010 to 2011. He held the office of director of ceremonies between 2014 and 2020 and also that of assistant director of ceremonies between 2021 and 2022. He received a first Provincial appointment to the rank of Past Provincial Grand Standard Bearer and was promoted to Past Provincial Grand Sojourner and later a further promotion followed to the rank of Past Provincial Grand Sword Bearer.
The festive board was a joyous occasion. Steve Williams, who had been the busiest person at the lodge acting as secretary and director of ceremonies on the night, proposed the toast to Ken, saying that the celebration of a brother's 50-year anniversary of his initiation is a very special occasion that not many are lucky enough to attain. He told the diners that Ken is Prospect's elder statesman, their go-to brother and provider of wise counsel.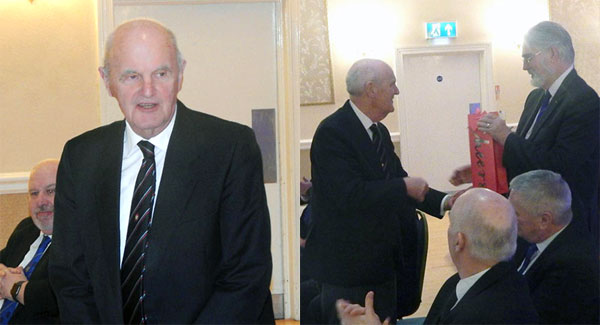 Steve went on to say that if a member needed help, all he needs to do is ask Ken. He is always prepared to stand in with ritual. He is the Prospect Lodge anchor and defender of the Prospect Lodge ritual. A quiet word keeps everyone on the straight and narrow. Steve finished by saying that the members of Prospect Lodge are honoured and privileged to have him as one of them and thanked him for 50 years of dedicated service.
Members and their guests enjoyed each other's company and reminisced over the last 50 years and Ken's contribution to them. The WM Terry Cunningham finished off the evening by presenting Ken with an engraved pocket watch as a memento of the evening and some flowers for his wife.
It was a wonderful celebration of 50 years of dedicated service to Prospect Lodge in particular and Freemasonry in general.