Garston Masonic Hall was the venue for the 2022 installation by proclamation of Raymond Carl Sephton as WM for Lodge of Israel No 1502. In order hold this meeting a dispensation had to be approved because Ray Sephton had been the WM since 2019 due to COVID.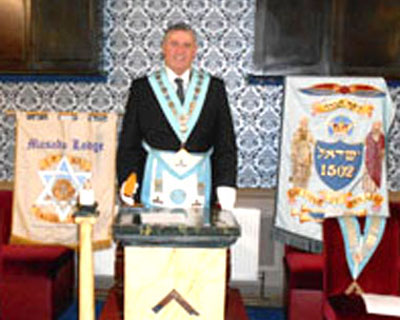 Ray opened the lodge in due form completed the domestic business and then proceeded to open the lodge in the second and third degrees. The director of ceremonies Barry Elman then announced the admission of Assistant Provincial Grand Master Andrew Whittle, the representative of the Deputy Provincial Grand Master in Charge Philip Gunning, with other distinguished guests.
For this short ceremony, Ian Niven stood and proclaimed Raymond Sephton as the WM for the ensuing year and the brethren stood and gave a curt bow and Steve Kayne carried out the address to the WM.
The WM then explained to Andrew that there would be three cheques to be issued which required the necessary signatories; one cheque would be for £450 for the Lark Lane Community Association, which help to support handicapped children as well as other functions to give support to the local community. The second cheque would be for £450 to the Merseyside Jewish Community Care, to support several activities including luncheon clubs for senior citizens. The third cheque would be a £100 donation for the upkeep of Garston Masonic Hall.
Following the completion of lodge business, the lodge was closed and the brethren retired from the lodge for a reception to which Andrew congratulated the WM and then proceeded to the festive board. During Andy's response to the toast, he mentioned in detail how well the recruitment was going and how we now retained new members he also mentioned about the installation of Mark Mathews as the Provincial Grand Master at Blackpool on Wednesday 30 November and encouraged brethren to attend this important ceremony.