As the latest storm 'Barra' headed towards Barrow and the market town of Ulverston, it failed to deter the brethren and visitors to the proclamation of Tom Irving as he took the office of the master of Lodge of Furness No 995 for a third occasion.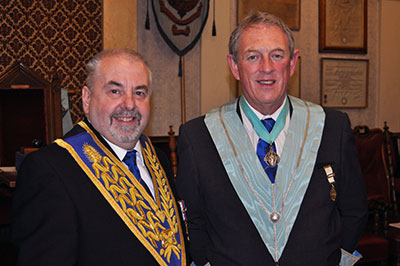 Christopher Butterfield was the representative of the Provincial Grand Master Tony Harrison for the occasion and stated that he was pleased to be back in the lodge room of this old and distinguished lodge – especially on an evening of such inclement weather!
Consecrated in August 1864, the lodge can trace its history back to the Lodge of Fortitude No 281, whose members helped establish the Masonic Hall in Theatre Street, Ulverston so that Masons who had moved into the area could gather together and hold their own ceremonies.
Having dealt with the business of the lodge meeting, Tom Irving warmly welcomed Chris Butterfield, supported by his fellow grand officers Rowly Saunders, Alan Jones and Barry Fitzgerald, along with the Furness and South Lakeland Group Chairman Gary Rogerson and his vice-chairman Alan Pattinson. Acting officers Joe Crabtree, Alan Tomlinson and Gordon Evans helped make the meeting even more special.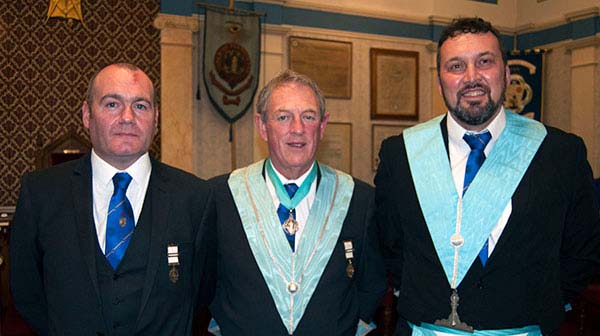 Rowly Saunders responded to the salutations to the grand officers, followed by Brian Fallows who responded to those to the Provincial officers. They were quickly followed by the presentation and explanation of the working tools in the three degrees. Gary Grieve, Andrew Brew and Tony Nevinson delivered their explanations with confidence and a clear understanding. Being light blues and performing in front of 56 brethren and visitors, Gary and Andrew should look back on their involvement with satisfaction.
The addresses to the junior warden, junior deacon and inner guard were delivered perfectly by Russ Greenhow, David Helm and Richard Wilcock respectively. The wardens were addressed in a dignified manner by Barry Crossley, whilst the address to the lodge by Chris Butterfield was clear, fluent and heartfelt.
By contributing £15,600 to the Masonic Charitable Foundation 2021 Festival, which gained the lodge their certificate for Grand Patronage, the certificate was presented during the ceremony by the group charity steward Phil Renney, Tom also handed over a £300 cheque to Chris Butterfield for the West Lancashire Freemasons' Charity.
The formal part of the evening being over, the lodge retired upstairs for a wonderful festive board. Before the tyler could end the evening with his toast, it was announced that the charitable giving of the lodge ended on another high note, with the raffle contributing £295 to the up-keep of the Masonic Hall on Kings Road.