Well, the merry month of May got off to a good start.
On the first of the month, I was off to Southport early in the morning accompanied by brethren from Morecambe. We were travelling to the Floral Hall Convention Centre for the annual meeting of the Mark Province of West Lancashire. A very well supported meeting under the direction of Keith Beardmore. There were members from all parts of West Lancashire and many distinguished guests who had travelled from other Provinces far and wide.  It was good to have a very relaxing day amongst new and old friends.
On the next day I went to Blackpool to present a minibus to the 5th Blackpool Scout Group. This wonderful vehicle had been purchased by the WLFC and I was accompanied by Derek Parkinson, Mark Matthews and Steve Kayne plus many other brethren and a large number of Scouts. A lovely sunny day for this open-air presentation as we were joined by the Deputy Lieutenant of Lancashire. The local press attended to take the necessary photos for publication in the Blackpool Gazette.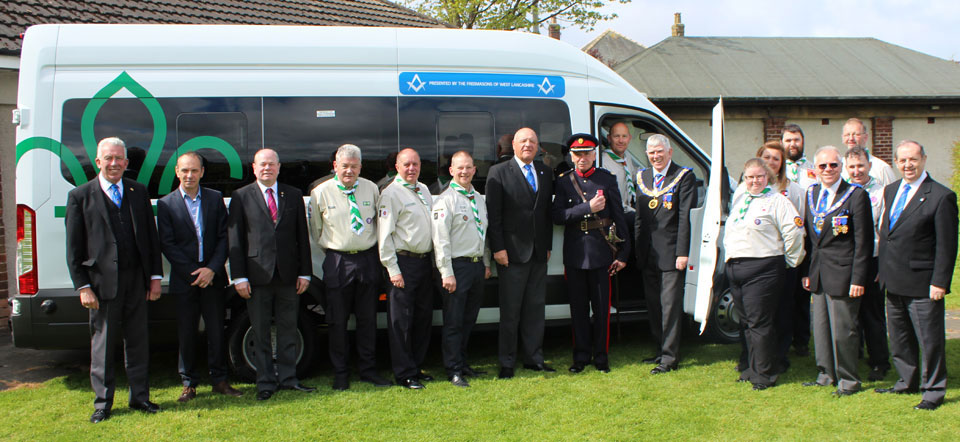 A nice relaxing weekend followed with an opportunity to have a nice stroll along the promenade to Heysham and the village.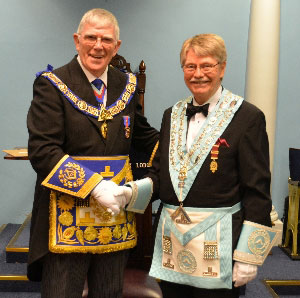 On 7 May I was off to Ridgmont House, Horwich, for the installation meeting of Lever Park Lodge No 8144. I was accompanied by Stewart Seddon, Peter Lockett and Malcolm Bell together with many other grand and Provincial grand officers for this excellent ceremony at which we saw Russel Butler install his successor Clive Butterworth. Well done to all who took part. I was most pleased to have witnessed this ceremony and to receive a cheque for the 2021 Festival. We then retired and went to enjoy a delicious dinner in the company of some 65 brethren. A most enjoyable evening.
9 May was sadly a day of mourning, for today was the funeral of David Walmsley APrGM who sadly passed away. The church at St Marks at Worsley, was just large enough to accommodate the many mourners who had journeyed from all parts of our Province to say farewell to a well-loved gentleman.
On the Saturday morning, I travelled to Park Hall at Charnock Richard for the annual Knights Templar Order meeting. This was presided over by David Gallear the Provincial Prior of this Order. The meeting was extremely well attended with brethren from this and many other Provinces. This was a new venue for the meeting, and it was well received by all attending.
That evening, Maureen and I went to Saul Street in Preston for the Annual Group Ball. This was extremely well attended. It was nice to meet with many of the brethren and their ladies on this very special occasion. Much money was raised on a spectacular raffle in aid of the 2021 Festival.
On the Monday of the following week, I had a very early start today for I was off to London on the early train for a meeting of the Improvement Development Group (IDG) at Great Queen Street. This was a meeting of several PrGMs from other areas of UGLE with the Assistant Grand Master Sir David Wootton to discuss various matters for improving our Freemasonry. A long but most interesting and informative meeting.
15 May. That morning Maureen and I travelled to Leyland. We first went to our new Provincial office in Golden Hill Lane for coffee and a meeting with Peter Taylor. Then we were off to Wellington Park for the last Masonic meeting to be held in the building. It was the 37th National Annual Conference of the Masonic Fellowship which this year was being hosted by the Leyland Fellowship. There were some 90 delegates attending and we had a most delicious luncheon followed by the business of the conference. A great, very enjoyable but somewhat sad day for us all.
The following day was yet another beautiful spring day and I was off to Carlisle that morning. I was picked up at the Lancaster M6 junction by Peter Taylor, accompanied by Malcolm Bell and Neil Lathom and then we were off, arriving at the Sands Centre in Carlisle just after lunch. We were attending the Annual Royal Arch Convocation for the Province of Cumberland and Westmorland.
The meeting was presided over by their Grand Superintendent Bill Bewley and attended by many companions of the Province and many distinguished guests. Following the meeting we travelled to the Shepherds Inn for the banquet which was excellent. The festivities finished at 8pm and it was then back off down the M6 reflecting on an excellent meeting.
On the Saturday, I travelled to Preston for the Annual Divisional Meeting of the Red Cross of Constantine Order. The Intendant-General Stephen Bolton presided of the meeting which was well attended by brethren from the north and east of Lancashire and many very distinguished guests from other divisions. It really was an excellent meeting followed by a most enjoyable luncheon.
I then travelled back home for a quick change and then Maureen and I were off to Blackpool and to Adelaide Street Masonic Hall for a presentation evening.  You will all remember the Show ` A Night with the Stars` which was held at Blackpool Winter Gardens on Saturday 6 April.  Well, a substantial amount of money was raised for the MCF 2021 Festival.  £20,000 was presented to me this evening by those brethren who had been so involved in the organising and production of that show. My most grateful thanks to all who were involved in any way with that evening. It was a great night out.
On Monday 20 May, I had the opportunity to catch up on some paperwork in the morning and then late afternoon I travelled to Westhoughton Masonic Hall for the presentation of the `Keystone Connection` which was presented by Paul Renton, Deputy Grand Superintendent and Keith Beardmore PrGM of the Mark Degree.  The meeting was attended by some 70 brethren from around the Province and we firstly enjoyed a buffet which was followed by the presentation. This went into great detail about both the Royal Arch and the Mark degree. It was intended for the Craft brethren who had not yet taken a further step in their Masonic career.
The following day I travelled by train to Manchester for a joint dinner of 'East and West Brethren' at Bridge Street in Manchester. A most delightful occasion in the company of many new and old friends.
On 22 May I travelled to Blackburn for the annual East Lancashire Provincial Grand Lodge of Mark Master Masons which was held at King George's Hall. A most enjoyable meeting presided over by the PrGM Alexander McClaren and followed by an excellent dinner. The meeting was well attended by members of East Lancashire and many distinguished guests from other province.
After a leisurely morning on the Friday, I travelled to Bryn that afternoon, in the company of Phil Gunning and Keith Kemp. It was for the second annual 'Recipients Dinner', for those brethren and companions who had received grand rank appointment in the Craft and Royal Arch in April this year. It was a terrific occasion with the recipients and their guests enjoying a delicious banquet in honour of their appointment to or promotion in grand rank. The celebration banquet was very well attended, and I thank all those attending for their support and trust that they enjoyed the occasion as much as I did.
On the Sunday, Maureen and I were joined by Keith and Beryl Kemp as we travelled to Barrow-in-Furness. We were met on arrival by Peter Schofield Furness and South Lakes Group Chairman, Rowley Saunders and brethren from the local 'light blues' Cavendish Club. We were there to watch the Barrow Raiders versus Rochdale Hornets rugby game. We had a great afternoon of entertainment. Barrow won 54-10, a wonderful result and a fantastic occasion in the company of our fellow Masons.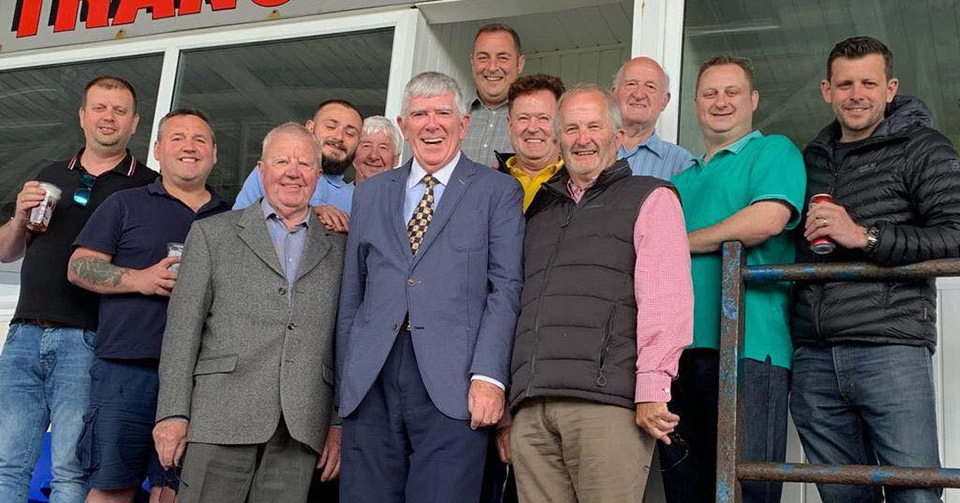 Thursday 30 May saw me spending the morning catching up on some paperwork before travelling to the new Provincial office in Leyland to meet with Peter Taylor who had just returned from holiday. There was much to discuss and to catch up on.
I then made my way to Preston where Setantia Lodge of Installed Masters No 7755were hosting a presentation of this current year's Prestonian Lecture, entitled 'Freemasonry and the Great War'. The presenter, Michael Karn, gave a wonderful delivery which was very much appreciated by over 100 Preston Group members and their guests. We all learnt a lot about Freemasonry that evening, before retiring for a most enjoyable dinner and short speeches which brought an end to a perfect meeting.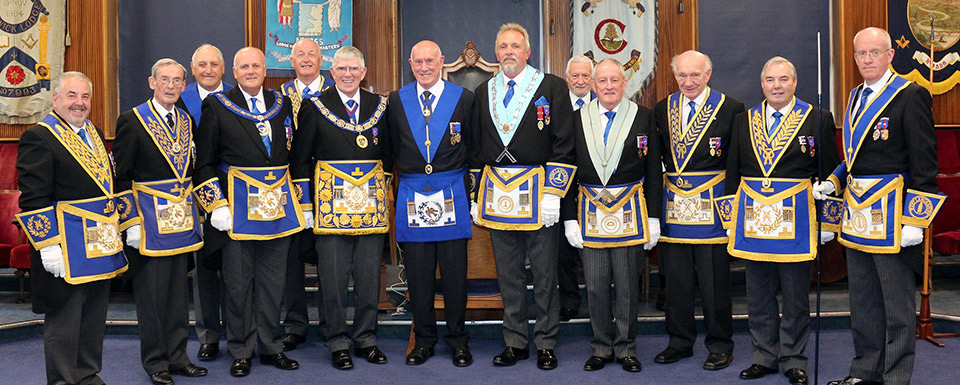 On the final day of the month I was at our Leyland office again in the morning, for a meeting with the PrGM`s from our adjoining Provinces. We get together twice a year to discuss many items of importance. A very productive meeting indeed and an opportunity to show our splendid new offices off to our neighbours.
This brought my very busy month of May to an end and I now look forward to June and an enjoyable summer with some better weather.  May I wish you and all your families a happy and enjoyable summer break and trust that our weather is kind to us all.
Tony Harrison
Provincial Grand Master