Well the month has come in like a lion with more bad weather than we deserve, so no walking the promenade this weekend. On March 2, after a morning of paperwork I drove to Chorley, Cunliffe Street, this afternoon for the installation meeting of Farrington Lodge No 7277. Roy Turner conducted the ceremony and installed Neil Harvey in an excellent manner as did all taking part. Roy presented cheques to many charities including the MCF. The ceremony was witnessed by some 70 brethren including many guests after which we all enjoyed the festive board which concluded with the usual speeches.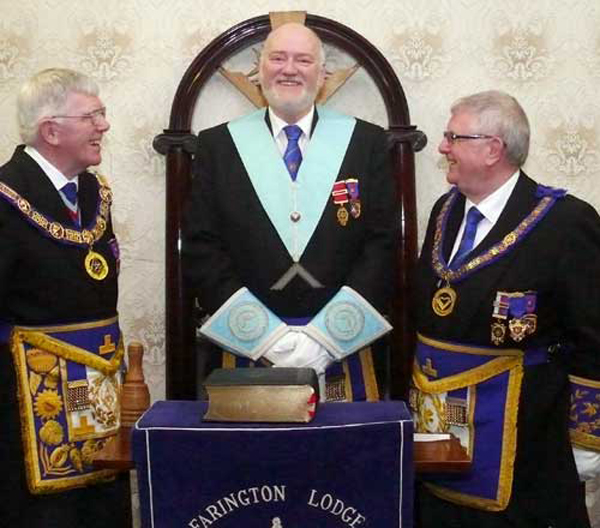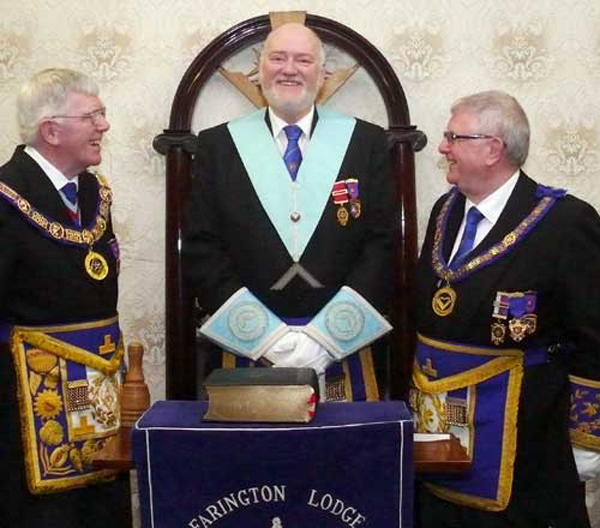 The following morning it was back to Chorley for the installation meeting of another Order, which met at Cunliffe Street. The meeting was very well attended, and Ian Clarke was installed as the master and then he conducted the ceremony for two brethren joining the Order.  I was unable to attend the luncheon that followed as I then travelled on to Liverpool, Hope Street for the installation meeting of Jacques de Molay, Knights Templar, and we witnessed Phil Gunning installing his successor Ed Warner in and excellent ceremony. We then enjoyed a delicious banquet, wine and speeches before having to return home after a most enjoyable day.
March 4 saw an early start as I drove to the office in Leyland for the Group Chairman`s meeting. All chairmen attended the meeting and it all went well.
On the afternoon of March 5, I met with Phil Gunning and many other brethren from the Province and attended the funeral service for Jack Forsyth. A well-known and very popular Freemason and a gentleman who passed to the Grand Lodge above a few days ago. Being very involved with his Masonry in many Orders including being a Past Prior of Lancashire in the Knight Templars, there were brethren from all across the Province paying their last respects to Jack. St. Wilfred`s Church at Grappenhall was full of family, friends and past colleagues. He will be sadly missed.
From Grappenhall I drove to Litherland Masonic Hall for the installation meeting of Bootle Pilgrim Lodge No1473. There, along with Frank Umbers, Graham Chambers, Malcolm Bell the Provincial DC, together with other grand and Provincial grand officers, we witnessed Russell Skidmore install Keith Rushton in a most sincere ceremony. I was presented with a most generous cheque for the 2021 Festival and then we enjoyed a delightful banquet followed by the usual speeches before having to depart for home. Would you believe the M58 was closed for road repairs and I had to travel home on the A59 via Preston?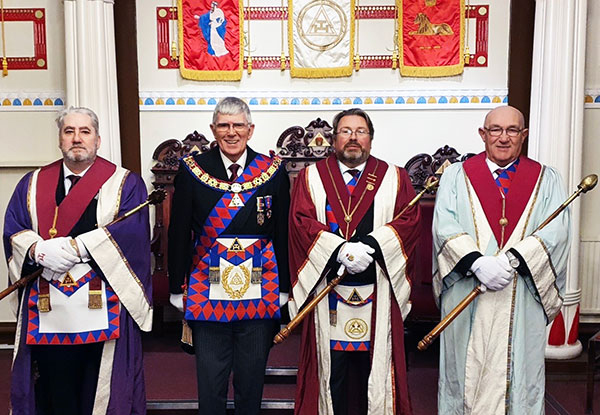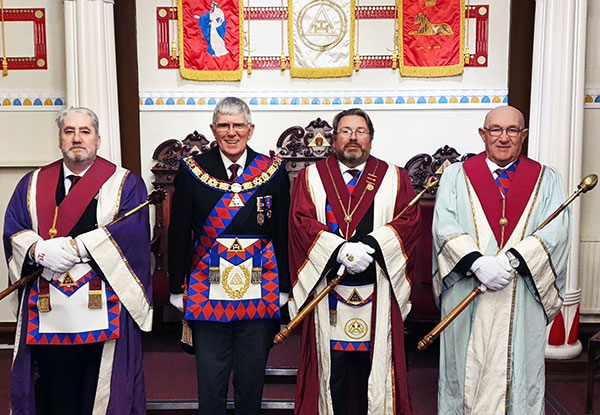 On March 7, having enjoyed a walk in the sunshine along the promenade this morning, Maureen and I travelled to Westhoughton in the evening for the gala dinner in aid of the 2021 Festival. The event was very well supported by brethren and their ladies from within the group and we all enjoyed a most delicious dinner in the company of many friends and the executive of the Masonic hall. A raffle was held and raised a wonderful amount for the MCF Festival. Thank you to all who attended this excellent event.
In the evening of March 9, I attended Garnett Allied Council at Lancaster. It is quite a while since I have had the opportunity to attend my Allied meeting and it was good to meet up with many colleagues who I had not seen for quite some time. An excellent ceremony and an enjoyable festive board.
After lunch on March 11 I travelled to Southport Masonic Hall for the centenary meeting of Southport Lodge No 4034. I was accompanied by Phil Gunning, Frank Umbers, Peter Taylor, Godfrey Hirst the Provincial Grand Chaplain, Colin Jenkins, the Senior and Junior Provincial Grand Wardens and the DC Malcolm Bell together with many grand and Provincial grand officers who came along to witness this centenary meeting. I was delighted to have presided over this meeting and to witness the oration delivered by Rev Godfrey Hirst. Following the ceremony, we enjoyed pre-dinner drinks and we were then treated to an excellent banquet before having to return home.
On March 12, after a morning of catching up, I travelled to Liverpool Hope Street this afternoon to attend the installation convocation of the Chapter of Liverpool No 292. George Christie installed Tim Burgess as first principal and then George took the office of second principal. whilst Brian Jackson remained as third principal. We all enjoyed a most delightful ceremony and I was able to show my appreciation for the work that Tim Burgess was giving to the Royal Arch as our Provincial Grand Scribe Nehemiah of West Lancashire. A great evening concluded with an excellent meal here at Hope Street.
Well brethren and companions that is about it for my visits to Masonic meetings, as today Friday 13 March 2020, Freemasonry has had to close down due to this terrible situation of the coronavirus. It is sad that we now have this unprecedented situation hanging over us all, for who knows how long. But I do hope that you and all your families stay safe and well and that it will not be too long before we can once again gather in peace, love and harmony to enjoy our Freemasonry.
May God bless you all,