Greetings to you and all your loved ones. On behalf of Maureen and I may I extend to you all our very best wishes and hope you all stay healthy.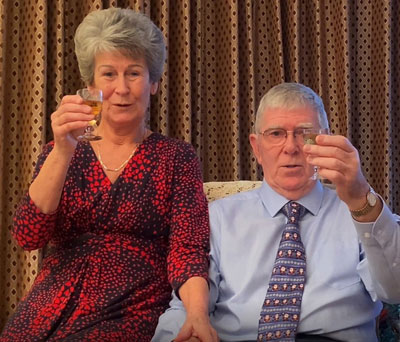 Last year, 2020, is without doubt best forgotten, but we should take a moment to remember our departed friends and colleagues. Sadly, there have been many, and our thoughts and prayers are offered to all who mourn the loss of a loved one.
The weather in January was not too bad despite some rain, cold winds and in some areas a covering of snow. There have been a number of days when Maureen and I decided not to venture out for a walk, but on the good days we enjoyed the fresh air and fun that is derived from a walk on Morecambe promenade. Apart from the magnificent views of the Lakeland hills, many days covered in snow, the fresh air is a great boost to our wellbeing and lifts our spirits in the knowledge that we are not cooped up indoors but heading for the light at the end of this very long and dark tunnel we are currently passing through.
I am certainly missing my Masonic meetings as I am sure you are. However, there are several Zoom meetings each day. What would we do without this technology? The Zoom meetings have certainly been a life saver for many. They have allowed us all to keep in touch and to enable us to carry out some of our important duties. I am delighted that there are so many of our brethren taking advantage of the Provincial weekly Zoom meetings every Tuesday afternoon and alternate Tuesday evenings. We have enjoyed many very interesting presentations allowing questions and answers on a vast range of Masonic topics and items of interest. Why not join us 3pm every Tuesday?
The lodge get together Zoom meetings held regularly among a large number of lodges enables brethren to keep in touch with each other. If you are not already doing this, think about commencing such meetings and talk with members of your lodge to set a Zoom meeting up. It is very easy brethren, even I can do it.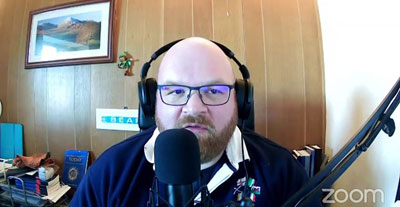 January saw letters of appointment dropping through the letter boxes of many brethren around the Province, and may I extend my personal congratulations to all who have received such a letter of appointment to Acting Provincial Grand Rank, first appointment or promotion in Provincial Grand Rank. Provincial Grand Lodge was scheduled to be held in the Blackpool Winter Gardens on Tuesday 20 April, 2021. This may have been rather optimistic and the current COVID circumstances means it will now not go ahead.  The ongoing situation will depend upon the rollout of the vaccine and things are looking much more positive with a clearer idea of the route out of our isolation. Maureen and I had our first injection at the end of January. Let us all hope for better times to come.
The beginning of February sadly saw the passing of Tom Blackburn PGSwdB, Past DPrGM.  Tom will be very sadly missed in West Lancashire and beyond. He was a great Freemason and a true gentleman. February has seen far too many of our brethren and colleagues passing to the Grand Lodge above. They will all be sadly missed and Maureen and I extend our condolences to all who mourn their loss.
The Spring weather seems to be approaching and giving us the opportunity to spend more time outdoors enjoying the delights of witnessing our snowdrops, crocuses, daffodils and other spring flowers bursting forth in magnificent splendour and colour in our otherwise drab and dreary landscapes. More time than ever now to enjoy the fantastic views across a wonderland of sea, sand and water with the wonderful views of the Lakeland hills as a back drop, when we take daily exercise along Morecambe`s promenade.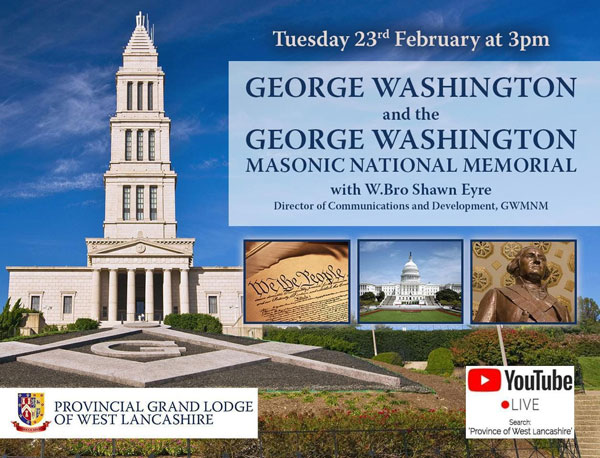 As the month progresses there seems to be more and more Zoom meetings that I am attending. Not just lodge and chapter gatherings but very interesting webinars. Tony Harvey a former Prestonian Lecturer has spoken on `Have you anything to communicate` and only last week we enjoyed a talk about George Washington and The George Washington Masonic National Memorial. The day after Washington's birthday, Shawn Eyer, was live from Alexandria, Virginia, USA and conducted us on a virtual tour of the memorial and talk about George Washington as a Mason and father of the nation. We had 436 brethren joining us for that particular Zoom meeting. Brethren these Tuesday afternoon webinars are really good and I recommend them to you.
As February draws to a close, we have received some good news from our government. The roadmap for exiting the COVID Lockdown. We can now see a light at the end of the tunnel as far as COVID-19 is concerned. So, let us hope that it will not be too long now before we can all start getting back to enjoying our Freemasonry. I cannot wait for this to happen and I am looking forward to meeting with you face to face once again. In the meantime, do stay safe and well.