Greetings, good wishes to you all.  May I wish you and all your families a very happy, healthy and most enjoyable New Year and trust that in 2020 you will have a peaceful and rewarding year. Having spent the Christmas festivities in Laxey, my year started with the chimes of 12 midnight on the Isle of Man, in the presence of Maureen, Tracey our daughter and her husband Peter. We had had a great New Year`s Eve dinner and celebration and saw the start of the new century.
January 1 was our last day on the Island as we sailed home to Heysham on the evening sailing from Douglas.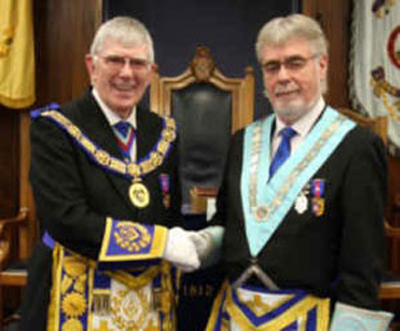 On 3 January, I travelled to Manchester, Bridge Street where I had luncheon with a number of brethren from East and West Lancashire and Cheshire. Following a delicious fayre, I then travelled by train to Southport. I was attending the installation meeting of the New Century Allied Council. My Deputy PrGM Philip Gunning was being installed as master and I attended the ceremony along with some 60 other brethren who witnessed a wonderful ceremony performed by John Maudesley. The District Grand Prefect Paul Snape was also in attendance. After an excellent meal I made the return journey home by car.
Maureen and I enjoyed a very relaxing weekend in Morecambe with our extended family coming for lunch on Sunday to celebrate the coming of 2020.
January 6 saw me off to Preston this morning. I travelled to Ashlar House in Saul Street for the installation meeting of The Lodge of Unanimity No 113. This was a daylight meeting and was indeed very well attended by some 70 brethren who came to witness Stan Rigby install Howard Linaker in a delightful ceremony working the Athol ritual. Following the ceremony, we enjoyed a delicious luncheon prepared by Allister, the chef.
In the morning of Tuesday 7, I drove to Leyland to pick up Peter Taylor and then we travelled to Ashday Lea in Rawtenstall. This is the Provincial Office for the Province of East Lancashire. We attended a meeting for PrGM`s and Provincial Secretaries in the north of England. A very interesting and informative meeting.
On Thursday 9, I travelled to the office in Leyland this morning for a meeting with Philip and Peter.
January 11 and I was off to Southport but sadly the M6 was closed for the whole weekend so the A6 was rather busy. I was invited to attend the luncheon, following the annual meeting of the Masonic Order of Athelstan, which was held at the Masonic Hall, Duke Street, in Southport. Not being a member, I was not invited to the meeting, but we enjoyed a very nice luncheon.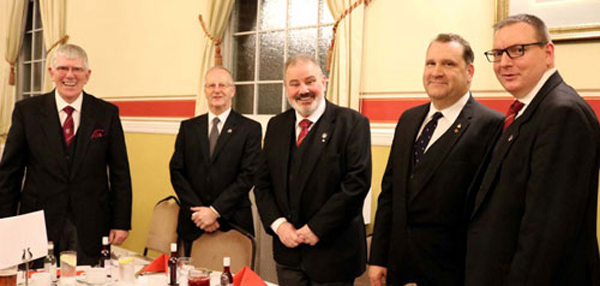 I caught up with paperwork in the morning of Monday 13, before setting forth to Warrington, for a joint convocation. All the Warrington chapters met under the auspices of Old Masonians Chapter No 7702. We received a presentation, produced by Lee Marsh and delivered by a companion in each chapter, on `The Significance of the Ark of the Covenant in the Royal Arch`. It was an excellent presentation and all present made a great advancement in Masonic knowledge. The Provincial DC unfortunately was unwell but we had a good stand in deputy in Dennis Rudd, who has lost none of his former splendour.  We then had a most enjoyable dinner before having to return home.
In the morning January 14 I was engaged in a video meeting with brethren at Great Queen Street, following which, I attended the installation meeting of Silverdale Lodge No 6926, held at Silverdale Masonic Hall. A beautiful but quite small and quaint Masonic hall.  Tony Dickinson conducted the ceremony and installed John Gunson, a retired merchant navy captain, into the chair. The lodge room was really full to capacity with some 80 brethren. Following an excellent meeting we travelled to Silverdale Golf Club for the festival dinner and speeches. An excellent evening enjoyed by all.
Maureen and I enjoyed a brisk walk along the promenade in the morning of Wednesday 15, enjoying the magnificent views across the bay. After lunch I travelled to Leigh Masonic Hall in the company of Paul Broadley. We attended the installation meeting of Leigh Lodge No 4744. Together with over 80 brethren we witnessed Paul Hook install Michael O`Brien in an excellent ceremony assisted by Ian Brogden, who had just achieved 50 years in Freemasonry, addressing many of the appointed officers. I was presented with a wonderful cheque for the 2021 Festival. Following pre-dinner drinks, we enjoyed a delicious dinner, short speeches and then sadly had to return home, following a great evening of Masonic enjoyment.
On January 16, I travelled to Widnes this morning to meet with Kevin Poynton, Steve Kayne, Mark Matthews, Neil Pedder, John Gibbon and several other brethren as we attended the Catalyst Museum in Widnes. A scientific centre being developed to assist young people in particular to look towards a future in science. We presented a donation of £25,000 from the West Lancashire Freemasons' Charity for matched funding to assist in the regeneration of this invaluable project.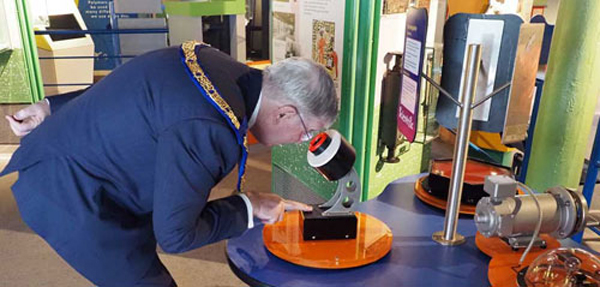 Late afternoon on Friday 17, I was joined by Keith Kemp and Paul Broadley and we then travelled to Grange-over-Sands for the annual boxing tournament held by the Furness and South Lakeland Group. This annual charity event, raising £1,000s annually for charity, is held in conjunction with local boys' boxing clubs, not only supporting their efforts within the community, but also assists many local charities with their needy causes.  Supported by local brethren and their many guests we enjoyed a good meal and the excellent sporting prowess of many young potential boxers of the future.
After lunch on January 18, I travelled to Blackpool, Adelaide Street, for the installation meeting of Blackpool Temperance Lodge No 5303. Despite the M6 being closed due to an accident I eventually arrived in time for the start of an excellent installation ceremony. Umish Dholakia conducted a delightful ceremony installing Martyn Jones into office. I was also pleased to be able to thank David Edwards who is senior warden of this Lodge, for his unstinting work as this year`s Provincial Senior Grand Warden. We were accompanied by David Randerson, Kevin Poynton, Paul Storrar, Peter Taylor, Malcolm Bell and his deputies and many other acting Provincial grand officers of the year, together with a great number of grand officers.  A most enjoyable meeting witnessed by over 70 brethren. After the meeting we adjourned for pre-dinner drinks and then called to the dining room for a most delicious dinner.
January 20. After a morning of paperwork, I travelled to Liverpool this afternoon to the Adelphi Hotel.  I was attending St George's Lodge of Harmony No 32 installation meeting. I was accompanied by some 60 brethren who joined me in witnessing the excellent installation of Jonathon Lowe. Following which we had pre-dinner drinks and then enjoyed a wonderful dinner before having to return home.
During the next couple of days, I enjoyed a little relaxation and some invigorating walks along the promenade with Maureen. The views across the bay onto the Lakeland hills were, once again, spectacular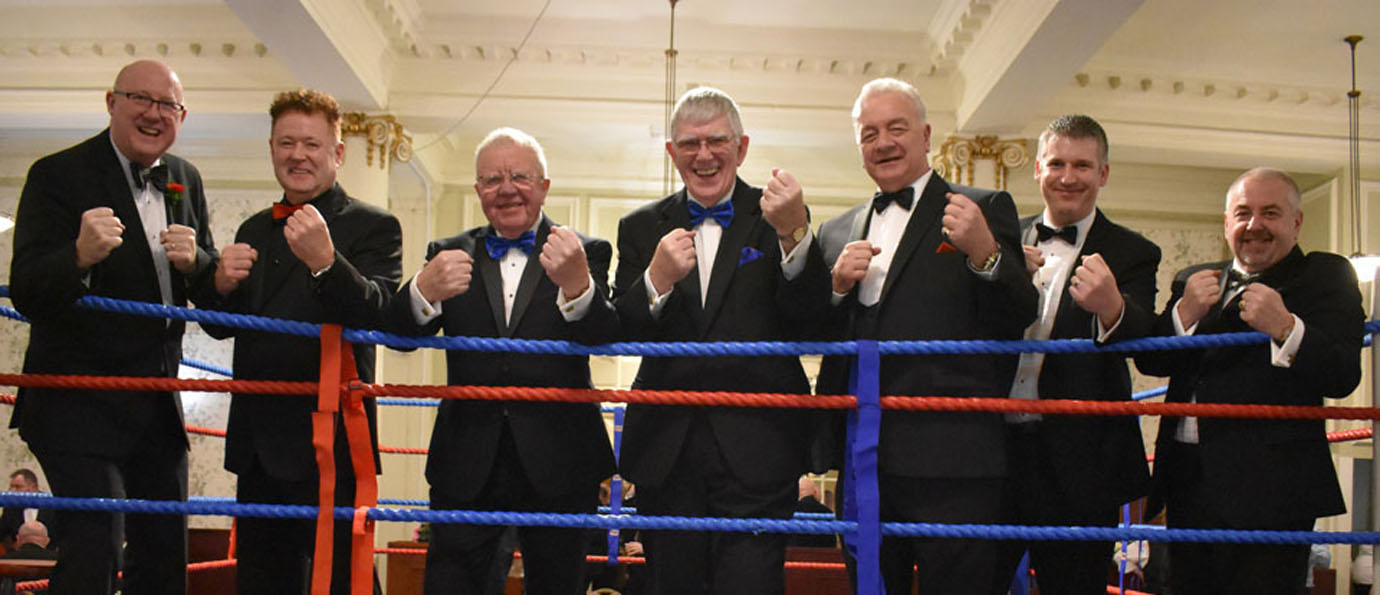 In the morning of Thursday 23, I travelled to the office in Leyland for a meeting with my deputy Phil Gunning and our Provincial Grand Secretary Peter Taylor.
I caught up on some paperwork in the morning Friday 24 and then travelled to Barrow-in-Furness in the afternoon. I was attending the installation meeting of Dalton-in-Furness Lodge No 6828 and I joined with 130 brethren in witnessing David Wilson install Jamie Lindsay in a most dignified ceremony. The lodge room was full to capacity and all who took part in the ceremony did an excellent job. I was delighted to receive a wonderful donation to the 2021 MCF Festival, which entitled the lodge to become a Grand Patron of the Festival. Following pre-dinner drinks, we all enjoyed a very simple, but really delicious steak pie dinner. What a great Masonic treat we enjoyed today.
January 25. Later this afternoon Maureen and I drove to Cleveleys Park Masonic Centre for the annual grand and group officers' dinner for the North Fylde Group, chaired by Peter Greathead. This was a wonderful get together for the group officers and their ladies and the grand officers and their ladies to enjoy a delicious dinner in very cordial and informal atmosphere.  A fabulous evening in the company of many friends.
Maureen and I took the opportunity to enjoy a little relaxation over the next three days.
In the afternoon of January 29. I drove to Ridgemont House at Horwich. I was attending Horwich Chapter No 2324 for a joint convocation of all the Chorley Group chapters. There were some 68 companions at the convocation, and we all enjoyed this excellent presentation, explaining of the Royal Arch banners, following which I was presented with a wonderful cheque for the MCF 2021 Festival. After the ceremony I had the opportunity to meet with many on those who had taken part. We then enjoyed an excellent dinner and the usual speeches before departing for home.
Thursday 30 saw a brisk walk along the promenade with Maureen in the morning, before leaving for Blackpool. I attended the Blackpool Group Dinner held at Adelaide Street and I was welcomed by the group chairman John Turpin, the vice chairman David Cooke and the secretary Stephen Jelly. My APrGM David Randerson and I were accompanied by many grand officers and an excellent number of brethren and companions from the group. Following a very informal gathering which enabled those present to discuss various matters of interest and concern with myself, David, Duncan Smith, Peter Taylor and the Provincial wardens, we sat down to a most enjoyable dinner and speeches. Then we reluctantly had to leave as time was passing us by. A very interesting and enjoyable group dinner.
January 31. This afternoon I travelled to Southport for the installation convocation of Ainsdale Chapter No 5884, which was held in the Scarborough Temple. I was accompanied by Tony Hall and Colin Jenkins. The meeting was very well attended by a good number of local and visiting companions, including 12 acting Provincial grand officers. We witnessed a delightful ceremony conducted by Michael Wallis who installed Christian Hindle. During the pre-dinner drinks I met with many of the companions of the chapter and then enjoyed an Italian baked lasagne, with garlic bread and salad. This was most welcomed bringing to a close a very busy month of Masonic enjoyment.
I trust that this has been a most enjoyable month for all of you.