On 2 February, after quite a leisurely start to the day I was off to Cleveleys in the afternoon with Keith Kemp. I was attending the installation meeting of Anchorsholme Lodge No. 5854 at Cleveleys Masonic Hall. The lodge was full, with members and their guests joining me, David Randerson and many other grand and Provincial grand officers together with the master David Edwards for an excellent ceremony.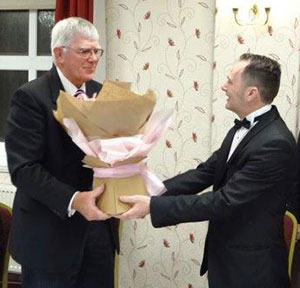 We witnessed Jamie Blundell, the master elect, installed in fine style, following which the lodge presented a substantial donation to the 2021 Festival. We then retired for pre-dinner drinks and a chat with many of the brethren present before enjoying dinner and of course, our usual after dinner speeches. A great evening enjoyed I am sure by all who attended.
On Monday of the following week, I was off to the Adelphi Hotel, Liverpool, in the afternoon for a meeting of one of my Mark lodges. A very enjoyable and relaxing evening.
The next day I was back to Liverpool in the afternoon, accompanied by Keith Kemp.  Arriving at Hope Street in time for the installation meeting of the Blenheim Lodge No 7519.  I was pleased to be welcomed by so many brethren of the lodge and their guests. I was accompanied by Derek Parkinson, Mark Matthews and other grand officers. We witnessed a great ceremony conducted by the retiring master Ian Turner who installed Alan Ball. I was absolutely thrilled to receive, yet again, a donation for the MCF 2021 Festival, before retiring from lodge to enjoy a gin and tonic, prior to a delicious dinner prepared by the new chef at Hope Street. Yet another delightful and enjoyable evening.
7 February and a slight change of route today as we travelled to Southport. I was accompanied by Keith Kemp and Barry Fitzgerald one of the Dep DC`s. We were in the Scarborough Suite at Duke Street for the installation meeting of Starkie Lodge No 1070.  The master David Bos did an excellent ceremony, putting Alan Cornes into the master`s chair. Starkie Lodge is the mother lodge of John Karran, the acting Provincial Senior Grand Warden of the year and I was delighted to be able to extend my personal thanks for his commitment to our Province in that capacity. I received a fantastic donation to many charities including our own MCF 2021 Festival. Time was of the essence and dinner was soon served. What an excellent meal we enjoyed before the toasts and speeches were given. A night of friendship and excellent ritual, long to be remembered.

Saturday 09 February arrived, and it was an early start that morning. I travelled to Saul Street for the 'enthronement' meeting of my Red Cross conclave. I had to 'enthrone' my successor Tony Bent and I was assisted by other members of the conclave. An enjoyable meeting brought an enjoyable year to a close for me.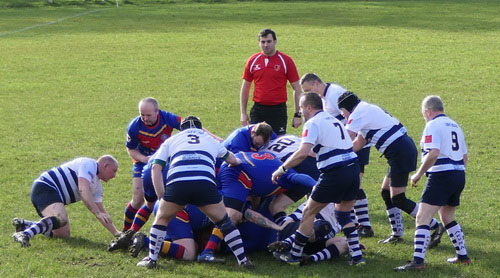 I was then, later in the day, off to Wigan RUFC for the first fixture of our newly founded West Lancashire Masonic Rugby Team. A lovely sunny but still rather cold Saturday afternoon as we watched `our team` go out on the field to play against Leicestershire and Rutland`s `Light Blue Team`.  West Lancs gave them a real run for their money, but alas were not quite up to the mark, as it was our first time out as a team. During the game we suffered two injuries, both sent to hospital, but both now well and back up and running.   We were well supported by many brethren and their ladies from around the Province.
The final score: West Lancs 10, Leicester Light Blues 30.  What a sterling effort by our brethren. Following the game, we enjoyed refreshments and awarded various trophy`s and then enjoyed ourselves in the traditional rugby mode.
12 February was a day for initially dealing with paperwork in the morning before later travelling to Adelaide Street Blackpool with Keith Kemp. We were welcomed by David Randerson and Blackpool Group Chairman John Turpin.  Next on the agenda was a nice cup of tea followed by meeting many of the brethren present. We were there for the installation meeting of Blackpool Lodge No 1476 and we saw Robert Arrand install his son-in-law Grant Thornburrow. What a fantastic ceremony by all involved.  I was thrilled to once again receive substantial donations to many charities including our own MCF 2021 Festival. After the meeting were retired to `Mabel`s Room` for our pre-dinner drink. Called in for an excellent dinner, that evening I had something a little different.  Prawn cocktail followed by smoked salmon salad and cheese and biscuits. A great change from roast beef. The toasts and speeches followed before we had to leave for our homeward journey.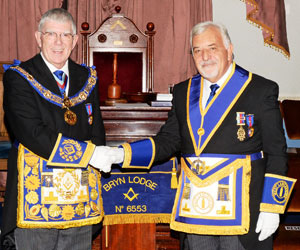 Wednesday 13 February, I was joined on my travels to Bryn Masonic Hall by Keith Kemp and Barry Fitzgerald. The occasion was the installation meeting of Bryn Lodge No 6553. We were welcomed by APrGM David Ogden and enjoyed tea and biscuits and met with many of the brethren. The lodge room was full to witness Mark McLoughlin install John Tabern. A terrific ceremony, everyone taking part did a magnificent job. It was great to see so many young brethren in `light blue`. Bryn Lodge is the mother lodge of Barry Dickinson the acting Provincial Junior Grand Warden of the Province, so I was able to express my thanks to Barry for all his support and endeavours during his term in office. Mark was pleased to present me with a number of cheques for various charities which included our MCF 2021Festival. We retired for drinks and dinner and sadly had to leave following the toasts and speeches. Certainly, after such a `Masonic treat` it was a wonderful day to remember.
The next day, despite it being `Valentines' Day`, I was in Leyland at the Provincial office trying to sort my diary for 2019-20. Not an easy job, I can assure you.
The weather had taken a great leap forward towards spring and Maureen and I had time over the weekend to spend in the garden and to enjoy some strolls along the promenade, taking in the magnificent views across the bay.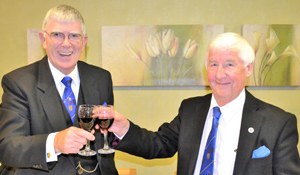 Back to Masonic duties on the Monday and I was much more local than I had been recently. Wyrebank Masonic Hall, Garstang was the venue. I attended the Plantagenet Lodge of Installed Masters No 9357 installation meeting. Stephen McClintock installed Jim Wilson as the new WM. Keith Kemp very kindly drove us to Garstang where we were met by David Grainger and Neil McGill, the Lancaster Group Chairman. It was a great pleasure to be in the company of some 90 brethren whom I have known for many years, this being my home patch.
Stephen did a fantastic job with the installation which was conducted in a most efficient manner. I had the pleasure to receive a donation to the MCF 2021 Festival and following pre-dinner drinks, we enjoyed a delicious roast pork dinner with all the trimmings. Traditionally the after-dinner speeches are kept short in this lodge but not this evening as there was lots to be said. What a great night though, it was really good to be with 90 very close local friends and a few from across the border from Cumberland and Westmorland.
The next day I had a morning of catching up on the paperwork then I was off to Tithebarn. It was an enormous pleasure and a great honour to attend the 80th anniversary celebration for Bernard Sheridan who resides at Tithebarn. This year he is 104 years of age and has been a Freemason for 80 years. What a wonderful achievement and what a great Freemason. I was accompanied by Derek Parkinson, Sam Robinson, the Liverpool Group Chairman Mark Matthews together with many members of the executive committee of the Friends of Tithebarn and those Masons who reside at Tithebarn. Bernard was thrilled to see us all and joined in with our presentation of a donation to the Friends of Tithebarn.
A very early start in the morning on 22 February. Maureen and I were travelling to Bryn Masonic Hall for 8am to catch the coaches travelling to London for the Emulation Lodge of Improvement meeting later that evening. There were over 120 brethren and ladies joining us on this sojourn to Grand Lodge.
After checking into the Novotel at Canary Wharf, we travelled by coach to Great Queen Street, just in time for a quick drink before making our way to lodge room 10, where we were greeted by members of the Emulation Lodge of Improvement. I was also welcomed by the Deputy Grand DC Edward Goodchild, who was to escort and attend upon me during the evening. After the lodge was opened, I processed into the room accompanied by all the attending grand officers. On entering, I was greeted by a rapturous standing applause from all the brethren. I was welcomed and then the brethren of the lodge presented their individual lectures to absolute perfection.  There then followed the usual business conducted by the master, Graham Redman, who then closed the lodge.
The brethren from West Lancashire, three coaches plus many travelling down by train, out-numbered the other brethren present, and it was the largest attended meeting of the lodge for many years. I offer my most grateful thanks and appreciation to all who travelled down for the meeting.
We then retired for pre-dinner drinks, followed by an excellent banquet, somewhat unusual for the Connaught Rooms.  There were many of our brethren who could not stay for the banquet, but West Lancashire again won the day on numbers and I was so proud to be leading such a great team from our far-flung northern Province.
Short speeches were the order of the day and after Graham Redman had presented me with a signed copy of the history of the lodge, we had the final toast of what had been an excellent evening. I had time then for a couple of drinks with all the supporting brethren before returning to our hotel.
The following morning, after enjoying a full 'English breakfast' we boarded our coaches for the return journey. The day was perfect with the sun shining as we travelled north on the M25, M1 and M6 arriving home mid-afternoon after a fantastic time in London.
The rest of the weekend was beautiful, the weather was gorgeous, spring like in every way. Maureen and I took the opportunity to enjoy a walk along the promenade in the warmth of the sun and took in the magnificent views across the bay.
The final week of the month and I began on the Monday morning, attending to some paperwork. Later in the day, I headed for Leyland to pick up Peter Taylor and we were then driven to Warrington by David Thomas.  I was attending the installation convocation of the Gilbert Greenall Chapter No 1250, meeting at Winmarleigh House. We received a great welcome on our arrival and a very welcome mug of tea. There were some 60 companions who witnessed an excellent installation conducted by Ian White, who installed Christopher Todd, and respectively, Barry Corcoran and Christopher Betts. Congratulations are due to all the companions of the chapter for their most generous donations to various charities including the MCF 2021 Festival.  We then enjoyed a delicious banquet followed by a number of speeches and concluded by our return journey home.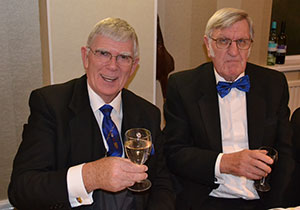 Wednesday 27 February was a beautiful day, so Maureen and I took the opportunity to have a short stroll along the promenade to Heysham in the morning. In the afternoon I prepared for the installation meeting of Poulton le Sands Lodge No 1051 at Morecambe. This was a rather special meeting for me as it is my own lodge and it was nice to see so many brethren, 99 in total, many from the Lancaster Group but also many of this year`s acting officers attending the meeting.
Nigel Norris installed David Morgan as master of the lodge in an excellent ceremony. Many of the new 'light blue' brethren took part in the ceremony and I was very proud to address all the brethren.  I was most grateful to the lodge for their very generous donations to many charities including our MCF 2021 Festival. The festive board was held at the Lothersdale Hotel on the promenade and we enjoyed an excellent meal accompanied by excellent wine and fine speeches.  Well, I thought so anyway. (but then as I gave a speech, I can't be viewed as impartial!)
This was a wonderful finale to a very busy month of Masonic enjoyment.
Tony Harrison
Provincial Grand Master