Greetings and good wishes to you all. I trust that you and your families are keeping safe and well during this terrible time for us all. It seems a long time since the middle of March when we had the enforced lockdown placed upon us and we had to give up enjoying our Freemasonry as we did.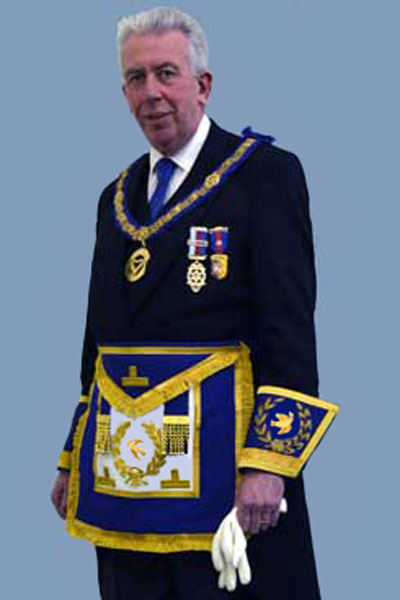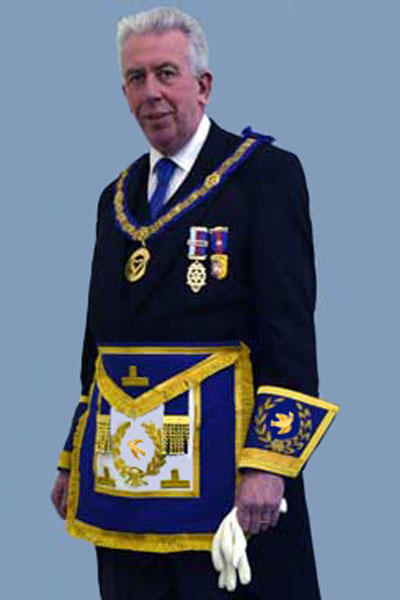 However, it did give me the time to do a number of those little and indeed some larger jobs around the house and garden that I had neglected for a while. The weather has been really excellent, so it has not been a great chore as Maureen and I have enjoyed many hours out in the garden, working and relaxing in the glorious sunshine.
Our walks along the promenade here in Morecambe have been many, during our permitted exercise periods, and we have seen some beautiful breath-taking views across the bay to the Lakeland hills and of course Grange-over-Sands and Barrow-in-Furness.
The one thing that has been very disappointing for me is that I could not hold our Provincial Grand Lodge meeting on 1 April at Blackpool Winter Gardens. One of the great highlights of our masonic calendar. It was to have been a very full and busy meeting. I had hoped to have seen many brethren there in their splendid new Provincial regalia as they were invested with their new Provincial ranks. I should have appointed Andy Whittle and Mark Matthews as AProvGM`s and all the new acting Provincial grand officers of the year, followed by those brethren receiving their first Provincial appointment and those being promoted.
We would also have said thank you to Derek Parkinson and Kevin Poynton, both of whom retired from office and have given sterling service to the province during their term in office. Thanks also to those brethren retiring from office, David Edwards and Paul Storrar the acting Provincial Wardens together with the other acting officers who have served the Province and supported many visits during the year. I do hope that they have all enjoyed their term of office. It would have been a great occasion for many of us, but sadly it was not to be this year.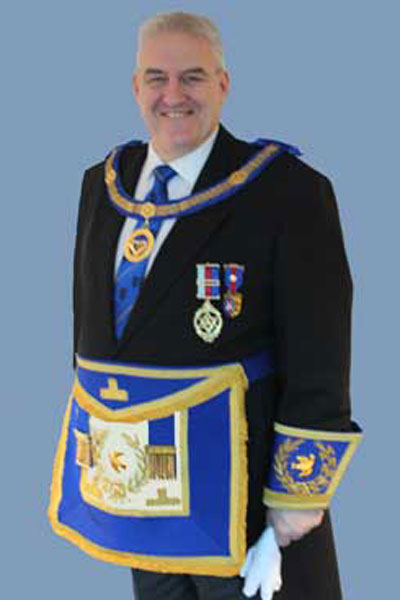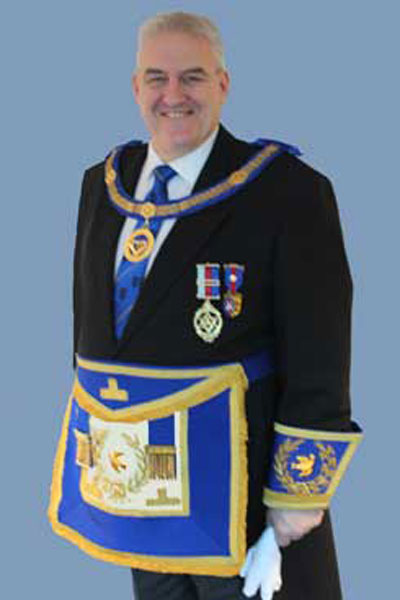 However, I do congratulate all those brethren who were to be honoured and invested at that meeting. There were many meetings that were suspended during the month which unfortunately I was obviously unable to attend, Temple Lodge No 1094 installation, Sandylands Chapter No 5702 installation, Scorton Chapter No 5791 installation, Northumberland Provincial Grand Chapter meeting, South Eastern Group Dinner, one of my Mark meetings and the Allied Masonic Degrees annual meeting at Preston. I do hope that I will have the opportunity to visit the brethren and companions of these lodges and chapters on some future occasion.
There were also a number of social events that both Maureen and I would have attended and had the opportunity to meet many friends from different parts of our province, the Allied Masonic degrees Sunday luncheon, the North Fylde Annual Ball at the Hilton Hotel in Blackpool, The Red X Annual Church service at Bamber Bridge.
Very disappointingly, my youngest sister`s golden wedding anniversary celebrations on Easter Saturday had to be cancelled and we were unable to meet with all our family members from around the country and from the Isle of Man who were due to spend the Easter weekend in Morecambe.
Sadly the grand investitures in the Craft on 29 April  and the Royal Arch on 30 April, held in the Grand Temple at Great Queen Street in London were also cancelled and we were unable to witness the investiture of Barry Fitzgerald, John Lee, Graham Chambers, Jonathan Heaton, Peter Hegarty, Philip Preston on their appointment to Grand Lodge and  Barry Jameson, Keith Kemp, Mark Matthews, Andy Whittle and Peter Greathead on their promotions in the Craft. Malcolm Bell, Peter Schofield, Michael Threlfall, John Turpin on their first appointment, and Kevin Poynton`s promotion in Supreme Grand Chapter. Congratulations to them all.  We did however endeavour to celebrate the occasions by holding a virtual Zoom meeting on each day to offer our sincere congratulations on their respective preferment.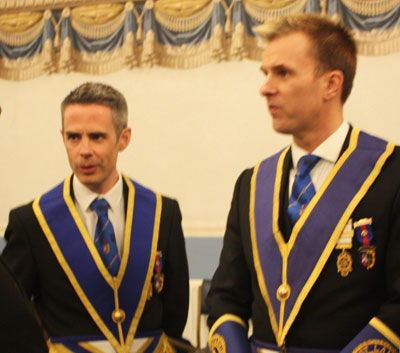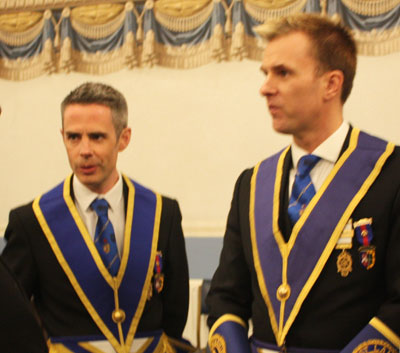 As our `lockdown` continues I would ask that you endeavour to make regular contact with brethren in your lodges and chapters to ensure that they are safe and well and if in need, try to assist them or contact the Provincial Office for the details of our Provincial Welfare Plan which is available to all Freemasons and their families.
As we enjoyed the coming of May, there were a number of meetings that I should have been attending. Over the Bank Holiday I was scheduled to attend the installation meeting at Lezayre Lodge No 6890 in Ramsey on the Isle of Man, but I could not travel to the Island, the Provincial Grand Mark Lodge meeting in Southport was cancelled as was the Red X District meeting in Preston and the Cumberland and Westmorland Provincial Grand Chapter meeting in Carlisle. We also missed the Liverpool Charity Ball to be held at Anfield.
There have been a number of excellent Zoom meetings that I have been attending during the month, Lancaster Castle, Poulton-le-Sands, Bryn Lodge No 6533 and Warton Lodge No8411 on an informal basis but delighted to say that they have been well attended. Many Zoom meetings have been called from UGLE and of course I have kept in touch with the Provincial Office on matters affecting West Lancashire and indeed other areas of UGLE. Zoom has become a wonderful way of communicating with our brethren, our friends and our families.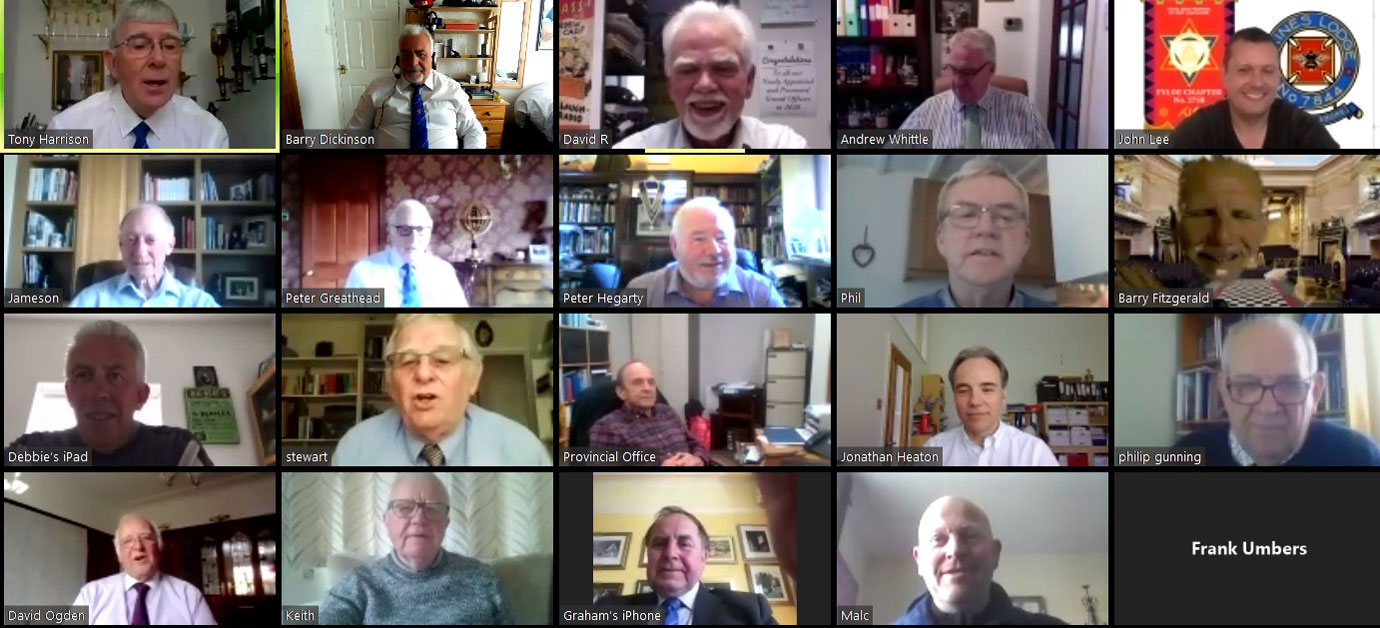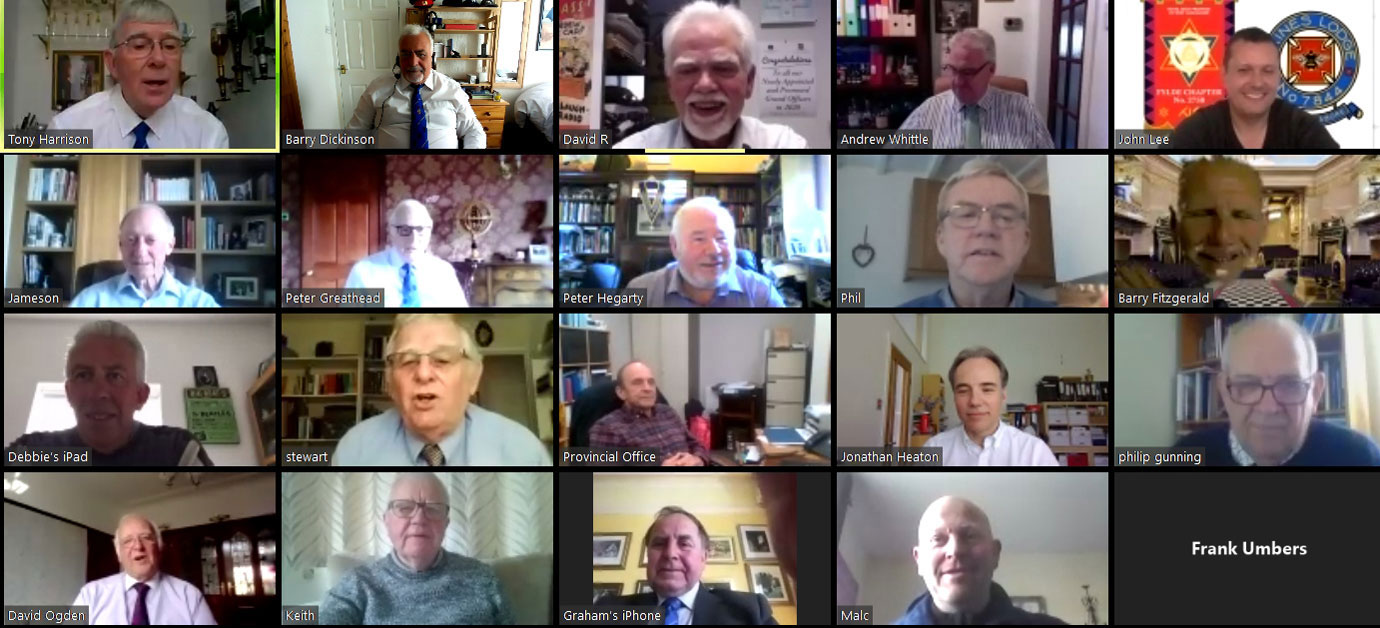 I hope that you are all keeping up to date with matters on our new website and reading the newsletter which is being published on a regular basis. The brethren and companions of West Lancashire are certainly pulling out the stops to ensure that, not only our own brethren and families who are in need, are catered for, but also assisting urgent needs within the local communities, the hospitals, hospice`s with PPE and other essentials together with many other charities that are in desperate need. Well done and thank you to all who are assisting in any way during this crisis, those of you who are `key workers` on any front, those assisting in any way what-so-ever thank you on behalf of myself, the Province of West Lancashire and indeed those who are receiving your fantastic help at this time.
We have all been very fortunate that during our enforced lockdown the weather has indeed been very kind to us, and Maureen and I have been able to continue enjoying our daily exercise with those fantastic views which Morecambe Bay beholds.
Finally, the month on May came to an end with a wonderful virtual celebration of Childwall Lodge No 5235 Ladies Evening. Maureen and I were invited by the WM Mark Connell and his wife Ann to join them and members of Childwall Lodge for this special occasion. It was a first for us and for the lodge, but it was an excellent evening and I am sure that all who joined us enjoyed the evening as much as Maureen and I did.   Thank you, Mark and Ann, for a wonderful relaxing and entertaining evening.
As the weather continues to hold good, we have enjoyed the sunniest spring for almost 100 years, not that I can remember them all. Do take care and stay safe and well with our good wishes to you and all your families.