1 April brought morning office work followed by a short walk on the promenade before driving to Liverpool that afternoon. I was attending Lebanon Mark Lodge, of which I am IPM and it was the installation meeting. Jeremy Clitheroe installed Paul Broadley in the presence of the Mark Order PrGM Keith Beardmore and the Mark Provincial team. A very well attended meeting and a good ceremony enjoyed by all.
2 April, after quite a leisurely morning I was off to Blackpool that afternoon with Keith Kemp. We met Peter Taylor, Malcolm Bell and Phil Gunning at the Winter Gardens for a final planning meeting, ready for Provincial Grand Lodge, the following day.
The next day the weather was not good, wet and windy following a heavy snow fall on the M55 during the night. However, following a hearty breakfast I travelled to the Winter Gardens with Phil Gunning. The concourse and the theatre were already buzzing with brethren rehearsing and preparing for our annual Provincial Grand Lodge meeting. The main rehearsal took place at 11:30am and all seemed to go very well. Then off for a light lunch and an opportunity to meet with our distinguished guests.  I then took the opportunity to wander through the concourse and meet with the brethren attending the meeting. There seemed to be 1,000s of them, but I believe the true number was about 1,200, who entered the Opera House theatre and filled the stalls.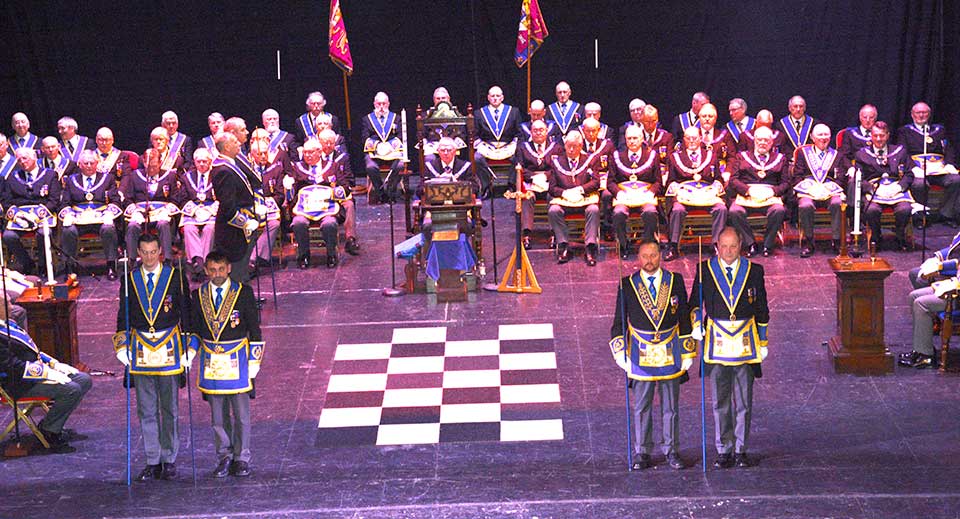 I entered in procession and opened PrGL. It was a great sight to look out into the auditorium and see so many Freemasons, I am sure enjoying the day. The meeting appeared to go very well and we closed PrGL at 4:45pm. We then enjoyed pre-dinner drinks and chance to meet with our colleagues and friends from other Provinces before entering the main ballroom which was set out to accommodate 650 brethren attending the Festival Banquet. An excellent meal but the service could have been a little quicker.
What a wonderful but very long day. I hope that all who attended enjoyed the meeting as much as I did. I thank all who came to support our annual meeting.
4 April and off to Garstang that afternoon to Wyre Bank Masonic Hall for the installation meeting of Aegis Lodge No 9115. Melvin Cross installed Raymond Firth into the chair. An excellent ceremony witnessed by some 50 brethren from our Province and Yorkshire West Riding. It was a new Provincial team and I was joined by Keith Kemp our new APrGM, Malcolm Bell the Provincial DC, David Edwards, Senior Warden, Paul Storrar, Junior Warden and many other newly appointed offices all of whom enjoyed their first outing together. I was delighted to have received a magnificent donation to the MCF 2021 Festival and we enjoyed a most delicious banquet in the company of many friends.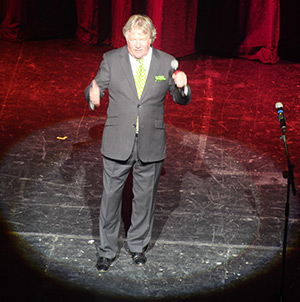 On 6 April, Maureen and I travelled to Blackpool for the `Night with the Stars` at the Opera House. This was a really good show, compared by Jim Davidson. From all the comments that I have heard I think everyone enjoyed the show and the evening raised some £15,000 for charity. Thank you to all who supported this special event.
Maureen and I stayed overnight in Blackpool and after a very leisurely breakfast we travelled to Wyre Bank at Garstang, for Sunday lunch in support of the Allied Masonic Degrees, headed by Paul Snape. This was very well attended by members of that Order and following lunch a fantastic raffle was held which was very well supported by all attending.
0n 08 April it was a morning of paperwork first and then a walk with Maureen up to Heysham. It was a glorious day and the views across the bay were magnificent. That evening I attended my Morecambe Mark Lodge which was, extremely well attended. We had a good meeting followed by a great buffet dinner.
9 April saw a beautiful spring morning and I was off to Gosforth Park in Northumberland accompanied by Peter Taylor, Duncan Smith and Neil Lathom for the annual Royal Arch Convocation meeting of the Province of Northumberland.  We had a most enjoyable journey up through the M6 and across the A69 arriving in time for tea and biscuits prior to the meeting which was very supported by companions of Northumberland and their guests from many other Provinces. The very slick meeting was presided over by the Grand Superintendent Ian Craigs and then we adjourned for pre-dinner drinks and a fabulous `roast lamb` dinner as usual at this meeting. We had a very good and uneventful journey home.
The following day I was off to Widnes accompanied by Keith Kemp, Peter Taylor and Kevin Poynton together with many other grand and Provincial grand officers who are part of the Provincial team. It was the centenary meeting of Goodwill Lodge No 3896. The rehearsal went well under to the direction of Malcolm Bell, Provincial DC and his deputy Ian Halsall.
The lodge room was full of the brethren of the lodge and their guests together with many visitors from around the Province and beyond. An excellent ceremony at which Rev Canon Godfrey Hirst gave a marvellous oration. I was pleased to be able to promote John Alderson the secretary to the rank of PPrJGW to which the brethren gave spontaneous applause acknowledging his hard work for the lodge.  I was delighted to receive a tremendous donation of £3,896 towards to 2021 MCF Festival plus much more for local charities. We retired from the lodge and enjoyed a delicious banquet in the company of all those brethren who had witnessed and enjoyed a ceremony with a difference.
11 April and a bit of paperwork to catch up on this morning and then I was off to Derby Street in Morecambe for the installation convocation of Sandylands Chapter No 5702. After a very warm welcome I entered the chapter. It was full to capacity with companions and their guests. I was accompanied by many officers of Supreme Grand Chapter including Chris Butterfield and the Provincial Grand Scribe Nehemiah David Case, was in attendance. Raymond Griffiths installed his successor Alan Finney who installed Carl Horrax, who then installed Mike Craddock. An excellent ceremony and I was again extremely pleased to receive a donation toward the 2021 Festival. Following which we all enjoyed the dinner before the toasts and some short speeches. A great evening had by all.

Time to relax and take in the breath-taking walks along the promenade with Maureen and to enjoy time in the garden as the weather was wonderful.
Sunday 14 April. After church this morning Maureen and I travelled to Bamber Bridge to attend the family church service at St Saviours Church, which was conducted by the Rev Graham Halsall. It was the annual church service of the Red Cross of Constantine and was extremely well attended by members of that Order together with their wives and families, in the presence of the Intendent General, Stephen Bolton.  Following the service, we enjoyed tea and cakes and an opportunity to meet with all those who attended.
A couple of days to relax now followed.
17 April was yet another lovely day and Maureen and I spent the morning pottering in the garden before departing for Barrow-in-Furness. I was accompanied today by Maureen, Keith Kemp and Paul Broadley who drove us all to Barrow.
It was the installation meeting of Semper Sursum Lodge No 5622. We were welcomed to the Fairfield Masonic Centre by the group chairman Peter Schofield and enjoyed a delightful afternoon tea with the brethren attending the installation meeting. There were 116 brethren and their guests in attendance and the lodge was full to capacity. We witnessed an excellent ceremony conducted by Geoffrey Biddulph, who installed his successor Kevin Rigg. Barry Fitzgerald was the acting Provincial DC as it was his lodge and his last year as a Deputy DC in the Craft. An excellent and most sincere ceremony, my congratulations to all who took part.  I was delighted to receive a wonderful charity donation towards the 2021 Festival.   We retired to the dining room for a delicious banquet and our usual speeches before having to head off back around the bay to Morecambe.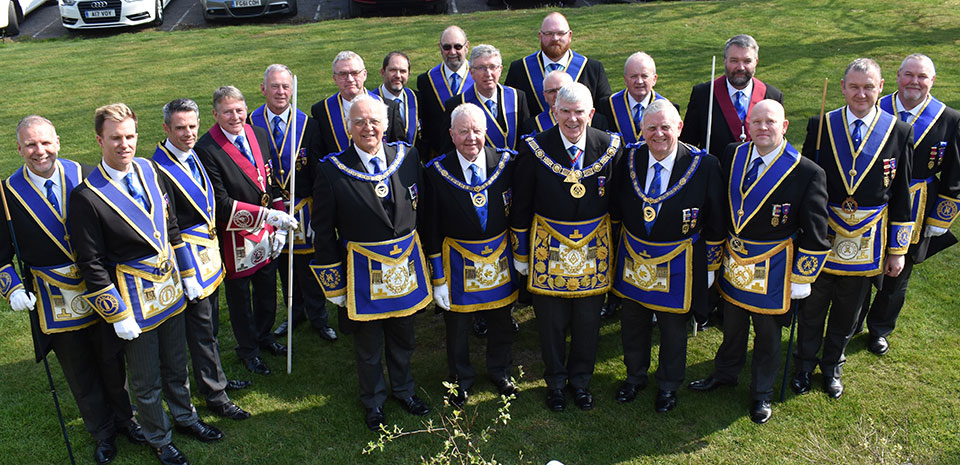 Easter was upon us and we enjoyed wonderful weather for the next 5 days. Maureen and I took the opportunity to relax, enjoy the garden and several walks along the promenade. The views were magnificent, and the town was extremely busy. But summer has not yet arrived.
April 23 saw an early start in the morning. Off to London, I travelled by train arriving just before lunch. I checked into my hotel before walking down to Grand Lodge at Great Queen Street for the afternoon meeting with the Pro Grand Master Peter Lowndes together with Jonathon Spence and Sir David Wootten. Much information was related to us all following which we walked to the Law Society in Chancery Lane, for dinner. Returning to my hotel late in the evening.
The next day, after an early breakfast it was back to Great Queen Street for the PrGM`s Forum meeting with all the PrGM`s. Finishing at 12 noon, I was then accompanied by Sir David Trippier, PrGM for East Lancashire and we joined brethren from both our Provinces for a light luncheon.  Back to Grand Lodge for the annual Craft investiture.  The temple was full, with over 2,500 brethren in attendance. The Pro Grand Master presided, and it was a very slick meeting. It was great to see the brethren from West Lancashire, David Ogden, David Randerson, Frank Umbers, Sam Robinson, Eric Hart, Mark Barton, Mike Threfall, John Smith, John Murphy and Neil Peddar, receiving their appointment to and promotion in grand rank. Following the investiture, we were off to the Guild Hall for the recipient's banquet. What a delicious meal and such wonderful surroundings. All those attending I am sure had a wonderful experience. After the proceedings we made our back to our hotel to enjoy a few celebratory drinks.
The following day, after an early breakfast it was off to Great Queen Street for the annual investiture of Supreme Grand Chapter. Again, the temple was full. We had the honour of HRH The Duke of Kent presiding and again witnessed those companions from West Lancashire, David Harrison, Bryan Henshaw, Malcolm Alexander, Andy Barton, Stephen Bolton and Geoffrey Porter receiving their honours from the First Grand Principal. Following the meeting we adjourned to the Connaught Rooms from a pre luncheon reception followed by lunch and then a couple of drinks in the Pillars of Hercules before making our way back to Euston station for our train back to West Lancashire following a very hectic but most enjoyable few days in the capital.
On 27 April, in the morning I was off to Saul Street, Preston, for the annual district meeting of the Allied Masonic Degrees.  The meeting was presided over by Paul Snape, District Grand Prefect and was attended by many brethren from West Lancashire and other districts far and wide. An excellent annual meeting and I was surprised to receive a generous donation to the MCF 2021 Festival.
That evening Maureen and I travelled over to Ulverston with Geoff and Penny Bury for the annual Furness and South Lakeland Charity concert. This year we had the pleasure of 'The Fortunes', a group from the 1960`s. They were extremely good even though they looked much older that I remember them. A great night out.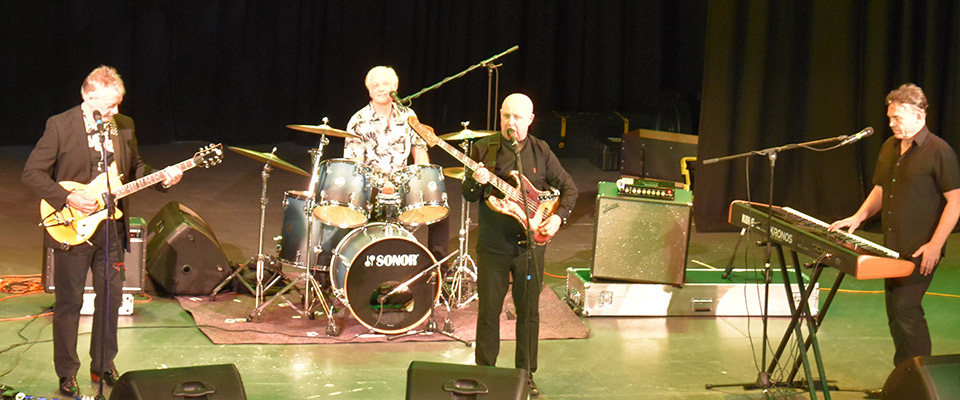 On 29 April I drove to Leyland, Wellington Park that morning for the installation meeting of Unity Mark Lodge. Stuart Brackstone installed his successor Ian Clarke in an exemplary manner which was witnessed by some 40 past Mark wardens of West Lancashire together with their guests. Following the meeting I went to the new Provincial office in Golden Hill, Leyland for an afternoon meeting with Peter Taylor and Philip Gunning. A long but very important meeting which concluded at 4pm.
Well that brought April to a close, a busy but extremely exciting month of Masonic duty and pleasure. The weather is improving, so I now look forward to the month of May.
Tony Harrison
Provincial Grand Master.