All of the masters of the Preston Group form an annual Masters Group to raise funds for local charities. The COVID lockdown presented a real challenge to the Preston Masters Group.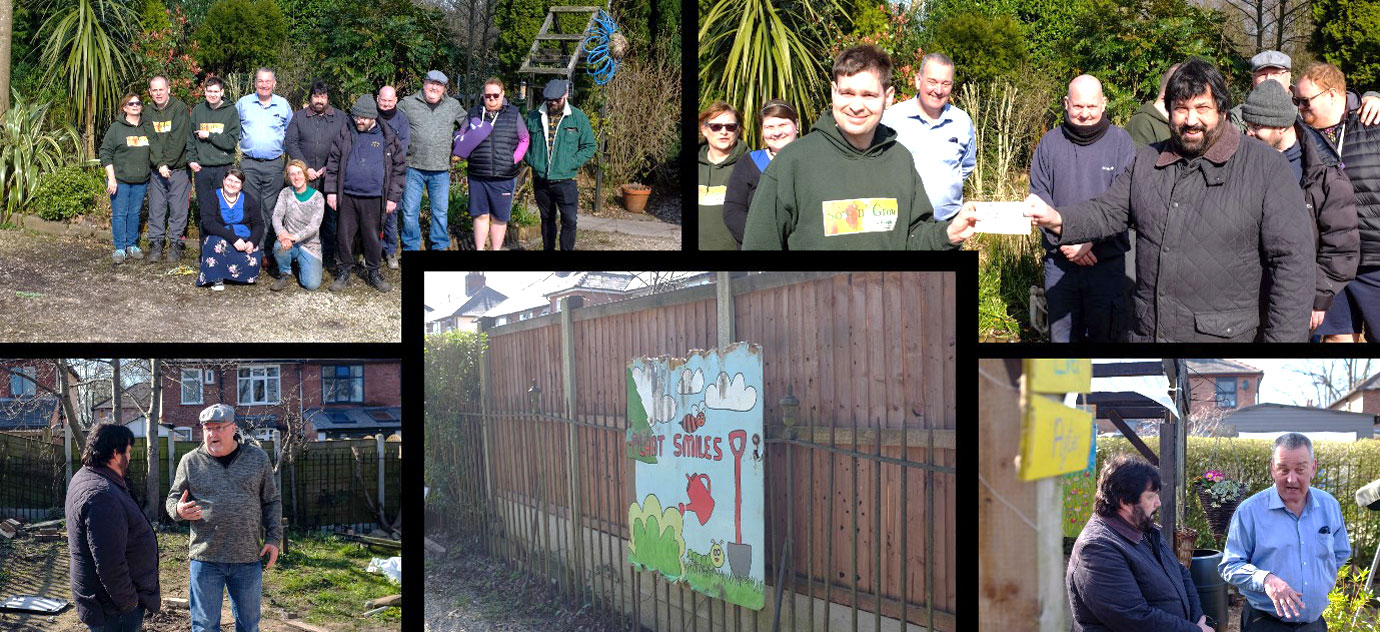 Just before COVID struck, Tim Horton, the master of Preston Guild Lodge No 4408 took up the chair of the group. He has worked tirelessly to keep the group active and despite the lockdown they were able to raise funds which have now been distributed.
As Masonry gets back to normal, Tim has seen his term of office in the lodge and the Masters Group come to an end after being a safe pair of hands for two years. The mantle has now been passed on to Alan Brindle, the master of Fraternity Lodge No 4072. Tim and his team have been busy delivering the donations to local charities as listed below.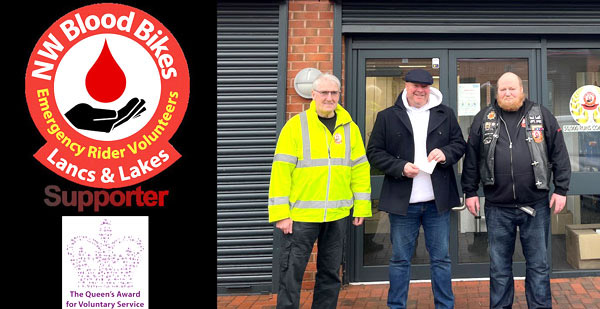 Integrate Preston Sow 'n' Grow Nursery is a little piece of heaven and has been operating on Haslam Park since the late 1990's, evolving from a very popular allotment the charity used to have on Blackpool Road. Their primary aim is to provide meaningful daytime activity for people with a learning disability, autism or mental health issues.
Being in a quiet corner of the park makes it the perfect setting for those with a busy mind or who benefit from a peaceful natural environment. The team grow a wide variety of outdoor plants which are ideally suited to the local climate. For the past eight years they have also run Plants+, the shop at the entrance of the park, to make their plants and gifts more accessible to the public.
Tim Horton, IPM of Preston Guild Lodge, went along to Integrate Preston Sow 'n' Grow Nursery to present a cheque for £250 to Peter Green, Operations Director for Integrate Preston. Peter Green stated: "We are very grateful to the Masons for their generous donation as we are constantly trying to improve access to the plant nursery so we can be even more inclusive than we are currently. Nine people with disabilities and one volunteer are supported by the staff at the site and they greatly enjoy the seasonal variety that they are immersed in over each year."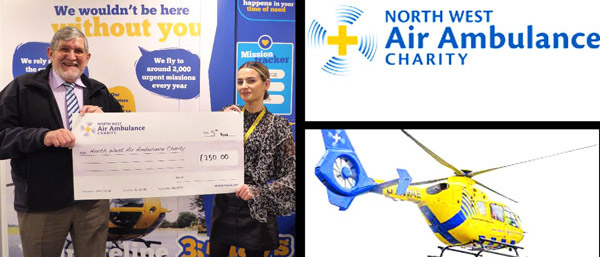 North West Blood Bikes Lancashire and Lakes started operating in May 2012 and aim to provide a totally free, but professional voluntary service out of normal working hours for the transportation of urgent and emergency items, such as blood, platelets, samples, donor breast milk, patient notes, theatre equipment, in fact anything that can be carried by motorcycle, solely for the benefit of the publicly funded emergency services and the patients being treated by them, within the NHS Hospitals. They provide this service through the night, and 24 hours per day at weekends and bank holidays, enabling hospital funding to be better spent on patient care.
Alan Brindle presented a cheque for £250 to Martin and Paul, two fellow Masons, who are both volunteers at the Preston Branch of North West Blood Bikes. Martin is a rider and the charity's treasurer, while Paul is a rider, the Fleet Manager and the Vice Chairman of the charity. The Preston Masters' money will go towards the upkeep of NW Blood Bikes' latest motorcycle which was donated by the family of a recently deceased fellow Mason.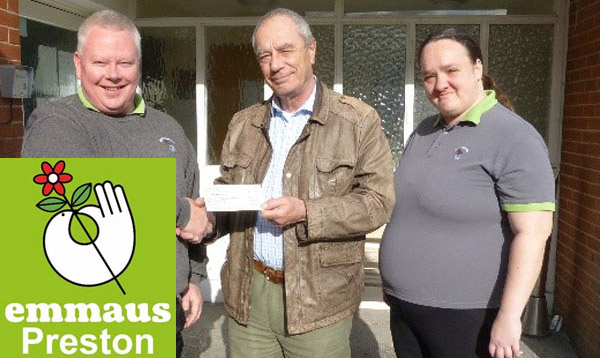 Since 1999, the North West Air Ambulance Charity has had a huge impact on the lives of many across the north west, initially operating just five days per week, with a full seven-day service from 2002. Recently joining forces with the North West Ambulance Service to provide inter-hospital transfers in response to the COVID-19 pandemic, helping prevent any hospital becoming overwhelmed. Also partnering with Blood Bikes Manchester, and Salford Royal Hospital transfusion service to administer lifesaving blood transfusions by the roadside. Bob Hampson, IPM of Lodge of Concord No 343, visited North West Air Ambulance Charity to present them with a cheque for £250.
Emmaus Preston is a charity that provides a home and work to people who have been homeless or socially excluded. It is only through charitable donations that they continue helping to change lives in Preston. Emmaus Preston is an independent charity and a member of the Emmaus UK federation. Paul McKernan, the master elect of Ingol Lodge of St. Margaret No. 8544 presents a cheque for £250 to representatives of Emmaus Preston.