United Grand Lodge of England (UGLE) established the Universities Scheme in 2005 as a means of introducing Freemasonry's important values to a new generation. The scheme has a critical role in enhancing the opportunities for students and others connected with universities to join and enjoy Freemasonry.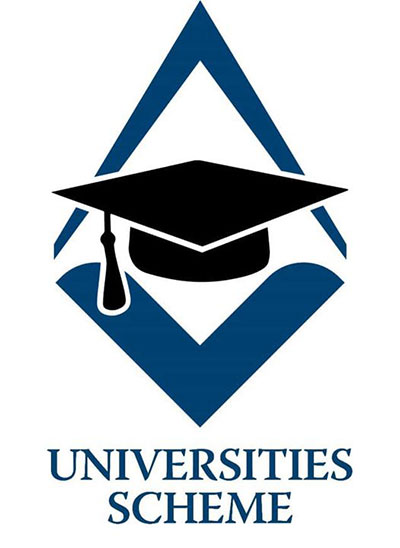 There are almost 90 lodges and seven chapters signed up to the scheme, all working in their own distinct ways to enhance those opportunities in those towns and cities with universities. All these lodges welcome new members and those wishing to become Freemasons, who are undergraduates, postgraduates, senior members of the university and alumni, and any students from further education ranging in age from 18 upwards.
In addition, when a student's studies come to an end or a university employee may relocate, there is a ready route to continue to enjoy their Freemasonry in the nearest university lodge where they live and work. The University of Central Lancashire (UCLan) is one of the UK's fasted growing institutions in the UK. It has its roots firmly in Preston as it evolved from the Harris Institute and College.
Founded in 1928 as the 'Institution for the Diffusion of Knowledge' the university has a rich history. In 1882 local philanthropist Edmund Harris bequeathed significant funds through his trustees and the name was changed to the Harris Institute, later to the Harris College. After many changes, in 1992 the University of Central Lancashire was established.
Edmund Harris was a great benefactor to Preston. His estate also provided the funding for the Harris Museum and Library. This great landmark of Preston was designed by Freemason James Hibbert of Lodge of Peace and Unity No 314. The foundation stone was laid in 1882 by a special Provincial Grand Lodge, with 1,200 Masons present.
Early in 2022 the Preston Group Chairman John Rimmer asked for lodges in Preston to express an interest in becoming a Universities Scheme lodge to provide opportunities centred round UCLan.
Preston Guild Lodge No 4408, which was in the midst of its centenary year, did more than express an interest. The members made a formal application to be the Universities Scheme Lodge for Preston. Preston Guild Lodge has a reputation for getting things done. It was born of a desire to have a 'Hall Stone Lodge' in Preston and they took just three years from consecration to achieve that goal. The lodge also played a leading role in establishing a Masonic home for Preston in the 1940s, leading to the development of Preston Masonic Hall.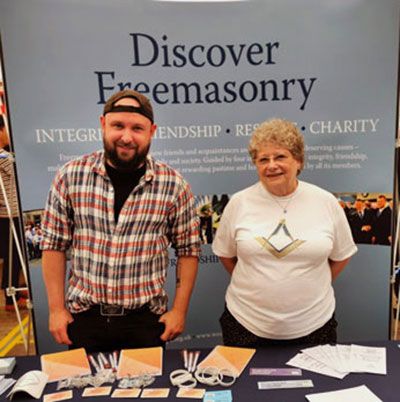 In the summer of 2022 the lodge was invited to take part in an 18 month to two year trial as a Universities Scheme Lodge. True to their past enthusiasm, the lodge stepped up and sprang into action. Remarkably, many of the adaptations required to be a Universities Scheme Lodge were already practiced by Preston Guild Lodge. The lodge had an established website which carried the UGLE Charter Mark and was very active with social media. Whilst being very busy planning the centenary celebration meeting for October 2022, the lodge rapidly integrated the work for the scheme into its programme.
Preston Guild Lodge is mirrored in Freemasonry for Women with, as a stroke of luck, Preston Guild Lodge No 29. The two lodges already had excellent relationships and had enjoyed a "joint meeting" earlier in the year with a white table festive board to follow. This partnership was to prove crucial.
Working together, the two lodges met the diversity criteria and were able to secure a space at the 'Freshers' Fair'. David Parker Jnr from Preston Guild Lodge No 4408 and Angela Seed from Preston Guild Lodge No 29 attended the fresher's fair and kick started the process. This partnership will continue so that both lodges can attract new members.
Preston Guild Lodge is also very grateful to the City of Lancaster Lodge No 281 who act as the University Lodge for Lancaster and South Cumbria. Very clear support and guidance has been well received from John Stanley who is the Universities Scheme Lead for West Lancashire. This mentorship proved invaluable.
Very quickly, some six potential prospects have come forward and are being processed utilising the Pathway Process. The first three candidates are being initiated in January and February of 2023.
Late in the year, the lodge was asked to produce a 'business case' to support its application to become a Universities Scheme Lodge. It was determined that the lodge had made such rapid progress in a very short time that the application was fast-tracked. Preston Guild Lodge was appointed to be a Universities Scheme Lodge in December 2022; at least 18 months ahead of plan.
The lodge is both proud and humbled by this appointment. The momentum will be maintained as the lodge works on making access to Freemasonry smoother for all in UCLan.