Once again, the lodges and chapters in the Preston Group rose to the challenge and gave generously to this year's Foodbank Appeal. Lodges and individuals supplied a vast range of essential basics as well as Christmas treats such as selection boxes, mince pies and Christmas puddings.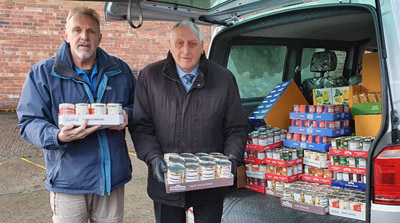 There was a steady flow of contributions into Preston Masonic Hall ready to deliver to the Salvation Army Foodbank in Preston. The contributions were filled into a mini bus and an SUV by Ian Greenwood (WM of Preston Guild Lodge No 4408) and Dave Asbridge (Preston Group Vice Chairman) on the first run and they then filled the minibus again for a second delivery.
Claire Bowerman, the Salvation Army's Community Centre Co-ordinator was impressed with the provisions and thanked the Preston Group Chairman John Rimmer for the bumper delivery made by the Preston Group Masons. She and her team then helped the Masonic contingent to unload the vehicles.