Representing the Provincial Grand Master at the installation meeting of Piel Castle Lodge No 6099 at Barrow-in-Furness Masonic Hall was Furness and South Lakeland Group Chairman Peter Schofield.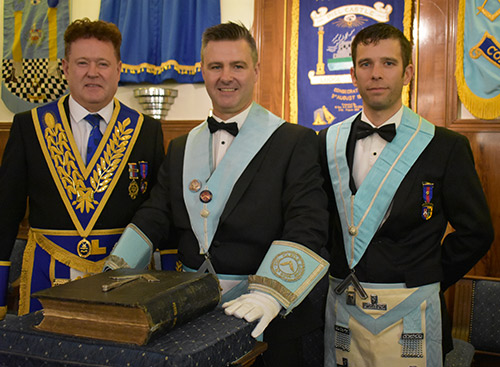 He was able to observe Lee Storey install Ryan Parrington as his successor into the principal chair of the lodge in what Peter was later to describe as: "A dignified and wonderful ceremony."
Amongst the 100 members and their guests in attendance were four acting Provincial grand officers. From the Furness Group were Alan Hilton, Terry Ridal and David Ingham, they were joined by Terry Murtagh who had made his way to the top of the Province from the North Fylde Group. As Peter was the representative of the PrGM, group vice chairman Gary Rogerson attended to represent the group.
Although the work of Lee was of a high standard, and capped off a year which has seen him prove an excellent ambassador for the lodge, he did not act in isolation. The working tools of the three degrees were presented in fine style by Bill Joughin, Bob Heron and Lee with Ian Cottam undertaking a similar task in respect of the tools of an installed master.
The address to the newly installed master was delivered by Peter Storey (Lee's father), that to the wardens by lodge secretary Dennis Laird and Peter Schofield orated the address to the brethren of the lodge. David Ingham was called upon to address the stewards as to their responsibilities.
The group chairman was presented with several cheques in aid of good causes. The MCF 2021 Festival received £1,315, the Royal Masonic Trust Girls and Boys £100, the Neurofibromatosis Trust £221, Rosemere Cancer Foundation £100 and Macmillan Cancer Support £100.
The donation to the MCF 2021 Festival qualified Piel Castle Lodge as Grand Patron and a certificate was presented marking the achievement.
Peter Schofield paid tribute to all who taken part in the ceremony and gave a special mention to secretary Dennis and director of ceremonies Chris Gray for the work they had obviously put in to make the day so a pleasurable one.
A meal of duck pate, roast beef and sticky toffee pudding was consumed with great relish in the Fairfield Suite of the hall.