As with many an evening, Lodge of Good Hope No 6937 was opened by its master David Sangster but for one of the brethren it was going to be a very special night. One, Peter Whiteside, had reached his 50 years in Freemasonry. 44 of his fellow brethren joined him to make sure the golden celebration glittered as brightly as the man himself.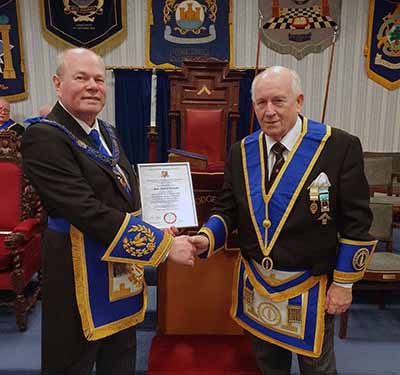 As is fitting in these ceremonies, the principal guest was Assistant Provincial Grand Master Duncan Smith, together with Harry Cox. North Fylde Group Chairman John Cross and acting Provincial grand officers Gavin Egan, Michael Tax, Adam Simpson and Provincial Deputy Grand Director of Ceremonies Ryan Modlin were also there.
At the appropriate point in the proceedings Duncan Smith was formally welcomed to the meeting and he was offered the gavel by David Sangster.
Having taken his seat in the master's chair, Duncan started his presentation by saying that Peter was born to parents Charles and Bessie Whiteside in 1943, at a time when the Second World War was raging and times were hard with rationing. His father had been called to National Service.
At the end of the war the family moved from Blackburn to Bispham where Peter's father became a representative for a carpet manufacturer and he later started the well-known Whiteside's Carpets, where Peter would join him in the business together with his brother John (also a member of the Lodge of Good Hope).
Peter was a keen sportsman, playing football for his school and his parish church as goalkeeper. Peter was so successful that he once played for Bolton Wanderers second XI at Burnden Park. But at heart Peter's team is Blackburn Rovers where he spent many a happy time with his father.
Peter met his future bride Maureen when he was 15 but Maureen was to move to America. 20 years later Maureen returned to England and they were married in 1987. The couple have two daughters, Amanda and Hayley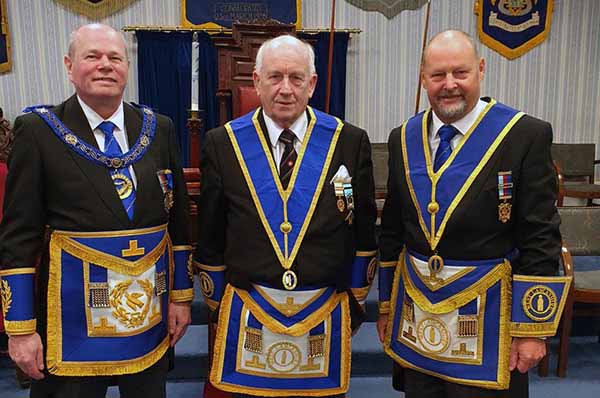 Peter was initiated into the Lodge of Good Hope in January 1972 and being a Lewis, his ceremony was rightly conducted by the proudest man in the room, his father Charles. Peter progressed through every office of the lodge and was installed into the chair of King Solomon in 1984
In 1992 Peter received his first Provincial honour to Past Provincial Junior Grand Deacon and in 2000 he was promoted to Past Provincial Junior Grand Warden.
Outside the work of his lodge Peter displayed commitment to the Craft, serving as Cleveleys Masonic Hall secretary and then as Hall Chairman. He was also a dedicated member of Blackpool Rotary Club, taking the office of President, in which he served with distinction.
As the ceremony was drawing to a close Duncan called on the North Fylde Group Chairman to read a certificate commemorating the event from the Provincial Grand Master Tony Harrison; at the completion of which Duncan took great pride in presenting Peter with the certificate.
Duncan returned the gavel of the lodge to David Sangster who completed the evening's business and closed the lodge. The brethren then moved to the dining room to continue the celebrations and, at which, a raffle raised a magnificent £220 to continue the lodge's charitable work.