Assistant Provincial Grand Master Derek Parkinson was pleased to lead the celebrations and tributes to Peter Williams, on his achieving 60 years membership of Freemasonry. Peter is a much respected and popular member of South Liverpool Lodge No 2681 and the Garston group. It was therefore fitting that the evening was held at the regular lodge meeting at Garston Masonic Hall.
The lodge was opened by the WM Ian Yoxall, who conducted the routine business of the evening, before Provincial Deputy Grand Director of Ceremonies Barry Fitzgerald announced that Derek was without and demanded admission.
Derek was accompanied by other grand officers, acting Provincial grand officers, Garston Group Chairman John Murphy and past Provincial grand officers, all of whom were duly admitted and welcomed into the lodge by Ian.
Ian then offered Derek the gavel of the lodge, which on this special occasion, he was pleased to accept and retain. Derek said: "such events are amongst the most enjoyable duties and responsibilities of holding a senior office within the Province. It affords me the opportunity to celebrate with a brother as he reaches a milestone in his Masonic career". He then asked Barry to seat Peter before him and preceded to delivered a detailed account of Peter's life; domestic, professional and Masonic.
Derek continued by saying, that on researching for the evening he could also look back at what was going on in the world between the time Peter was born and when he became a Mason. Amongst the many memorable events during the mid-1930s, were the breaking of the 300mph road speed barrier by Malcom Campbell, the completion of the Hoover Dam, the opening of the Sydney Harbour Bridge and the conviction for tax evasion of a certain Al Capone! It was however, also a period of economic uncertainty, with the great stock market crash and worldwide depression, which saw unemployment in Britain reach 30% of the workforce.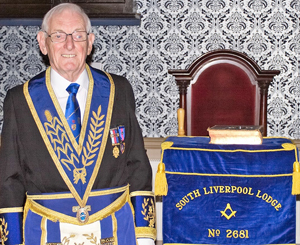 Peter was born on Friday 6th December 1935, a second son to John and Olwen Williams (nee Jones), who had met and married some five years earlier in Liverpool. He also, very wisely said, "I should here apologise for any of my mispronunciations in the Welsh place names that form part of Peter's story", before informing the gathering that due to the impending war, Peter's father John, had moved his family back to the Llandrillo area of North Wales, where Olwen's family where from. John however was needed in Liverpool, as his work as a carpenter was much needed at the docks. This resulted in the family moving back to Liverpool, where they lived at 75 Arundel Street, Toxteth.
During the war, Peter attended Dingle Vale Primary School and at aged 12 moved to secondary education at Toxteth Technical College, or 'Tocky Teck' as it was known locally. However, at the end of the 1940s, Peter left school and took an apprenticeship as a joiner with J.W. Jones, at nine pence three farthings an hour. This, Derek calculated, to be the equivalent of £1.30 at today's values.  The building company had been started in 1900 by John William Jones, who came to Liverpool from Cyfylliog, near Ruthin, to learn joinery. It became a very successful venture and they were responsible for building thousands of houses, shops and flats, particularly around the southern part of the city. He tended to bring his workers in from Wales and employed hundreds of Welsh speaking bricklayers and joiners, most of them moving permanently to live in the city in the Allerton area.
Peter had always wanted to work on a building site rather than in a joiner's workshop and so moved to Capstick and Owen, working in many different areas of the UK. Unfortunately, when he was nineteen, he had an altercation with a 2-inch round headed nail, that bounced back and it damaged his left eye, resulting in loss of sight and losing his binocular vision.
After completing his apprenticeship, Peter went to work in the maintenance department of Union Cold Storage, who had taken over an area in the Albert Dock, were he was put in charge of the maintenance of the buildings.
During his time with the company, he also worked in London and the Midlands and was clerk of works for the construction of an abattoir. He learnt all about how the animals were killed and he modernised some of the processes, to make them more efficient. It was around this time that he met Brenda Robinson and they moved back to Liverpool where they were married.
He worked in various roles in the city engineers and surveyor's department and attended night school to qualify, in what is now called the Chartered Association of Building Engineers.
Peter was later promoted to the post of district building surveyor and on one occasion was asked to meet three men who came up from London on the train and to take them on a tour around the city. They particularly wanted to visit the Albert Docks and the Toxteth and Dingle areas to look at the problems after the riots of 1981. These visits resulted in the regeneration of the Albert Docks and the development of the Garden Festival site, both of these projects coming under Peter's remit. One of the visitors he took round that day was Michael Heseltine, minister for the environment, who was appointed by Margaret Thatcher as minister for Merseyside.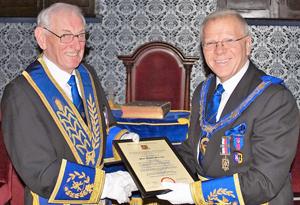 As mentioned earlier, in 1958 Peter met Brenda Robinson, a young woman who was brought up in Africa, but now worked as a secretary for Canadian National Railways. They started going out together and were married on the 3rd March 1962, at St Anne's Church in Aigburth and have a son David, who works in import and sales.
But, as Derek said, "we are here tonight to celebrate Peter's 60 years as a Freemason and so looking at your involvement Peter, over the last 60 years, it begins with your initiation into Pembroke Lodge No 1299 on the 18th September 1958. The lodge in which you were installed as WM in 1974 and again in 2007. You almost celebrated your 50th anniversary there, but sadly the lodge closed. By then you were already a member of Sure and Stedfast No 9326, were you served as WM twice. You joined South Liverpool Lodge in 2012 and served as WM in 2014".
Peter is also a member of the Royal Arch and was first principal in 1979 and is now director of ceremonies in Grassendale Chapter No 4848. His first Provincial appointment in the Craft was as Provincial Grand Standard Bearer in 1981, with promotion to Past Provincial Deputy Grand Superintendent of Works in 1986 and to Past Provincial Junior Grand Warden in 1991.
He was appointed as group secretary of the third Liverpool Group and then vice chairman, followed by two years as group chairman. Peter is one of very few people who has been chairman of more than one group, as during the reorganisation of the Liverpool groups, he got a 'free transfer' to Woolton, where he took on the role of group chairman for three years. During his time as a group officer, Peter ran coach trips to Paris and Brussels and hired one of the Mersey Ferry boats for a trip along the Manchester Ship Canal, making over £10,000 for the West Lancashire 1997 Festival for Girls and Boys. As a result of all this work, Peter received Grand Rank as Past Assistant Grand Director of Ceremonies in the Craft and Past Grand Standard Bearer in the Royal Arch.
Derek then called on Garston Group Ghairman John Murphy, to read the diamond jubilee certificate. In presenting Peter with his certificate, Derek ended his eulogy to Peter by saying, "Peter, during your life you have contributed to serving this city and the local community and also given a huge amount of your time to Freemasonry, in the Liverpool and Woolton Groups in particular. You certainly seem to have derived a great deal of pleasure and enjoyment from it and so it is a great honour and a privilege to say to you, Peter, thank you for all that you have done both for Freemasonry and the wider community and congratulations on achieving 60 years as a Mason and we all look forward to seeing you enjoy many more years as a member of this great order".
With the formal business completed, Derek asked the WM to return to his rightful seat and for Ian to conclude the remaining business, before Derek and Peter retired from the lodge.