It was a notable evening for Peter Schofield as he was installed into the first principal's chair at Wilderswood Chapter No 5932. This was the fifth time that Peter has served as first principal in no less than four Royal Arch chapters, including international duties!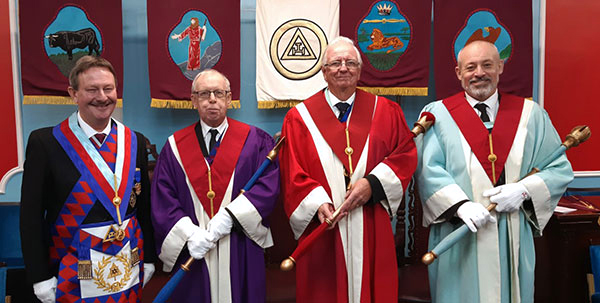 Peter was exalted into Royal Arch Freemasonry over 37 years ago in 1985, into Horwich Chapter No 2324. He then became first principal of Othello Chapter No 5670 in Cyprus in 2002/3, followed by Horwich Chapter in 2008/9, Corinthian Chapter No 2350 in 2014/15, culminating in becoming first principal at Wilderswood Chapter No 5932 in 2017/18, and repeating that duty for the forthcoming year again in 2022/23.
Serving as fellow principals in the chapter are Ralph Vincent as second principal and Gary Matthews as third principal.
The chapter was honoured to have in attendance as principal guest Assistant to the Provincial Grand Principals Paul Hesketh who heartily congratulated Peter and his fellow principals on what was a most enjoyable ceremony.
When the convocation was over, the companions retired to enjoy a high quality and eagerly awaited festive board. At the festive board, Paul rounded off the successful evening by regaling the companions in attendance with a compelling, warm and informative history of Peter's dedication to Royal Arch Freemasonry, full of humour and affection for a highly regarded and well-respected most excellent companion.
Paul's address was a very well received and appreciated oration, humbly and kindly reciprocated by Peter, who said he was happy and honoured to serve in the office again and was looking forward to a most enjoyable year at Wilderswood Chapter as first principal. Peter admitted he couldn't immediately recall all the previous times he had been honoured to serve as first principal and that the memory fades over time but his enthusiasm for Royal Arch Freemasonry most certainly does not.