Pharos Lodge No 7421 held their annual installation at Fleetwood Masonic Hall. 28 brethren and guests gathered to witness Peter Draper return to the chair of King Solomon.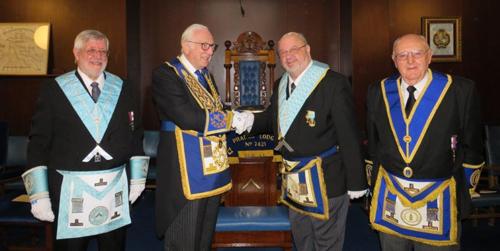 Unfortunately at the last minute the principal guest, Assistant Provincial Grand Master Derek Parkinson, was unable attend due to ill health. Stepping in to save the day, however, was North Fylde Group Chairman Peter Greathead. Peter was accompanied by acting Provincial grand officers Jim Gregson and Jason Dell and the Reverend John Hall.
The lodge was duly opened by Brian Crawford, WM, whose skills made short work of the administrative business of the lodge. The director of ceremonies Dennis Smith formally introduced Peter Grethead to which Peter said: "Surprise WM".
The introductions complete, Brian asked Andy Curtis to act as installing senior warden, John Eastwood to act as installing junior warden and Jeff Smith to act as installing inner guard. The master elect was presented by Gregory Grove.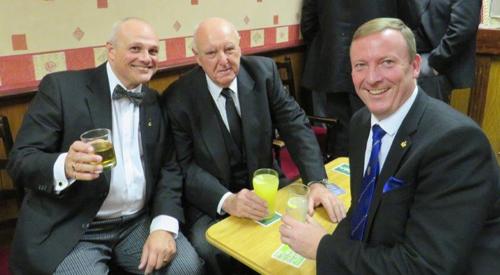 Brian installed Peter into the chair of the lodge in what was a delightful ceremony. Once the inner workings were completed the third degree working tools were delivered by Liam Burns, the long version of second degree tools were delivered to perfection by Dennis Smith and finally the first degree tools were delivered by Paul Troughton.
Gregory Groves, who had previously presented Peter, delivered the address to the master in an excellent piece of ritual. Once the new wardens were installed, Jeff Smith delivered the warden's address. Hard working DC Dennis Smith delivered the address to the deacons. To conclude the ceremony Peter Greathead delivered the address to the brethren of the lodge.
Once Brain uttered the words: "That concludes the ceremony of installation" Peter Greathead rose and said: "Usually the Provincial Grand Master knows that I am here, but in this case he will tomorrow." Peter congratulated the new master on behalf of Tony Harrison and then moved to the installing master Brian to congratulate him on a job well done.
Peter Draper presented Peter Greathead with cheques for £200 for the 2021 Masonic Charitable Foundation, £100 to the National Coastal Watch at Rossall Point and £100 to the Fleetwood Museum.
The lodge was duly closed by the new WM and the brethren retired to the dining room to enjoy a well-earned three course festive board of prawn and avocado salad, roast beef followed by a warm chocolate brownie.
The master's song was sung by the lodge's own John Darrell accompanied on the organ by David Brown. A raffle held during the evening raised an impressive £136 and to bring a memorable evening to a suitable close John Glass delivered the tyler's toast.