Following the lockdown, Peter Draper was more than happy to remain in the chair of Pharos Lodge No 7421. The proclamation ceremony held at Fleetwood Masonic Hall welcomed Provincial Junior Grand Warden and Vice Chairman of South Fylde Group Benjamin Gorry as the representative of the Provincial Grand Master. Ben was supported by North Fylde Group Chairman John Cross and acting Provincial grand officer Mark Mallinson.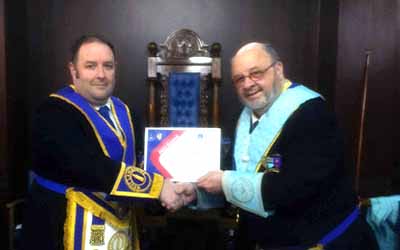 Peter is a consummate professional having held the position of master seven times, with four of those in Pharos Lodge. Peter has served as master of Collingwood Lodge No 8961 in Surrey, which sadly closed and Old Wellingtonians Lodge No 3404, meeting in London, in 2017, being a former member of staff at Wellington College.
Peter is a very active and dedicated member of the community who sings in the choir of St Peter's Church in Fleetwood and works for Child Action North West as Blackpool's appropriate adult, supporting children and vulnerable adults in police custody.
This year Peter and the members of Pharos Lodge are actively supporting Alzheimer's Research, which is a subject close to Peter's heart as his sister Wendy has been living with the disease for the past seven years and who, despite that, has written a book about the subject, 'Somebody I used to know' which was a Sunday Times bestseller. Wendy is due to release her second book in 2022.
The lodge was opened and its administration completed. In one of his many roles of the evening, the lodge's hardworking director of ceremonies Dennis Smith escorted Ben Gorry to the master for formal introduction which he swiftly followed by leading the salutations.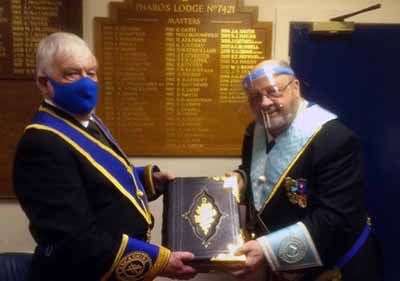 Dennis then moved into his next role as proclaiming master, undertaking the task with the upmost professionalism and dedication that epitomises his service to the lodge. The working tools were presented by Ian Glass for the third degree, Liam Burns for the second degree and Paul Troughton for the first degree.
Following on from a first-rate presentation of the working tools, the master's address was given by Gregory Grove and once again Dennis Smith came to the fore to deliver the addresses to the wardens and to the deacons.
Once the proclamation was completed, Ben brought the greetings of the Provincial Grand Master and Peter Draper presented Ben with cheques for £200 for the Fleetwood Beach Wheelchair Group and £200 to the Fleetwood Yacht Lake Free Public Conveniences. Once the cheques had been presented Ben had great pleasure in giving Peter a Masonic Charitable Foundation 2021 Festival Vice Patron certificate, acknowledging the donations made by the lodge.
Ian Glass had great pleasure in presenting the master and brethren with the lodge's VSL which he has had professionally repaired.
The lodge was then closed and the brethren retired to enjoy a fabulous festive board, where a raffle raised £132 to continue the charitable work of the lodge and the tyler's toast was given by Ian Glass.