Peter Hainsworth was installed into the chair of the Phoenix Lodge of Installed Masters No 9206, to become the 33rd WM. For the ceremony, the lodge was honoured by the presence of Assistant Provincial Grand Master Stewart Seddon.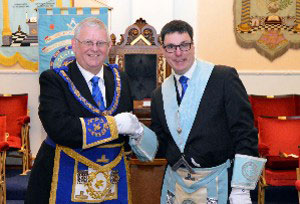 Peter and Stewart were among more than 80 members and guests attending the installation meeting at Leyland Masonic Hall and included a Past Assistant Provincial Grand Master William Huck and the Group Chairman of Leyland Group and the Vice Chairman of Chorley Group, Chris Blackwell and Peter Allen respectively, along with many other grand and acting Provincial grand officers.
After the lodge was opened by the outgoing WM Bryan Hoarty, Peter was presented as the master elect and the outgoing WM, ably assisted by the officers of the lodge proceeded to install Peter as WM for the ensuing year, in a ceremony that was not only very confidently conducted but very sincerely delivered. It was a real testimony to the hard work that all the officers and brethren had put in especially the installing master Bryan Hoarty and of course the director of ceremonies Mike Harrison.
On concluding the ceremony, Stewart Seddon, who himself is a past master of Phoenix Lodge, brought the greetings of the Provincial Grand Master Tony Harrison and congratulated Peter on attaining the chair, along with all the brethren who had taken part in what he described as an excellent ceremony, making special mention of the installing master Bryan Hoarty for the excellent way he conducted the ceremony and making it such a great and enjoyable occasion to watch and be part of.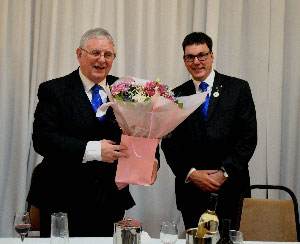 Stewart was then presented with cheques for £250 to St Catharine's Hospice, £250 to Derian House, £400 to Masonic Charitable Foundation and £100 to North West Blood Bikes, a grand total of £1,000. Stewart went on to thank the brethren sincerely, on behalf of the final recipients of the donations for their generosity.
With over 80 brethren dining, the festive board was truly wonderful affair with great food and fellowship in a warm and friendly atmosphere throughout the evening.
The traditional toast to the WM was proposed in a very sincere and heartfelt manner by the now immediate past master Bryan Hoarty. Peter responded by thanking everyone for making his installation meeting a resounding success and a most enjoyable evening.
The evening ended with Peter's final pleasant duty, that of presenting Stewart with a floral gift for him to pass on to his wife.
Phoenix Lodge is the installed masters lodge for both the Leyland and Chorley Groups and brings together many of the past masters of the lodges within those groups. It meets four times a year at the different Masonic halls in both groups and to become a member you need to be an installed master of your lodge, however all visitors regardless of degree or rank are welcome.