According to Lane's Masonic Records, Lodge of Perseverance No 155 received its warrant in 1803, originally meeting in Preston until moving to Liverpool in 1852. It first met at the Royal Hotel, Dale Street and various other establishments, many long consigned to history, until finally settling in 1990 at its current meeting place of the Britannia Adelphi Hotel.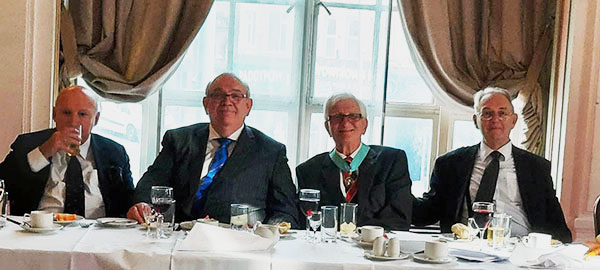 All members are keenly aware of the customs and traditions that have evolved over the years. An example was illustrated by the assembled brethren sitting resplendent in entered apprentice aprons, without further adornment whatever their rank.
All was in order for the installation of James Alty as master elect of the lodge. Director of ceremonies David Anderton was confident enough to suggest that WM Howard Griffiths open the lodge slightly ahead of schedule.
The lodge was duly opened and Howard acknowledged and welcomed the Deputy Provincial Grand Master Philip Gunning and expressed the wish of all present that he had a happy and enjoyable time in their midst.
The meeting proceeded in true and correct manner and in good humour. Howard installed James in true Masonic style and was later congratulated by Philip for the excellent way in which he had conducted himself while installing his successor, including in his praise the brethren who assisted in the ceremony.
It was then announced that the lodge had donated £1,000 to the West Lancashire Freemasons' Charity; news that was greeted with great acclamation and appreciation by all present.
Newly-installed master James, after attending to all relevant business, closed the lodge in due form and the assembled company retired to the dining room for refreshments before sitting down to an excellent traditional dinner of melon, salmon, and strawberries with all appropriate accompaniments, and of course further refreshments.
The enduring traditions, customs and standards of Lodge of Perseverance had once again been fulfilled and upheld in accordance with its long and venerable history.