The dictionary definition of proclaim explains that it is to declare publicly, proudly, insistently in speech – which was most definitely the case for Chapter of Perseverance No 155 when the three principals were proclaimed for the ensuing year.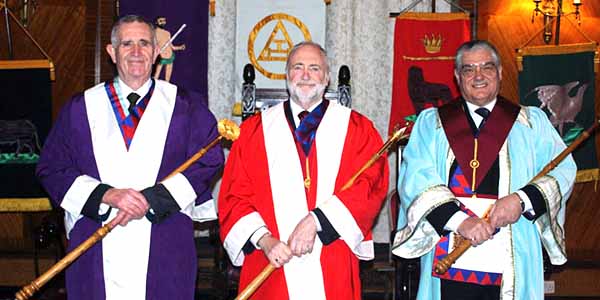 With a large contingent of visitors and companions present at the Adelphi Hotel, Liverpool for the chapter installation meeting, the scene was set for an enjoyable and excellent evening.
The chapter was opened in fine form by first principal David Berrington, assisted by second principal George Powell who was standing in for Dr Peter Green who unfortunately was unable to attend, with third principal Les Williams completing the triad.
Director of ceremonies Gwilym Jones, having earlier retired from the room, re-entered the chapter and announced that Paul Shephard, representing the Grand Superintendent, stood without and sought admission. David stated that he would be delighted to receive him and the companions stood while Paul, accompanied by Gladstone Group Chairman John James and grand officers were welcomed to the chapter.

Gwilym then proclaimed the principals in their respective offices for the ensuing year. Ken Alker gave a very impressive scarlet robe address to first principal David, followed by David Hilliard who also delivered an equally impressive blue robe address to third principal Les.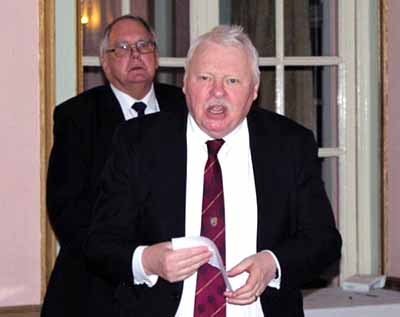 Following investment of companions who were continuing in their respective offices, and appointments for new roles, Paul Shepherd rose and delivered a very warm and sincere address to the companions of the chapter.Gwilym spoke very warmly about Dr Peter Green and said that Peter had communicated that he was disappointed not to be able to attend the occasion and that he wished to congratulate the three principals. Gwilym further explained that Peter was a fine example of a Royal Arch Mason, being involved in many charitable causes, not least being Chairman of his Rotary Club, as well as raising large sums for his local hospice in memory of his wife. The companions are very much looking forward to Peter's return as second principal.
At the conclusion of the installation ceremony, Paul again rose to offer his personal congratulations to the chapter, on both a wonderful ceremony and the manner in which it was conducted. The principals thanked Paul for his kind words.
The chapter then balloted for two new candidates who were passed unanimously and so, following a successful installation, the chapter can now look forward to an equally exciting year ahead. The chapter was closed in solemn form and the companions retired to the festive board to continue the evening celebrations.
Chapter of Perseverance is well known for its hospitality and attentiveness to guests and companions alike, and the festive board was a delight to observe with round tables filled with lively conversation and enjoyment of new and old friends.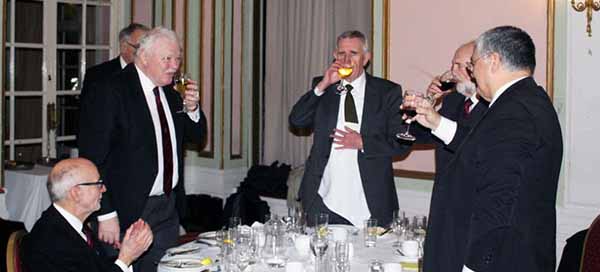 Paul took great delight in taking wine with the three principals at the festive board, afterwards giving a very humorous speech in which he congratulated all who took part in the ceremony, the continuing success of the chapter, and that he was looking forward to having an occasion to attend the chapter again.
As with all good things that come to an end, it was all too soon for the janitor's toast and a very pleasant and memorable evening drew to a close.