On a damp November evening, members of the Chorley and District Masonic Advancement Group, known as Perfect Points, descended on Brookfield Hall in Westhoughton for one of their biannual meetings. The Perfect Points meetings are a relaxed affair held in either Brookfield Hall or at Chorley Masonic Hall and aim to provide interesting and informative lectures from guest speakers to advance Masonic knowledge.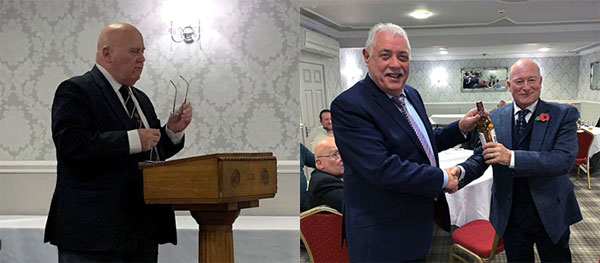 After a pie and peas supper, the guest presenter for the evening, Ian Scott, approached the lectern to deliver a lecture steeped in Masonic history with a royal link. The subject of his lecture was 'Thomas Dunckerley – A fine Freemason'.
Thomas Dunckerley (1724 – 1795) was a well-known Freemason and Provincial Grand Master of a number of Provinces. He was initiated into Freemasonry at Lodge No 31 in January 1754 at the Three Tuns in Portsmouth and was appointed Provincial Grand Master of Hampshire in 1767. He would go on to become Provincial Grand Master for, amongst others, Essex, Dorset and Herefordshire.
Dunckerley is credited with introducing Mark Masonry to England in 1769 and also played a significant role in the promotion and expansion of the Royal Arch and other Masonic Orders. Although his claim to Royal paternity is not universally accepted, following a deathbed confession from his mother, he claimed to be the illegitimate son of King George II. His claim was accepted by King George III and Dunckerley was paid an annual annuity and provided with apartments at Hampton Court Palace.
Ian Scott's superb lecture left members in little doubt of Thomas Dunckerley's importance in the advancement of Freemasonry and in particular the Royal Arch and other Masonic Orders. The evening ended with the traditional raffle, which was won by Chorley and Leyland Group Chairman Peter Allen.
Membership of Perfect Points is open to all master Masons wishing to advance their knowledge of Freemasonry; with an annual membership fee of only £5. The group's next meeting will be held at Cunliffe Hall, Chorley in April 2023. For information or should you wish to join Perfect Points please email the secretary.