Peace and Unity Lodge No 3966 hosted a Lancashire Night / Old English Night at the Blackpool Masonic Hall, and what an evening everyone had. 50 brethren, their ladies and guests attended including the Blackpool Group Chairman Steve Jelly and Mrs group chairman, Maureen.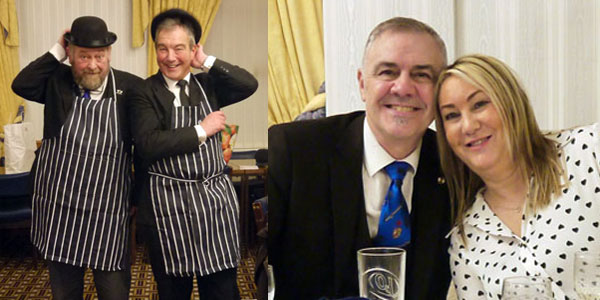 The evening started with a social gathering in the bar area then a Lancashire themed meal in the Fylde Suite dining room comprising of Bury black pudding on a sea of green mushy peas, followed by a Lancashire hotpot dinner then bread and butter pudding to finish.
The entertainment started with a specially grown black pudding being paraded around the dining room accompanied by the traditional 'ode to the black pudding' reverently recited by the 'masters of the pudding', Peter Maxwell and Ian Watson.
Master of ceremonies Peter Maxwell, who is also known by the title of Fines Master, had the job of mingling amongst the guests during the evening whilst fining them for any indiscretions, such as not being born in Lancashire – 20p, leaving the room – 20p, not laughing at the fines master's jokes – 20p and so on.
There were of course various other offences for which people could be fined, plus anything the fines master saw fit, along with a completely unanswerable quiz that had to be completed with one's fellow diners. It certainly made for a most entertaining evening.
The meal was amazing, the company excellent and the entertainment from the lodge members was spectacular. A Houghton Weavers CD was played in the background which gave an authentic Lancashire feel to the evening.
So, what is the point of such an evening? Well, it's three-fold in the main: to bring people together to enjoy themselves in a relaxed atmosphere; to raise awareness of Freemasonry and the good work done and to raise money for charity. (You can also add that it was a fantastic enjoyable evening). And in a matter of hours £400 was raised for charity. A huge thanks must go to everyone who helped organise the event.
Bearing in mind, the Provincial Grand Master Mark Matthews, has expressed a wish for everyone to enjoy their Freemasonry, by holding such an evening that wish has been fulfilled. It's a sure thing that all future Peace and Unity Lodge events will be just as amazing as this one has been, some said that hopefully they will be attending them all. If you've never been, then go, if you have been, then please go again.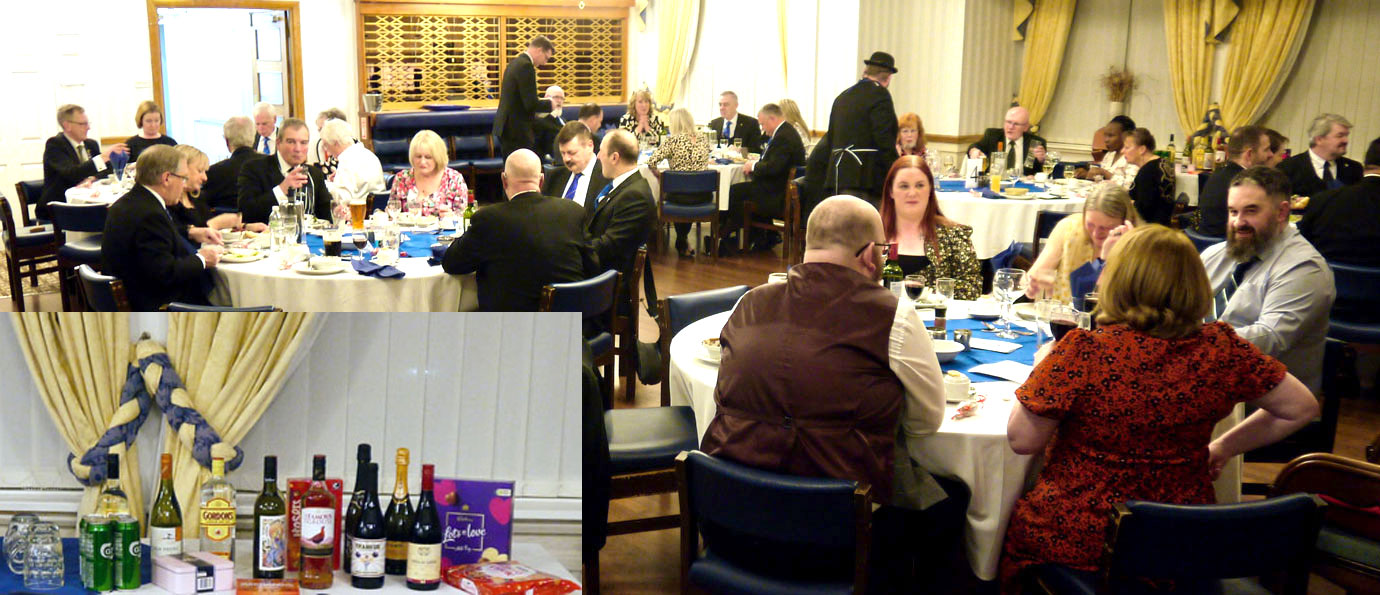 Story and pictures by Gordon Ivett, Blackpool Group Publicity Officer.