There was a buzz around Cleveleys Masonic Hall as 51 companions gathered to witness Fylde Chapter No 2758 install its next first principal Paul Darlington. 10 years ago, the chapter was looking like it was going to close and hand back its warrant to Supreme Grand Chapter with only 12 members but it has since gone from strength to strength and now boasts a growing membership of 27.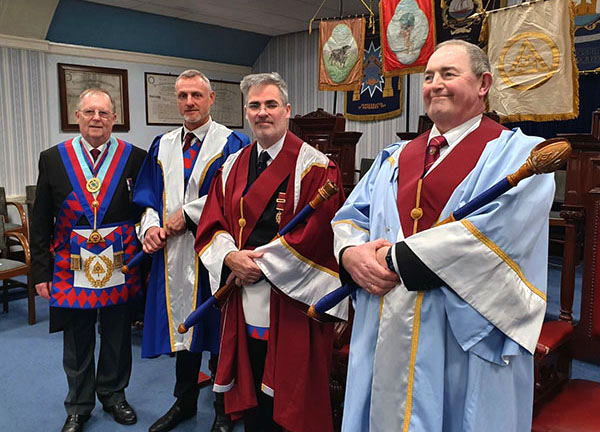 During the evening's proceedings they welcomed North Fylde Group Vice Chairman Tony Farrar as a joining member, increasing the number yet again. The future does indeed look bright for the oldest chapter in the North Fylde Group.
Fylde Chapter, as one of the oldest on the Fylde coast, has had an exciting year with the start seeing a rare banner dedication in the presence of Deputy Grand Superintendent of the Royal Arch Province of West Lancashire, Paul Andrew Renton and a full Provincial team.
At the installation convocation, the evening's distinguished guest was Assistant to the Provincial Grand Principals Colin Rowling, along with fellow grand officers Keith Jackson, Peter Greathead, David Harrison, Ian Ward and David Thomas, together with the North Fylde Group Chairman John Cross.
Paul Darlington, his first time in the first principal's chair, has a natural ability with ritual, having worked for the US Army in its museum division and volunteered with the Imperial War Museum doing oral histories with the veterans. Paul can also often be seen at the golf course improving his game or indulging his passion for music, playing his guitar or piano.
The chapter was opened and the installation ceremony began once Colin Rowling and his distinguished entourage entered the room and were formally welcomed to the chapter. For the purposes of installation Chris Williams, Edwin Fisher and John Cross were asked to act as installing officers. As time came for each new principal to be installed, Paul Darlington as first principal, Creag Williams as second principal and Jack Baxter as third principal, they showed their proficiency by reciting their obligations without flaw.
Scripture readings were given by Chris Williams, David Edwards and Glen Jackson. Once the principals had been installed into their respective chairs, the crimson robe address was presented by Ian Chetwynd, the purple robe by Geoff Diggles and the blue robe by Chris Williams.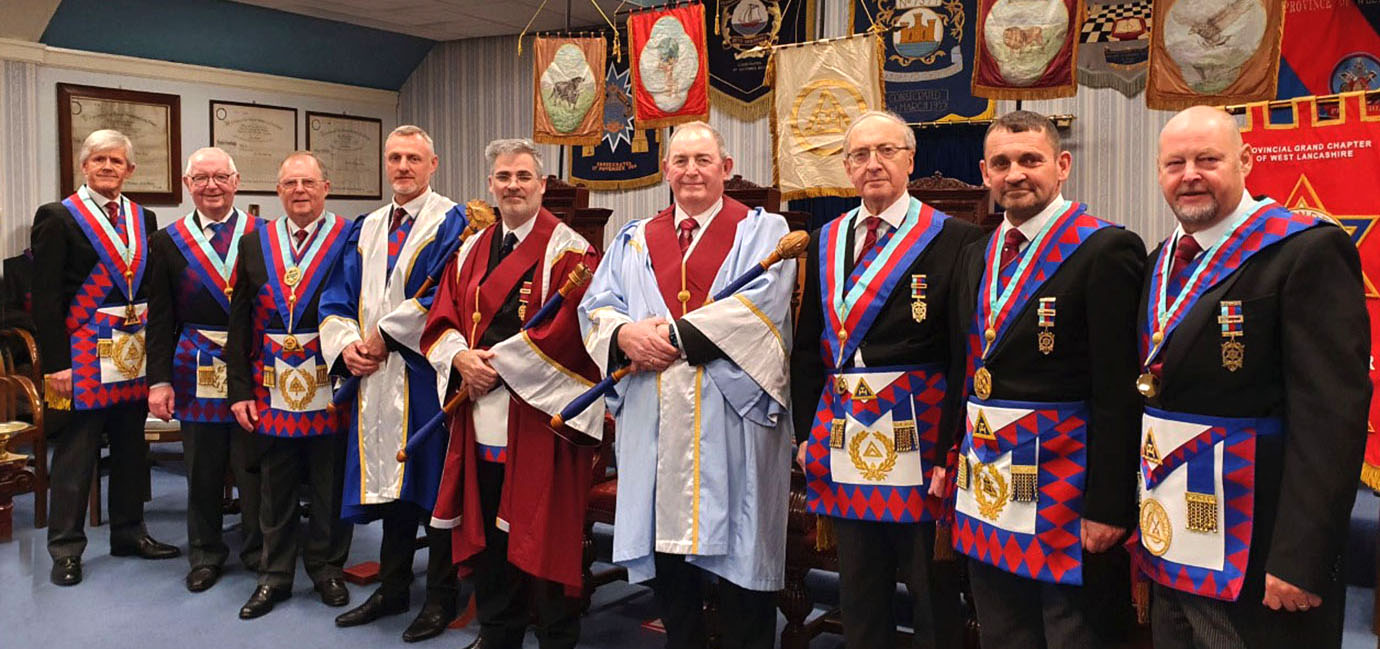 At the completion of the ceremony Colin Rowling rose to bring the greetings of the Grand Superintendent Tony Harrison and in return Paul Darlington had the great pleasure of presenting a cheque to Colin for £430 to the West Lancashire Freemasons' Charity.
The convocation was then closed and the companions moved to the dining room where Colin had the chance to bring his own greetings to the new principals and congratulate all those who dedicated their time to ensure such a marvellous ceremony
The companions were delighted to witness David Harrison singing the principal's song, accompanied by Keith Jackson tickling the ivories on the piano; and a raffle raised £341 for charity.