The phrase 'going the extra mile' is often used to describe someone who has put in extra time and effort to get things done and make a difference. However, Paul Wharton-Hardman, senior warden of Leyland St Andrew's Lodge No 7391 is demonstrating this quality in an exemplary manner.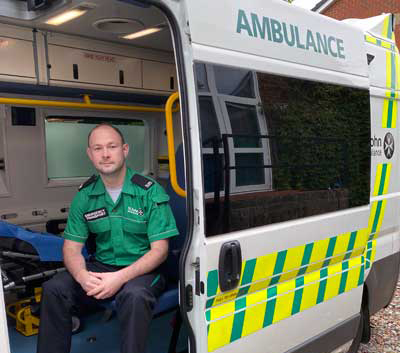 As the NHS faces a uniquely challenging time, Paul has stepped up his volunteering with St John Ambulance, by giving 100s of hours of his time to respond to 999 calls.
Paul, who is a volunteer Area Manager and Emergency Ambulance Crew with St John Ambulance, has been busy working across the North West on 12 hour shifts, selflessly attending to patients who have a need for an ambulance, whether it be a patient who has COVID-19 and struggling to breathe, or a road traffic accident.
On top of this, Paul has raised £100s to support St John's effort, at a time when the mainstream commercial funding streams for the charity have ground to a halt.
Paul, who has been a Freemason for seven years, also finds time to hold down a full-time job as a Facilities Manager, where he is responsible for the maintenance and health and safety compliance of several buildings. On top of all that he serves his community as a borough councillor and magistrate and still manages to squeeze in some walks in the countryside in his 'spare time!'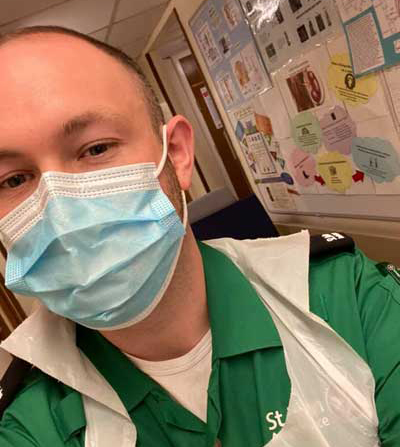 Paul gave a small insight into his experiences: "As a volunteer ambulance crew you see things that make you laugh and others that will make you cry. My volunteer role has taught me how to talk to people when they're vulnerable and in the last hours of their life, how to be quiet if they need someone to listen, and also to appreciate how difficult life can be for some people. It's a humbling and amazing experience."
The values of Freemasonry are based on integrity, kindness, honesty and fairness. Paul is the perfect example of what all Freemasons strive to achieve in living up to these values.
Dave Bishop, the WM of Leyland St Andrew's Lodge is rightly proud of his senior warden. "Knowing Paul as I do, this selfless giving of his time doesn't surprise me. He has demonstrated on several occasions his passion for helping the community he lives and works in. We are all grateful for and proud of his efforts."
Throughout April, St John Ambulance provided 15,601 hours of ambulance support to the NHS, consisting of 1,156 ambulance shifts which attended 3,644 patients and conveyed 2,059 patients to hospital.
St John's volunteer ambulance crews are also working 24/7 supporting 999 call outs and transporting recovered patients back home safely. Paul is part of a massive operation to keep us safe and we thank him and his fellow volunteers for their efforts.