When Paul King joined Freemasonry in February 2019, he never envisaged that he would be spending 12 hour days delivering equipment to patients in hospital and care homes, but his professional role as Marketing Director of the Osprey Group, a medical supplies company, placed him in the perfect position when he answered the call for volunteers from Provincial office as the pandemic struck in early March.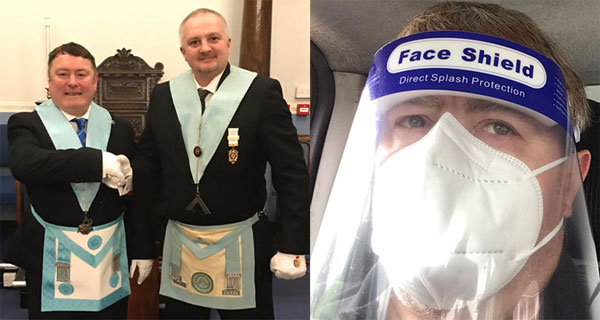 Paul is a member of Wigan Lodge No 2326, meeting at Bryn Masonic Hall. He quickly moved through the three degrees to be raised to the sublime degree of master Mason in November 2019 and at the installation was invested by the new WM as inner guard.
As a 'key worker' Paul is proud to be able to serve the community and has worked with NHS occupational therapists throughout the lockdown to ensure that vital equipment has reached patients and care users around the counties of Lancashire, Cheshire and Shropshire. He feels that the equipment he has put in place during the lockdown has helped the clients in their own homes and has also helped hospital patients return home after their stay in hospital.
Paul added that it's been a challenging time wearing the PPE for such long periods while assessing the patients in hospital and in their own homes but he has enjoyed the full support of his family and looks forward to helping people with the equipment they need which helps them rehabilitate at home or in hospital. It makes a difference to their independence as they move forward with their lives and he feels good at the end of the day knowing he have made their life a little easier with their new equipment.
Hopefully the pandemic will soon be over and Paul will be able to get back to a normal life when he hopes to progress through his Masonic life and also move on to a career in Royal Arch.
Article and pictures by Ian K Dawson.