Stephen Rhodes finally got the chance to put master elect Paul Wood into the chair of King Solomon in Stretford with Trafford Lodge No 4379.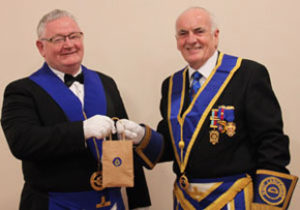 After opening the lodge and successfully balloting for two joining members the members were joined by the principal guest Barry Dickinson PPrSGW, the representative of the Provincial Grand Master Tony Harrison. Barry was accompanied by Eccles Group Vice Chairman Patrick Walsh, Tony Edden and visiting from Australia, Alan Taylor of Regala Grand Lodge of Western Australia.
Group Vice Chairman Patrick was pleased to present the traditional gift of Eccles cakes to Barry and the visiting brother from Australia Alan Taylor.
Paul was installed into take the master's chair by Stephen who conducted the ceremony in his professional manner. The working tools were presented by Stephen. On behalf of Tony Harrison, Barry congratulated Paul on taking the chair and conveyed his best wishes.

In reply, Paul presented Barry with a cheque in the sum of £2,000 for the MCF 2021 Festival which was gratefully received and Barry thanked the lodge brethren for their generosity.
Responding to the toast to his health at the festive board, Paul said that he is now looking forward to a busy year ahead with four candidates awaiting initiation.