The new Membership Pathway scheme is well on its way within the Ormskirk and Bootle Group, with many of the lodges receiving new members joining them through this scheme. Stanley of Bickerstaffe Lodge No 3511 is one of the latest lodges to benefit and they were pleased to welcome Thomas Birtles into the lodge at his initiation.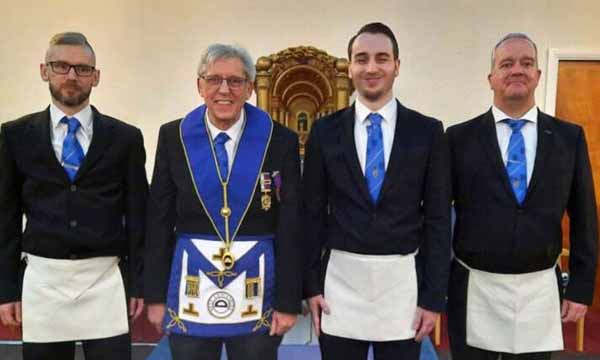 Thomas is currently a master's student at Edge Hill University and has come into Freemasonry through the new Grand Lodge Facebook Initiative which is proving very fruitful for candidates into Freemasonry.
Present at the initiation meeting was Assistant Provincial Grand Master Frank Umbers, who is also a member of Stanley of Bickerstaffe Lodge. Frank was accompanied by the Ormskirk and Bootle Group Membership Officer John Wootton.
With Malcolm Sandywell acting as the director of ceremonies, the WM, William Griffith, opened the lodge and before the ceremony he requested that Andrew Clarke honour the lodge by taking the WM's chair for the initiation ceremony. Andrew then initiated Thomas into Freemasonry as a newest member of Stanley of Bickerstaffe Lodge.
Also at the meeting were two other recent initiates, who were able to witness the ceremony which they had recently gone through. One of whom has also recently come through the Pathway scheme, Alexander Sharp of Lodge of Chivalry No 3974 and Geoff Williams of Aughton Lodge No 7996, who has come through usual lodge proposal method.
At the meeting, John Wootton introduced all three new initiates to each other in order that they may get to know one another better and visit each other's lodge in future and became friends.