A long snowy winding drive on a cold winters' night, led party goers to the warm surroundings of Ridgmont House. Bolton, which was the setting for a party and prize draw in aid of Bolton Hospice.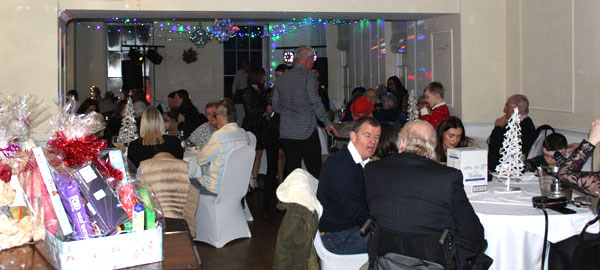 Dr Peter Green of Chapter of Perseverance No 155, with the help of family and friends has orchestrated an amazing array of fund-raising efforts over the last three years in support of Bolton Hospice. Sadly, Peter became familiar with the amazing work at the hospice following the death of his wife Jackie in 2019.
Jackie had always been a keen supporter of the hospice and so during her time there, Peter struck up a conversation with Hannah of the fund-raising team at the hospice, and the idea of a tribute fund to Jackie with regular events was born.
The first anniversary event in 2019 raised a magnificent sum of £261, swiftly followed by another event by daughter Claire running the Manchester Winter Warmer 10K run. The advent of COVID, lockdowns and restrictions, were simply another obstacle to be overcome by Peter, who having had to cancel an in-person event, simply switched it to online, raising a magnificent £1,240 hosting a virtual party instead.
The efforts continued and further events were held, 10K runs by Claire and friends, midnight walks, culminating in a prize draw in December with prizes donated by local business and other supporters, took the total raised to well over £3,500. The fund raising continued throughout 2021, with 'move it march', Welsh zip-wire challenge, Fleetwood half-marathon and a tribute prize draw in the summer and December party night, again raising a magnificent £5,000 over the year.

Many would be content to rest on their laurels, but Peter has continued to inspire in memory of his wife Jackie, and so to celebrate what would have been Jackie's 75th birthday, a prize draw was held, followed by other activities, a wing-walk by Phillip Bond, midnight walk and with right-hand man (grandson) Daniel keen to join the fund-raising efforts undertook a challenge to 'trick or treat – move your feet' consisting of either 31 activities or 31 minutes of activity each day of October, with the final fund raiser for the year culminating in the 3rd anniversary of the now famous December prize draw.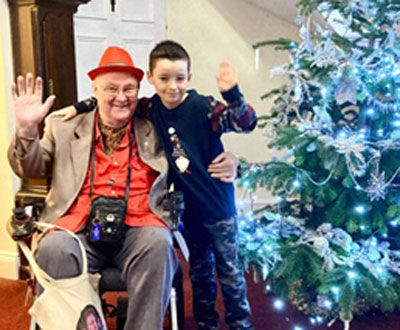 With a full house of 100 people in attendance and entertained by local DJ Phil Grimshaw and Karl, who provided their services free of charge, the party night was soon in full swing, with family favourites of pass the parcel, auction of a life-sized cuddly bear, the excitement was building up for the main prize draw.
A selection of amazing prizes, donated by Havens Holidays, Bolton Wanderers, Deighans and local businesses, Peter took centre stage and drawing the prizes electronically the winning numbers of the prize draw were announced, congratulations to the winners with loud cheering and applause greeted every winner!
The prize draw completed, the dance floor was swiftly occupied as revellers enjoyed the great music and fine atmosphere of the party. People are now looking forward to the summer event of 2023 (make a note to book a hotel for this one!).
A truly amazing amount of £1,765 has been raised so far, taking the yearly total to over £4,000. Dr Peter Green, family and friends, have raised over £17,000 in total for the hospice which is truly humbling, an amazing inspiration and fitting tribute to Jackie.