The Park Pantry Community Food Club in Prescot was nominated as a worthy cause for support from the Mersey Valley Provincial Christmas Food Bank Appeal by Paul Lucock, Secretary of James T Callow Lodge No 3596 in the Mersey Valley Group.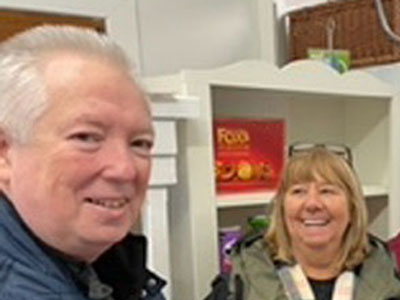 Mersey Valley Group Chairman John Murphy accompanied by the group charity steward Gary Devlin and Paul Lucock attend at the food club which is housed in a small pavilion at Eaton Street Pavilion and met Tracey Murray and other volunteers.
Tracey explained that the club supports over 500 members of the local community who pay a nominal fee to obtain subsidised food staples. The club operates one day a week, each Wednesday from 11:30am to 1:45pm, and relies on cash and food donations from various local businesses and individuals to provide these vital services to those in need.
The Park Pantry is for anyone who cares about preventing waste, reducing landfill and saving money. It is £3.50 for 10 items (£12-£15 worth of food). There's always a freebie or two and the staff are lovely.
John Murphy presented Tracey with a cheque for £600 raised from donations from Freemasons in the Mersey Valley Group and the West Lancashire Freemasons' Charity. Tracey expressed her gratitude stating that the donation was a complete surprise and that it would go a long way to supporting the service users and provide them with a little extra during the festive period.