Orrell Lodge No 8371 2023 installation meeting took place at Pemberton Masonic Hall and the brethren were very pleased to have present of the Deputy Provincial Grand Master Phillip Gunning.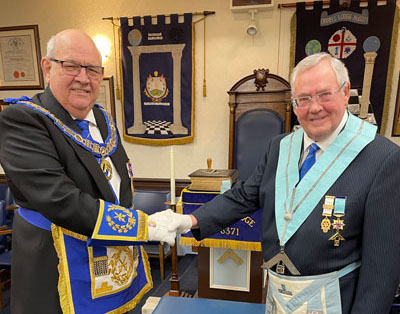 The incumbent master Keith Schmechel had only just come out of hospital after a serious illness but managed to attend and took on the IPM's role, with the installing master's role being capably filled from the start by Peter Carletti, who installed the master elect Ernie Barrow in fine form.
The working tools were presented by Gordon Turner in the third degree, Rod Hitchen in the second degree and Christian Lee in the first degree. All three presentations were exceptional, with a special mention to the junior brethren Rod, a master Mason and Christian who was only initiated in November 2022.
Phillip Gunning personally thanked both junior brethren, shook their hands and complimented them on their work. The addresses were presented to the wardens by Arthur Pettit, to the junior deacon by Derek Todd, to the charity steward by Derek Todd and to the master by Frank Highton.
The tradition in Orrell Lodge is for the address to the brethren of the lodge to be given by a lodge member, and in this case Bill Sass gave a commendable rendition to the acclaim of all present.
Following the appointment and investiture of officers, charity donations were presented to Philip as follows; Wigan & Leigh Hospice £300, M S Therapy Centre  £150, The Brick £150, West Lancashire Freemasons' Charity £100 and Pemberton Development Fund £1,000 (from the social fund).
In addition to the charity donations were presented on the night, following donations had already been given: The Brick £1060, Ukraine Appeal £150, Ormskirk Maternity Unit £620. A grand total £3,530. Phillip Gunning expressed his grateful thanks and amazement of this amount.
A lively festive board followed with everyone departing in good cheer and looking forward to the year ahead.