FROTH (Friends of the Hall committee)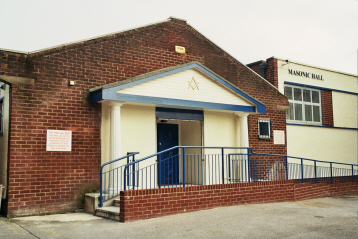 'Froth', or Friends of the Hall was set up in 1990 by the Chairman and Vice Chairman of the Bootle Group,  the majority of which met at the Freemasons Hall in Balliol Road, Bootle. The aims and objectives of Froth were to create social opportunities for the brethren and companions of the group along with their family and friends. Any monies Froth raises through its activities go towards projects to improve the facilities in the hall, but is not used for the general running or the natural wear and tear of the hall.
Many of the social events are different to  those held by individual lodges and created an opportunity for many to meet up with people which they would otherwise be unlikely to meet.
In the early days Froth events was in the main  Sunday lunch events which became so successful that at that time, it was very often a full house! These lunches, which there were four in number held each year, consisted of a three course meal followed by entertainment and a raffle.
There would also be a gala dinner dance during the closed season, with top line entertainment and other social occasions like the race night at the Belle Vue dog track.
The group has now moved to its new home to Litherland and Froth has continued to be successful although with many changes.
Froth has many events taking place, in particular a Christmas Sunday lunch, a festive meal with festive entertainment. Evening socials take the form of the gala cabaret dinner and dance. Also, a James Bond casino night and a Froth Grand National race night have been held. Froth also run a Christmas spirit hamper raffle with just three prizes of 12, eight, and four bottles of branded spirits. All of the prizes have been donated by the lodges, chapters or by individuals.
During the last couple of years Froth fundraising funds have paid for refurbished and decorated main lodge room, re-decorated the dining room adding the large mirrors and curtains. Purchased trestle and round tables as well as modern chairs and table centre-pieces, Organised the fitting of LED bulbs and down lighters for the dining room, small lodge room and bar area. Supplied and fitted a high speed hand dryer to the gents toilet, an electric oven and deep fat fryers for the kitchen. All of these great features make the hall more inviting to anyone who is using it.
Dates for future Froth functions can be found here:
| Date | Event | Location |
| --- | --- | --- |
| 25.04.20 | FROTH – Race Night | Litherland |
| | | |
| | | |
| | | |
| | | |
| | | |
| | | |
| | | |
| | | |
| | | |
Wear your
Stewards
Jewel
with Pride