The January 2023 regular lodge meeting of Ormskirk Priory Lodge No 4007 was set to conduct a demonstration of a second degree ceremony.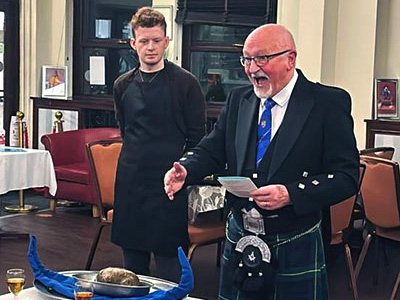 Because the evening of the meeting coinciding with Burns night, it was an opportunity that could not be missed! Homage had to be paid to the great Scottish bard!
As Mike Dutton was a regular visitor, the WM Barry Hewitt had asked him if he would carry out the toast to the haggis at the festive board. Not needing to be asked twice, he subsequently willingly agreed.
As there were several members from Aughton Lodge No 7996 attending, one of whom was Louis Spencer who had been passed to the degree of a fellow craft the week before, he volunteered to be candidate for the second degree demonstration on the night. The ceremony was thoroughly enjoyed by all and gave the members of Priory Lodge an ideal opportunity to practise their ritual.
After retiring downstairs to dine and following the first course of Scotch broth, the haggis was piped in and was duly enthusiastically addressed by Mike, donned in highland dress. Following this, everyone tucked into their haggis, neeps and tatties, washed down by a glass of Glayva to toast the bard.
A most enjoyable and memorable combination night was brought to a close and everyone left in high spirits. Robbie Burns would have fully approved of the evening!