It was a first for the Ormskirk and Bootle Group; taking advantage of glorious summer weather and the hospitality of group chairman Graham Chambers who made his house and garden available to host a fundraising Garden Party.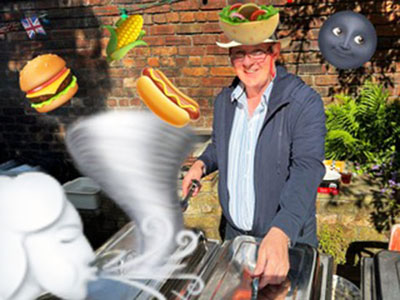 The weather forecast had promised a sunny day with a slight breeze. Well, one out of two isn't bad for our weather forecasters, as the sun did turn up, but the slight breeze turned out to be a very windy day. A bit of wind wasn't going to spoil the Ormskirk and Bootle Group fundraiser however and over 80 members, families and friends turned up to enjoy the fun.
The party started at three in the afternoon. There was a bouncy castle – in great demand by the children – and a 'Whippy' ice cream machine, which was donated by Steven Summers. Surprisingly, this proved of as much of an interest to the adults as it did to the children. Other fun and games included ping pong tennis and a chance for the children to try their hand at being creative on the potters' wheel with 'turn your own clay pot' attraction.
All this fun and games obviously left everyone feeling a bit peckish and their hunger was catered for by Steve Garland and Stephen Oliver who were on duty at the barbeque. As the afternoon went on, Steve and Stephen managed to serve up in excess of 140 sausages, over 100 burgers and sirloin steak for the 80 partygoers.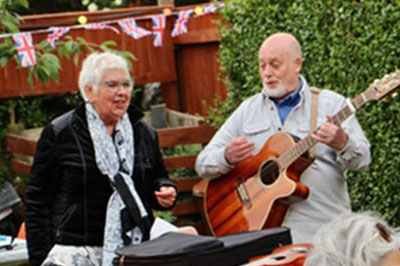 It was of course a fundraising event, and Ken and Barb Rouse brought Las Vegas to the party with a dice game. Each participant got to roll seven dice with the highest number winning a cash prize. It proved very popular and raised quite a sum. The Ormskirk and Bootle lot, being a generous bunch, kindly donated gifts for a raffle which was also conducted and again well supported. To top off the fundraising, there was also an auction of Liverpool FC memorabilia, including a football signed by the team, a poster, and a portrait picture.
No event like this one is complete without a bit of music and Ian Tupling and Claire provided live music as they played a few tunes on their guitars, much to everyone's delight.
It would be remiss not to mention a big thank you due to several members of the 12th Crosby Scout Group who gave up their time and turned up to help during the day.
This garden party may not have been at Buckingham Palace but it turned out to be a 'right royal do'. After a good day and evening of fun, games, food and drink, the garden party raised the magnificent sum of £1,500 to be donated to various charities. Congratulations to all concerned.