Members of Onward Lodge No 5540 showed the true meaning of Masonry by donating £1,000 to Fleetwood RNLI during a special ladies and gents to dine presentation evening.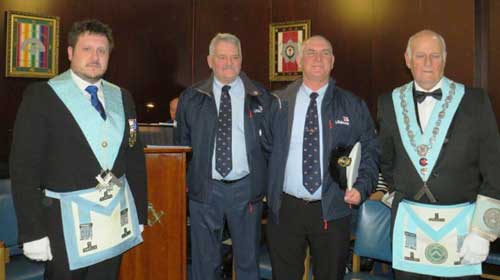 Onward Lodge has had a long running association with the RNLI; although the relationship was further cemented in December 2006 when a helicopter carrying rig workers tragically crashed into the sea off Morecombe Bay taking the lives of all seven occupants. Onward Lodge's senior warden and master elect Stephen Potton was the pilot. Also lost in this tragic accident was the brother-in-law to the lodge secretary Ted Bottomley.
The lodge was opened as normal by Barrie Whiteside (WM) and the administrative business of the lodge was quickly dispatched. The secretary of the lodge Ted Bottomley then read the dispensation from the Provincial Grand Master that allowed the wearing of regalia with non-masons present. The lodge was closed and the guests, including some potential new members were admitted into the lodge room.
The presentations were started by group membership officer Gavin Egan who gave an excellent and interesting talk on Masonry and the benefits of becoming a member. Gavin then introduced the representatives of Fleetwood RNLI, Lifeboat Operations Manager, Captain Dave Eccles and Coxswain Tony Cowell.
Dave started his presentation by saying that this year Fleetwood Lifeboat Station celebrates 160 years of lifesaving by the volunteer lifeboat crew members. The lifeboat station has been at the heart of the town since 1859. There have been seven different lifeboat stations, sited in various places, but all near the recent station opposite the North Euston Hotel. The current building, shared with HM Coastguard, was opened in 2006.

The station now operates 2 lifeboats, an in-shore D class lifeboat, D719 Mary Elizabeth Barnes and an all-weather Shannon class lifeboat, Kenneth James Pierpoint. There are currently 24 volunteers stationed at Fleetwood Lifeboat Station and training is scheduled for every Tuesday evening. There is one full-time employee at the station, the mechanic.
The volunteer lifeboat crews, all trained by the RNLI, have been willing to drop whatever they were doing when required, to help save lives in Morecambe Bay and even further out into the Irish Sea. Fleetwood RNLI lifeboat was heavily involved with the Riverdance incident in January 2008 when that ship ran aground.
Dave and Tony thanked Onward Lodge for their donation of £1,000 adding that the RNLI relies entirely on donations from the public and their generosity enables over 300 lifeboat stations to operate around our shores. In 2018 it cost over £160,000,000 to keep our coastline safe.
At the end of the presentation Dave fielded a lively question and answer session, once complete Barrie thanked Dave and Tony for their enlightening talk. The brethren and guests retired to the dining room to enjoy a fabulous three course meal.