As Abbey Chapter No 1225 heads towards its sesquicentennial anniversary and celebration in 3 years' time, Peter While is remaining as the first principal to assist his chapter in its smooth progress towards that very important celebration.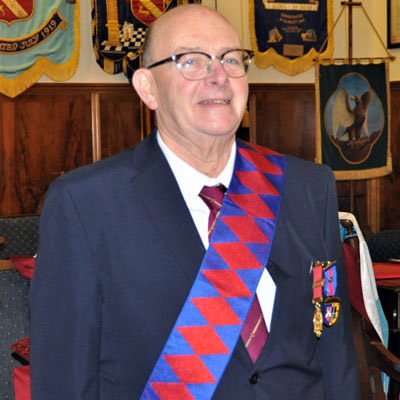 The companions of the chapter were very pleased and delighted to warmly welcome David Grainger, Past Assistant to the Provincial Grand Principals, as the representative of the Grand Superintendent Mark Matthews. He was accompanied by other grand officers: Roly Saunders and Peter Schofield, who, were joined by acting Provincial grand officers Ken Needham and Graham Lloyd. Ken and Graham have become regular visitors to the Furness Group and their attendance to all of the ceremonies is always welcomed, as they bring a real sense of enjoyment and friendship, which is appreciated by everyone.
Peter was helped by very able stand-ins, as work commitments meant some companions had to miss the installation of Steve Renney as the second principal. Doug Smith delivered a perfect ritual for Steve as he installed him. Richard Wilcock also assisted, as he took the role as the third principal for Gary Gibson, who would have been installed as the third principal, had work not called him out of the area.
Peter is not one to let the grass grow under his feet! Having been master of Hindpool Lodge No 1225 for 2 years, and now 2 years in his chapter, Peter has also been appointed a group officer, taking over the role as mentor. It seems that hard work and dedication is spreading in the chapter, as Paul Musgrave has seamlessly settled into the role as secretary having taken over from Colin Clarke, who is quite poorly. All the companions wished Colin well on hearing this news. Paul was complimented by David for all his hard work, which enabled the ceremony to run smoothly.
Director of ceremonies, Tony Nevinson and his assistant, Tony Cassells, had obviously worked hard to ensure a faultless ceremony, especially as so many companions were unable to attend. Tony Cassells and Gordon Evans gave the addresses of the robes to the first and second principal respectively. Both gave a thoughtful rendition that made each companion consider the sentiments held within. Harry Chatfield gave an authoritative address to the three principals, whilst David orated an inspiring address to the companions of the chapter.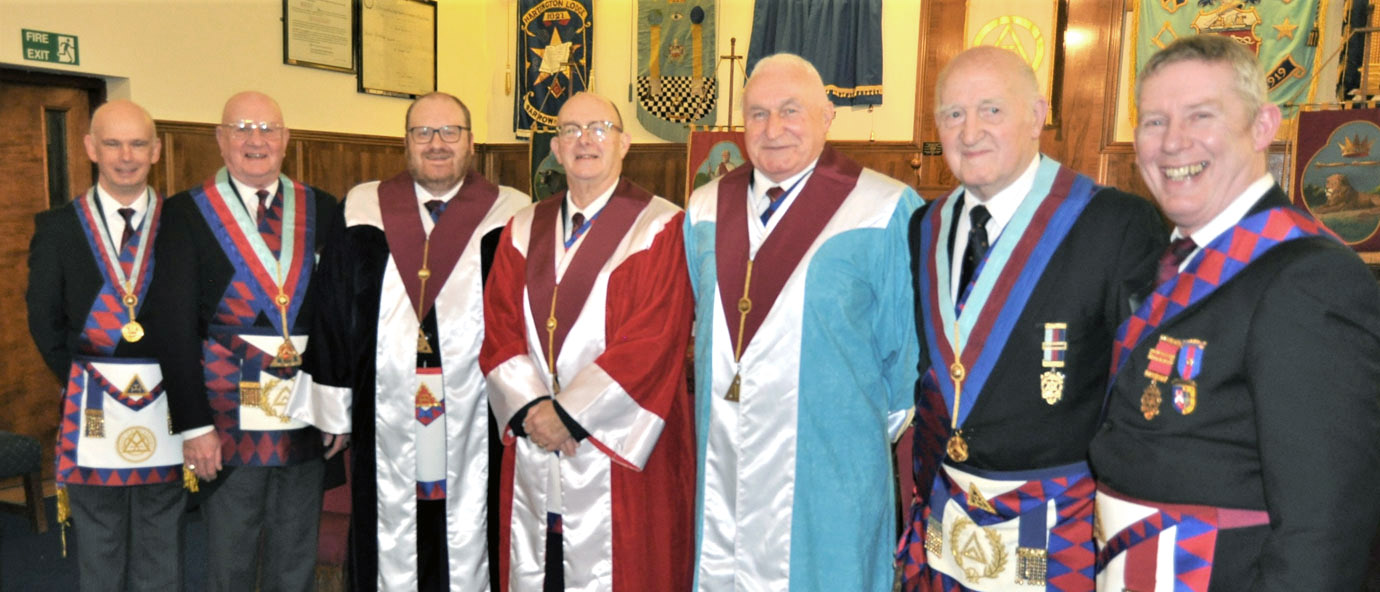 Peter took great pleasure on behalf of the chapter, to present David with cheques for the West Lancashire Freemasons' Charity and the Guide Dogs for the Blind, both receiving £250. David thanked Peter on behalf of the recipients, adding that they would be most welcome and put to good use, as would the retiring collection of £130.23!
The formalities of the ceremony having ended, 48 companions enjoyed a most enjoyable banquet down stairs, where the friendship and camaraderie was clear for all to see. David praised all those who had taken part and stressed again the importance of looking after one another in these difficult circumstances. He was pleased to announce that 52% of Freemasons in the group were a member of the Royal Arch, but that still left 48% who were not. He asked that we speak to those 48% and encourage them to think about completing the next part of their Masonic knowledge.
With only 3 years to pass before their 150th anniversary, Peter was sure the chapter would go from strength to strength and added there was already a new brother ready to experience his exaltation. A most positive ending to the evening indeed!