Old Masonians West Lancashire Lodge No 7702 was warranted and consecrated in 1959 at the Carlton Masonic Hall in Eberle Street, Liverpool, moving to its current location at Liverpool Masonic Hall, Hope Street in 1974. It was at Eberle Street in 1970 that John Charles Lyon-Taylor became a member of the lodge but, due to the COVID pandemic, has now only just been able to celebrate his golden jubilee in Freemasonry, albeit two years late.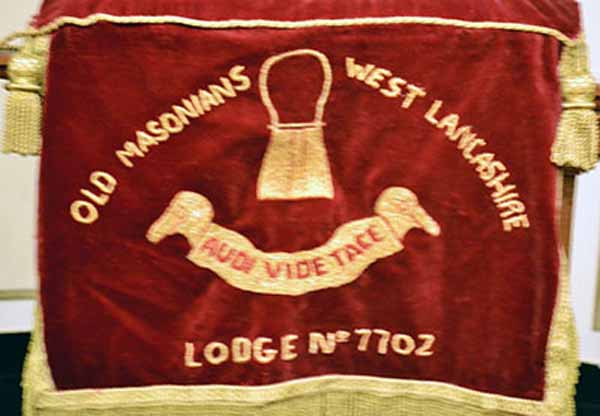 The lodge was opened in regular form by the WM David Massam, ably assisted by his wardens and officers. On completion of regular business, Provincial Deputy Grand Director of Ceremonies Robb Fitzsimmons was admitted to herald the arrival of Assistant Provincial Grand Master Mark Matthews. On entering, Mark was accompanied by fellow grand officers Gareth Jones and Steve Walls and Liverpool Group Vice Chairman Tim Burgess.
They had entered the lodge room in the third degree and Mark was presented to David Massam who warmly welcomed him and offered Mark the lodge gavel, which was accepted before taking the chair. Salutations were then given to Mark, who responded before closing the lodge in the third degree and resuming labour in the first.
Addressing the room Mark began by saying that it was always a major honour and a privilege for any Assistant Provincial Grand Master to preside over a 50 years in Freemasonry celebration and it would be a pleasure to outline that land mark achievement in respect of John Charles Lyon-Taylor.
At that point Provincial Deputy Grand Director of Ceremonies Robb Fitzsimmons was asked to place John in a comfortable chair facing Mark.
Mark began by explaining it was a cold afternoon on Tuesday 11 February 2020 when he visited John at home to discuss his golden jubilee celebration. At that time, they also touched on the then evolving COVID–19 pandemic which at that point was in the very early stages and that none of us knew very much about it. Little did we know that only a couple of weeks later that virus would have such a devastating long-term impact upon the country and across the world? COVID of course also impacted upon Masonic meetings. Indeed, the celebration for John had twice been postponed over the course of the previous two years. Thankfully the third attempt at celebrating with John was successful. Mark began to recount some of John's life story to the brethren gathered that night to support him.
He said: "The story begins in 1944, when our celebrant John was born. Of course, this was the fifth year of the Second World War. It was the year of the D–Day landings, code named Operation Overlord. Crooner Bing Crosby had a major hit record with 'Swinging on a Star' and band leader Glenn Miller's plane went missing over the English Channel, and he was never located. Also born in that year were lyricist Tim Rice, actor Danny Devito, singer and 'The Who' front man Roger Daltrey, singer Gladys Knight, talk–show host Jerry Springer, boxer 'Smokin' Joe Frazier and the singer and 'walrus of love' Barry White. Significant inventions of 1944 included kidney dialysis and sunscreen."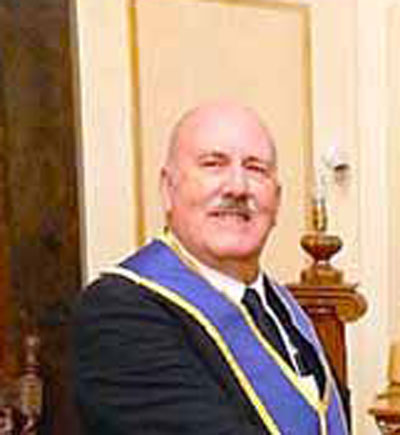 John was born in August 1944 in the Waterloo area of Liverpool, to Charles Herbert Lyon-Taylor, a building contractor and Isobel, nee Dowler, a director of a travel agents. The family was completed following the birth of his brother and sister, twins Robin and Jane. John attended Crosby Road School in Waterloo from 1949 to 1959. He also attended night school at the Liverpool College of Art in Hope Street between 1959 to 1965; studying print design. His night school endeavours coincided with him starting a printing apprenticeship at Thompsons Printers in Sandy Road, Seaforth. 1965 was a significant year for John as he successfully completed his apprenticeship and obtained a City and Guilds qualification in print design.
In the 1960's and 70's jobs were plentiful. Men would regularly move from company to company in search of new opportunities. John was no exception. Over the years he worked at Koters in Sefton Lane, Maghull. They specialised in printing food packaging for brands such as Mars bars, Milky Way, Topic bars and Marathon bars, now of course known as Snickers. Koters also specialised in waxed paper bread wrap, changing later to polythene bread bags. Those bags were printed in a new factory at Dunnings Bridge Road in Litherland. This was part of Allied Bakeries and Foods; a staggering amount of 14,000,000 bread bags were produced there each week. In the early 1970's, quite appropriately, Health and Safety Legislation matters were being developed. John was appointed to the role of company safety officer. He returned to studying and gained the International Institute of Risk and Safety Managers and the National Certificate in Operational Safety and Health qualifications. Subsequently, John joined both institutions.
John's company was eventually taken over by Lawson Mardon Flexible. They were an international concern with printing and packaging companies all over the UK. With them John returned to his studies and gained a Bachelor of Science Degree in Environmental Management from Kent University. In 2006 John left the print industry and became an independent health and safety consultant. He worked for many major companies and events, including Victoria Sports and Leisure Club, Southport Flower Show, Bickerstock Musical Festival and Woodvale International Rally, to name but a few. In 2008 he formed Southport Education Business Link. This initiative included managing work placements and Criminal Record Bureau checks. How John found the time is a mystery, but he has also held office as a school governor and as a member of other panels and boards.
In 1964, John decided to learn to drive. He enrolled with BSM and he was tutored by the senior instructor, who was a certain Laurie Scott, a member of Old Masonians Lodge West Lancashire Lodge. John passed his test second time. Perhaps Laurie could throw light on where John went wrong with his first test! Around that same period, the young John was out with friends in Alinsons Club, Litherland when he met Lyn and they started dating. They became engaged and married on the 27 March 1971, later becoming proud parents to Eric, Russell and Mark. The Alinsons Club has long since gone but it can only be wondered how many marriages resulted from people meeting at that venue?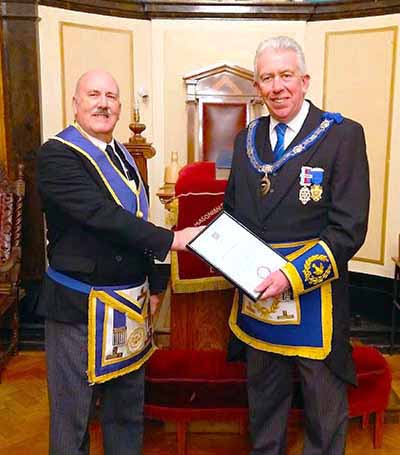 When it was clear that John was to become part of the Maddox family, Lyn's father suggested that they should go and visit his brother Tom Maddox and introduce himself. After a few visits to Tom's house, John was also introduced to Lyn's cousin George Hall. One afternoon Tom and George took John into another room for a 'private chat'. That was when they told him about Masonry and asked him to join.
John joined Old Masonians West Lancashire Lodge on 11 April 1970. That year the Beatles broke up, Janis Joplin died of a heroin overdose, Simon and Garfunkel released the album 'Bridge over troubled water' and the England football team threw away a two-goal lead in the World Cup quarter final to lose three – two against West Germany. Mark, in relating the tale, said that he had watched that game and admitted to the gathering that he had cried a lot at the end – though he was only 10 years old at the time. That said, as a lifelong Everton fan, he still cries frequently to this day about football results! John was passed to the second degree on 13 March 1971 and raised to the third degree on 24 April 1971. He worked his way up the ladder, under the guidance of the much missed and departed Bill Merry, and was installed into the master's chair in 1979.
In 1990 John was given his first Provincial appointment, as Past Provincial Assistant Grand Director of Ceremonies, gaining promotion to his current rank of Past Provincial Senior Grand Deacon in 1999. John has assisted the lodge over recent years by taking on the very important role of lodge mentor. For many years, like several past and present members of the lodge, John had been involved with the Merseyside Old Masonians Association – the 'Bushey Boy's'. He served that fine institution as secretary from 1972 until 2001.
Interestingly, John's great grandfather John Powell was initiated, along with four others into St John's Lodge No 673 in Billinge on 1 February 1876. John had very proudly shown Mark his great grandfather's grand lodge certificate, similar to one that would be issued today, the exception being that it was printed on parchment.
Mark completed his address by saying: "John Charles Lyon-Taylor's 50 years' service to Masonry is a remarkable achievement and I hope that you will continue to have many more happy years in the Craft. John, it has been my great honour to preside over your golden jubilee. Thank you also for your time and hospitality when I visited your home to learn about your life and Masonic progress." The brethren joined Mark in showing their congratulations and appreciation to John in the traditional West Lancashire Province way in celebrating 50 years as a Craft Freemason. At that point the brethren present enthusiastically showed their acclamation for John and his achievements.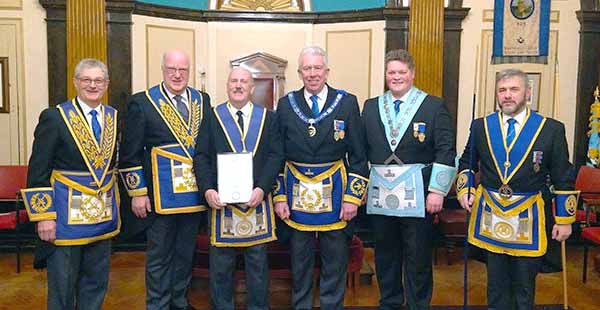 Following the applause, Mark informed John that the Provincial Grand Master Tony Harrison was aware of his celebration that evening and that he had sent him his own congratulations and recognition of his achievement in the form of a certificate, which group vice chairman Tim Burgess was asked to read. Tim Burgess read the certificate after which Mark presented it formally to John before inviting the WM Dave Massam to resume his chair.
On recession, John left with Mark and both saluted the WM before leaving the room. An excellent celebratory festive board followed. Dave Massam proposed the toast to Mark who in response thanked Dave and said he was delighted to have grand officers Steve Walls and Gareth Jones with him. He reminded the gathering that the evening was about John and therefore, would keep his response brief. He congratulated John on what was now 52 years in Freemasonry.
Mark reminded the brethren that COVID was still rampant and that it was advisable to take lateral flow tests prior to attending meetings. Provincial Grand Lodge is scheduled for 9 May 2022 at Blackpool Winter Gardens and Mark requested all present to attend and support the Provincial Grand Master. Mark also thanked lodge secretary Karl Brennan for all his work in making the evening run so smoothly and to Robb Fitzsimmons and Tim Burgess for their support.
Karl Brennan proposed the toast to John, to which John responded by saying that he could not believe how fast the time had gone. He remembered his initiation as if it was yesterday. He thanked Karl for all his work in arranging the night, Mark for his work in officiating and all the brethren for their attendance and support. At the end of the evening a surprise gift was presented to John, being in a sealed box, along with a floral bouquet. Flowers were also presented by the lodge to Mark and Tim for their better halves.