It has been two years since the St Annes Masonic Hall, better known as 'The Palace,' was able to hold a large social function. Just before the actual date, John Nicholls the Hall Manager hosted a Halloween Night. The suitably ghoulish atmosphere of the hall was magnificently created by John and his team.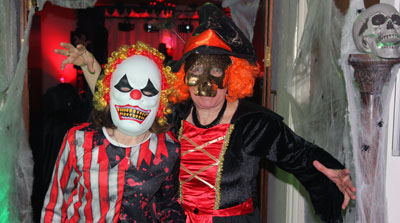 The evening was a tremendous success with nearly 100 adults and children, suitably costumed and made up, with no expense spared, contributing to a wonderful evening. They all sat down to a delicious meal which was followed by dancing led by DJ Barnaby Beats, in which everyone joined in.
The South Fylde Group hosted a raffle which raised the grand sum of £510. The proceeds from the raffle went to SANDS, which stands for Stillbirth and Neonatal Death Society. This charity offers support to anyone who has been affected by the loss of a baby. It offers counselling and support groups. They provide memory boxes to capture moments of the baby which the parents could cherish in the future. Often they contain photographs, hand and footprints, a cuddly toy plus other things to make an awful situation more bearable. The boxes cost around £30 each.
Apart from large Christmas lodge meetings, the next big social function at 'The Palace' will be the 1940s/1950s themed dance which is all but sold out. This will be followed by the Christmas Day lunch, which is sold out, then the 1920s themed New Year's Eve party.
Moving into the new year the ever-popular Burns' Night will be held on 22 January.  The Burns nights previously organised and run by John, his wife Pam and their team have been spectacular successes. The next Burns night promises to be just as grand. A scrumptious menu is on offer and with bookings being snapped up, the list is nearly full. This is an evening that must not be missed!
Moving into February and a wine tasting evening is bound to whet the appetites of many. This will be a unique opportunity to sample six rare wines from vineyards across the world with expert guidance from Chris Hothersall, director of The Wine Arcade. This superb evening will include a selection of cheeses and snacks to accompany the tasting experience.
To contact John and his team concerning any of the events mentioned above please email them on palacemasonichall@gmail.com and they will be more than pleased to help you.