Tyldesley Lodge No 2572 was off to a flying start in the new season with two enjoyable Masonic meetings. The first was its installation meeting and the second an initiation. As part of Derek Bond's celebration of 40 years in Freemasonry, he was installed into the chair of Tyldesley Lodge for the second time at Brookfield Masonic Hall at Westhoughton.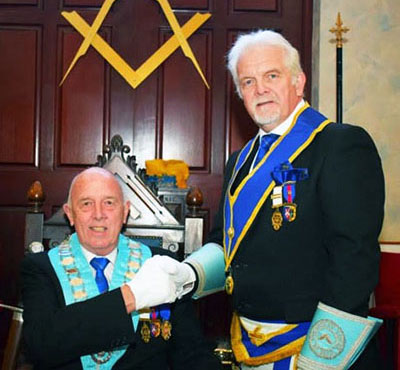 At a very well executed installation ceremony David Hargreaves, the installing master, was assisted by his team of officers in what was described by the Deputy Provincial Grand Master in Charge Philip Gunning as a near perfect ceremony.
The working tools were delivered by the junior brethren in word perfect accuracy as were all the addresses throughout the entire ceremony. All the brethren who were involved were justifiably proud. Phil Gunning was presented with cheques totalling £2,000 for various charities, both Masonic and local. The social board was directed by Provincial Deputy Grand Director of Ceremonies Gary Smith.
The toast to the WM was delivered by Swainson Eckersley who gave the assembled brethren a short history of some of Derek's achievements. He then complimented the toast by singing the master's song accompanied by Wilf Farnworth and incorporated that well known line, "Ah Mr Bond we've been expecting you" to a great chorus of laughter.
The raffle at the festive board generated a total of £500 and a fine single malt was the first prize. Flowers were presented to the grand officers and the festivities were concluded with the tyler's toast delivered by the newly installed tyler Barrie Hughes. Overall, it was a most enjoyable evening.
The following month, Tyldesley Lodge's meeting turned out to be a very fruitful occasion, adding two new members on the same night.
First was John Ian Rothwell who has been a regular visitor over many years. He finally took the plunge and was made a joining member to the delight of the assembled brethren. The master Derek Bond welcomed Ian into the lodge and wished him a long and enjoyable time with them.
Derek and his team then proceeded to initiate newcomer Carl Dawson. The well-executed ceremony was concluded by the junior warden David Peacock delivering the first degree charge to a spontaneous round of applause.
The social board was a vibrant affair with glasses being raised to both Ian and Carl, with Carl replying to his toast with a heartfelt response. As is tradition, the junior warden David Peacock toasted the visiting brethren and complemented the toast by singing the visitors' song.
The evening concluded with an unbroken circle whilst a rousing chorus of 'Happy to meet – Sorry to part' and 'Auld Lang Syne' resonated around the room.