Despite the unexpected heavy fall of snow, the North West Blood Bike team, along with all those connected with 'Operation Blood Bike', turned up to celebrate the amazing generosity shown in support of a great man Terry Derbyshire.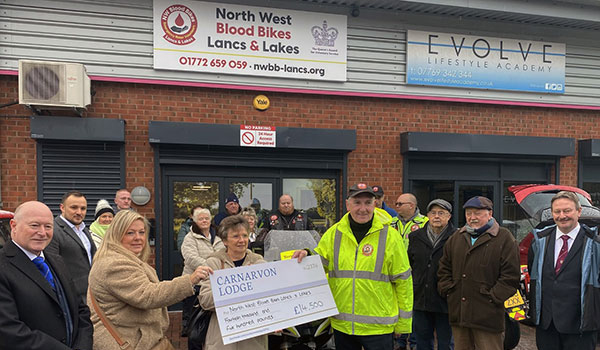 Terry was a beloved dad, granddad, husband, brother, son, uncle, cousin, nephew and good friend to so many. Tragically on 14 August 2021 Terry was involved in a fatal road traffic collision and passed away in hospital hours later.
Terry was relentless in his pursuit of helping others. In 2018 he led the first 'Operation Blood Bike' fundraiser which saw him raise £20,000 to gift the North West Blood Bike team with a new blood bike which was proudly named Mason on 21 July 2021.
In just 14 months, friends and family of Terry came together to raise a total of £24,000. This was raised by charity events completed by loved ones: his granddaughter Katie Minihan who undertook the Manchester Marathon; his very close friend Adam Dennett who ran 'The Great Run' and others who joined in raising £1,000s for the great cause.
Adam Dennett, who led the second 'Operation Blood Bike' fundraiser said: " Terry acted like a father to me, bringing me into the biking community and supporting me throughout life in general and my Freemasonry. The world has lost one of life's true gentlemen."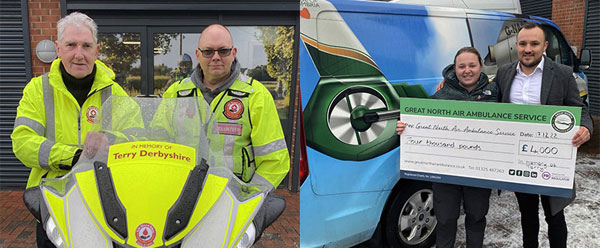 Terry's charitable drive was shared with many friends from another passion of his, Freemasonry. Brethren came together from all over the North West in order to raise money for Terry; with members from Carnarvon Lodge No 2376, Leyland Mark, and Euxton Lodge No 7192 donating four figure sums.
Chorley and Leyland Group Chairman Peter Allen and Assistant to the Provincial Grand Principals Paul Hesketh were in attendance to show appreciation to those involved and in respect to Terry Derbyshire, an honourable and highly respected Mason who selflessly gave his time, knowledge and support to help others in need.
Family, friends and Freemasons came together on a lovely snowy morning to hand over the new blood bike, along with a cheque for £4,000 to the amazing Great North Air Ambulance Service, both of whom aided and supported Terry during his final hours.

The new blood bike, proudly named Terry, with a crest of his lodge, Carnarvon Lodge (of which Terry was WM when he passed away) added to the front, was presented to the North West Blood Bike team by friends, family and brethren. Current WM of Carnarvon Lodge Michael Norris was also in attendance to show support to Terry and his family with other lodge members Barry Scowcroft and Kieran Taylor-Bradshaw.
As an avid motorcyclist, Terry clocked up high annual mileages, including long rides out and European tours. He had a strong belief that safety in riding is paramount and trained with SLAM (South Lancashire. Advanced Motorists) to become an advanced motorcyclist and shared his passion for charity with the group.
Terry will be sadly missed by all who knew him but his contributions to the charities he helped will benefit many and his influence on those around him will live forever.