Members of the North Fylde Group headed by group chairman Peter Greathead and Alan Berwick, the immediate past master of Normoss Round Table Lodge No 8741, attended Trinity Hospice to present the hospice with approximately 100 selection boxes and children's gifts for the children of Brian House, the junior wing of Trinity.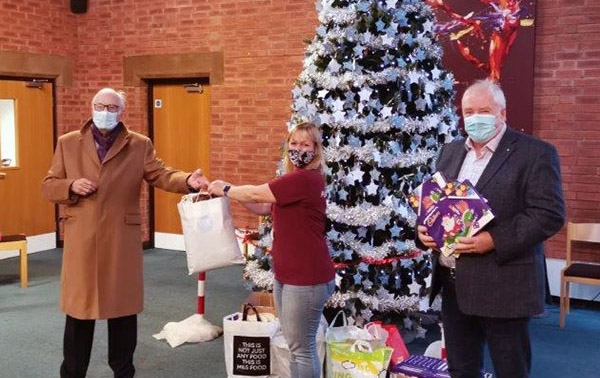 Peter and Alan were able to make the donation due to the magnificent response of lodges and individuals who, in addition to supporting the Province's Food Bank Appeal, also saw fit to contribute selection boxes. Initially aiming to gather around 100 selection boxes for presentation to the Accident and Emergency Department at Blackpool Victoria Hospital, the response from brethren saw almost double that amount accumulate at the Masonic hall in West Drive, Cleveleys. Trinity will distribute the gifts amongst the many patients, visitors and staff that will be at Trinity Hospice or Brian House over the Christmas period.
The appeal initiated some years ago by members of Normoss Round Table Lodge following a particular suggestion by Peter Gunn, a member of the lodge who sadly passed away during 2020. Originally it sought to provide gifts for disadvantaged children over the Christmas period and this year it gathered momentum as lodges and individuals joined in as a mark of respect to Peter and is a fitting tribute to his memory.
Brian House is a Children's Hospice caring for youngsters and their supporting families who live on the Fylde Coast and beyond. It cares for children who have life-threatening or life-limiting conditions with complex needs. It provides this care, free, in a home-away-from-home environment and supports the whole family.
Supporting more than 80 children and their families in the past year it costs in excess of £1,300,000 per year to run the service.
Support from the care teams is close at hand and the hospice offers respite care, potentially for up to 42 nights per year. They also offer accommodation for family members to stay alongside their children. Brian House tries to make lives as normal as possible. Children in the unit attend school as part of their routine.
The Butterfly Suite lies within Brian House and gives bereaved families time to come to terms with their loss and spend time with their child. This facility is the only one of its kind on the Fylde Coast. It too is free of charge and can be used for as long as the family requires.