Just weeks after stepping down as chairman of the Preston Group, Steve Bolton is back in the chair of Festival Lodge No 8123.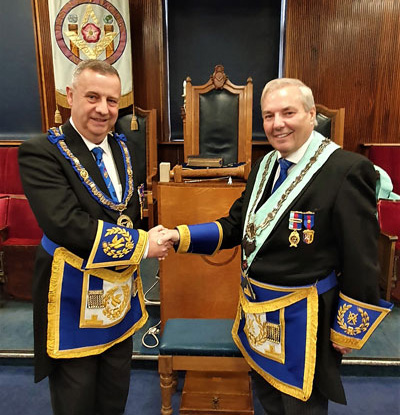 Attending a Festival Lodge meeting is always a treat as their ritual is rather unique for Preston and indeed the Province. Their installation is no less exhilarating to those who are new to it.
The lodge was honoured by the presence of Peter Lockett, Assistant Provincial Grand Master, who was experiencing his first taste of the Festival Lodge ritual. Peter was supported by an array of grand and Provincial grand officers, many of whom were Steve's personal friends.
Steve's installing master was none other than Don Richardson, who was a Founder Member of Festival Lodge in 1966. He had served as master originally in 1970, so, his return to the chair was long overdue! Don is the driving force of the delightful and different ritual. He made sure that all of the 'first timers' were kept informed as to the meaning of the ceremony. As ever, a highlight at the Festival Lodge installation is the presentation of the working tools of an installed master – a must see event! This piece of ritual was delivered by George Thornhill.
Steve Bolton is no stranger to the master's chair, having served previously in 2002 and 2003. Yet his obvious delight in completing his hat trick was there for all to see.
On a poignant note, the installation meeting marked the retirement of George Thornhill from the role of secretary of the lodge, one he has performed with distinction for 30 years.
Looking to the future, it was good to hear notices of motion for the initiation of a new member and for a joining member at the next meeting.