As a result of the COVID-19 pandemic, Preston Guild Lodge No 4408 had been unable to hold a regular lodge meeting since March 2020. Despite a determined intention to meet, the plans were thwarted by constant changes in the COVID regulations, but at all times the brethren were ready to spring into action.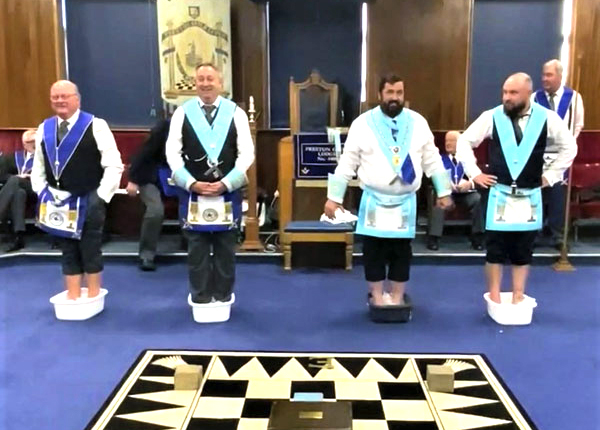 So once 'freedom day' was confirmed a meeting was rapidly arranged and the brethren were informed of the details. The business of the lodge was pretty straightforward in tying up loose ends around officers and other officials to complete the current lodge year with Tim Horton continuing in the chair.
Charity is at the heart of what we do so as the work in the lodge was to be brief, the lodge members decided to utilise the time they had to support the Motor Neurone Disease Association's Ice Foot 92 Challenge. This is a challenge set by Len Jonrose, who as a former professional footballer who has been afflicted by this dreadful and fatal condition. His challenge is to stand bare foot in a bowl of ice for 92 seconds – the 92 representing the 92 clubs of the Football League.
WM, Tim Horton, was joined by the immediate past master David Parker, charity steward Cliff Jones and lodge mentor and membership officer David Parker Jnr in taking up the challenge in the lodge room immediately after the lodge was closed.
The participating, members were encouraged by all the other attendees at the meeting who were entertained by the rather odd exhibition before them. Efforts were made to prolong the agony by some members counting very slowly, but the visiting cameraman and timer Alistair McIntyre was true to his calling. To be fair, it was a very warm evening and the ice was a welcome refreshment!
The brethren were very generous in their support of the cold feet quartet and the challenge raised £200, which has now been forwarded to the Motor Neurone Disease Association, specifically for Len's fund. More information on this can be found by clicking here.
The brethren then retired to the first festive board for 18 months, where the friendship and camaraderie of the lodge was truly restored. A fine meal was served to the brethren by Alistair and his team at Preston Masonic Hall.
The lodge was honoured by the presence of the retiring Preston Group Chairman Stephen Bolton as well as his successor John Rimmer. Both commented on the commitment of the lodge and how they had enjoyed a return to masonic activity.