Richard Wilcock, the first principal of Barrow Chapter No 3928, opened the proceedings of the evening in a dignified style, with the assistance of his co-principals, Joe Crabtree and Allan Ritchie.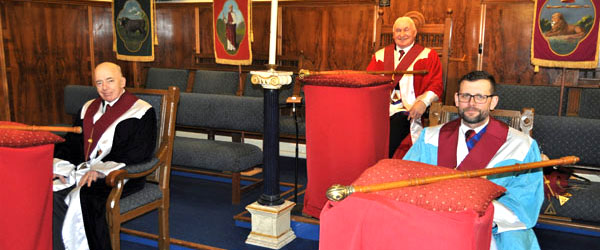 The initial business of the chapter being completed, the companions of the chapter warmly welcomed Barry Fitzgerald, Past Provincial Grand Standard Bearer, who on this occasion was the representative of the Grand Superintendent Mark Matthews.
Barry was accompanied by grand officers Chris Band, David Grainger, David Jopling, John Quiggin, Peter Schofield and group vice chairman Alan Pattinson, who with acting Provincial grand officers David Jopling, Graham Lloyd and Barrie Bray, all created a rather special proclamation for all three principals.
The three principals were kindly helping the chapter with a continuation problem and therefore the ceremony was quite brief, as all three agreed to remain in their respective chairs.  Hence it was a special ceremony and the acting officers cannot fail to have been impressed by Tony Cassells, the director of ceremonies, who conducted the ceremony in a sincere and heartfelt manner from start to finish.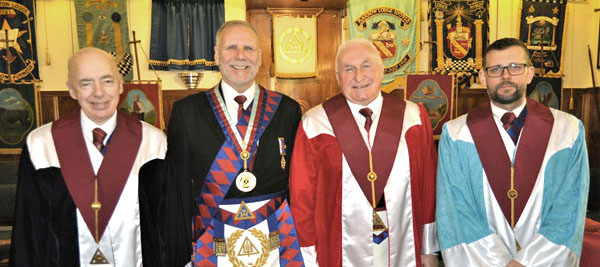 The shortened ceremony still had the gravitas of the robe addresses, beautifully explained by Tony Cassells, David Ingham and Richard Wilcock, who delivered the first, second and third addresses, respectfully. It was very encouraging for the companions of Barrow Chapter to hear that there were two master Masons of Barrow Lodge No 3928 joining the chapter in October and November later in 2023. Hopefully, it will be the younger companions delivering the robe addresses next year!
The final business being completed, the companions retired to the banquet downstairs for a tasty two course meal. 'Laughter' was always going to be served up at some stage of the evening and it was welcomed whole heartedly, as Barry Fitzgerald gave a humorous and informative oration to the 49 companions attending. Barry felt that even though the ceremony was short, it was, nevertheless 'interesting and entertaining!'
The camaraderie and good humour were finally brought to a close by George Manderson, who proposed the janitor's toast after the total sum of £420.65 had been collected for charity through the alms given in the temple (£160.65) and the proceeds of the raffle (£260).
For Barrow Chapter, it promises to be a busy end to this year, as two more master Masons from the Barrow Lodge continue their journey of discovery in Freemasonry.