Members and visitors of Fallowfield Lodge No 3693 were intrigued and delighted to welcome new ProvGM Mark Matthews to their installation meeting to witness David Emmett being made WM for the fourth time.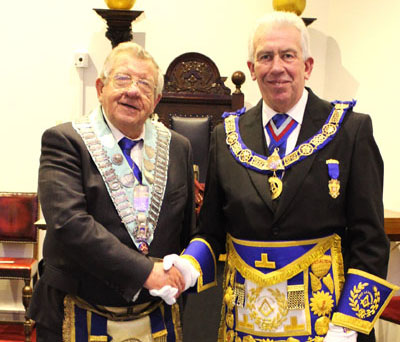 Mark was in good company, being accompanied by grand officers; Brian Hayes, Mike Adams, South Eastern Group Chairman Gareth Jones, Past Provincial Deputy Grand Directors of Ceremonies Gary Smith and Rob Fitzsimmons and other distinguished Provincial grand officers, group officers and numerous visiting brethren present for the installation meeting.
In the chair on this particular evening was guest installing WM Ezra McGowan with Christopher Taylor, Provincial Senior Grand Warden as installing senior warden and lodge stalwart, Provincial Junior Grand Warden Sylvester During as installing junior warden. Having opened the lodge up to the third degree, DC Gary Smith entered the lodge saying that ProvGM Mark Matthews was without and demanded entry. Mark, together with the accompanying team entered the lodge room. Mark and his fellow grand officers and accompanying team having been welcomed by Ezra, took their respective places.
Ezra commenced the ceremony of installing David into the chair which was completed in a most expert, and sincere manner. Then, having been carefully placed in the master's Chair, David took a few moments to soak up the atmosphere and come to terms with the fact that he was the WM for the fourth time.
The working tools of an installed master were then given by Eddie Wilkinson, followed by the third degree working tools given by Desmond Leopold James, the second degree tools by Emmanuel Cleeve and those in the first degree by Abraham Sonnah, all of which were presented in an expert and sincere manner.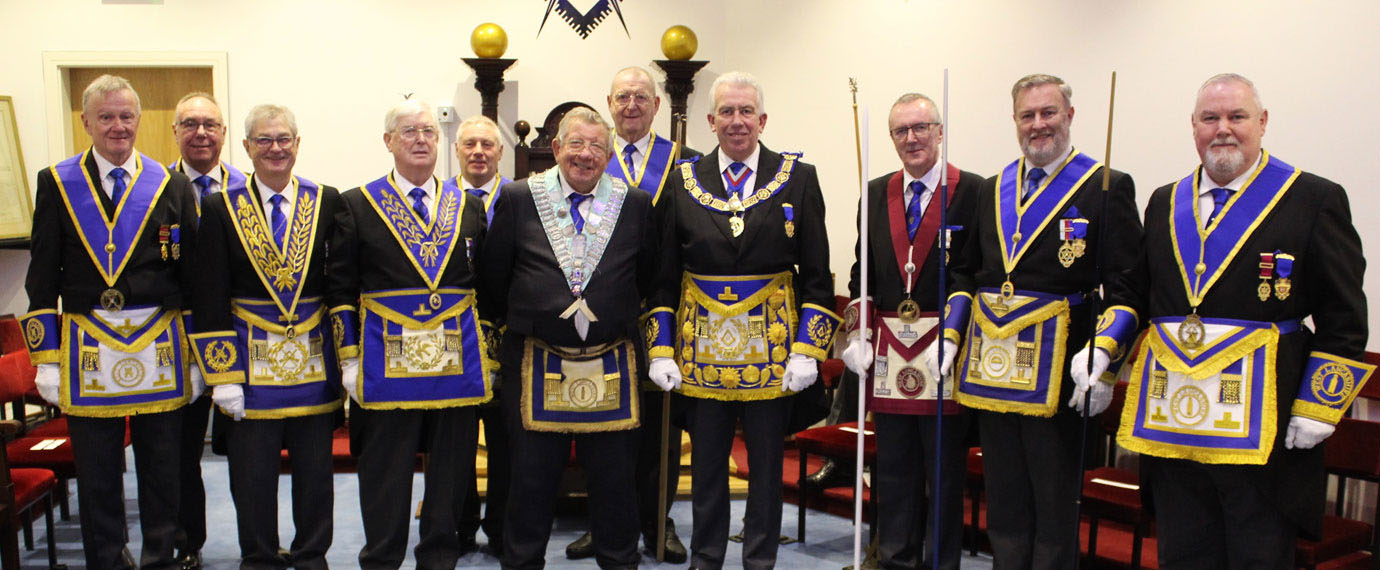 There were then excellent addresses to the WM given by guest, Peter Stockton of Hand and Heart Lodge No 4109 followed by an address to the wardens by Sylvester and the address to the brethren of the lodge given in effortless style by new ProvGM Mark Matthews.
On completion of the ceremony, Mark rose, commenting that he had not as yet become accustomed to giving congratulations and good wishes for a happy and healthy year from himself as Provincial Grand Master but did so anyway in fine style, congratulating David on his fourth spell in the chair saying that he had witnessed a most excellent installation ceremony and similarly congratulating installing master Ezra for his most excellent work and indeed all those who had taken part in the ceremony.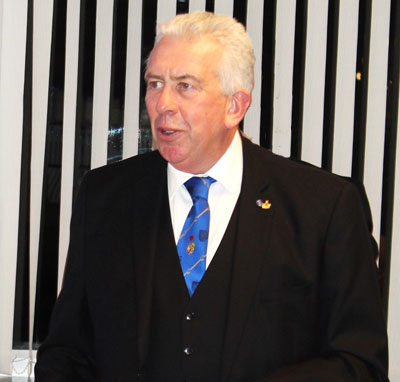 David rose to respond to Mark where he thanked him for conveying those very kind wishes, saying he was most proud to be installed as WM once again and looked forward to the year ahead presenting Mark with a charitable donation by way of a cheque for £200 made out to the WLFC.
On the first rising, Gareth Jones responded on behalf of the grand officers adding his congratulations and good wishes as he welcomed David once more as a ruler of the Craft in the South Eastern Group.
The meeting having ended, a very friendly and buoyant festive board took place. Mark, responding to his toast commented on the continued harmony of the lodge now into its 109th year. He then went on to mention the success of the digital marketing campaign and how it had yielded a great number of requests for membership and also how next year Hermes would finally come on stream making things simpler for not only secretaries and scribe Ezra's, but everyone involved in Masonry.
Mark continued by mentioning the Royal Arch and how every master Mason should consider it as the next logical step in their Masonry. He then broached the subject of the UGLE Strategic Road Map which would be launched later in December and rounded things off by reminding everyone about the Provincial Grand Ball in March. All in all, a thoroughly enjoyable evening and a very successful first outing as ProvGM for Mark!