Sandylands Chapter No 5702 held its installation convocation which was attended by the Grand Superintendent Tony Harrison, accompanied by Second Provincial Grand Principal Chris Butterfield and Assistant to the Provincial Grand Principals Barrie Crossley.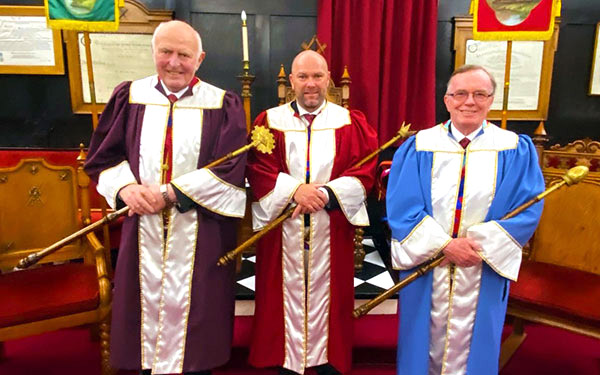 Also in attendance were grand officers Phil Gardner, Peter Mason and John Robson. acting Provincial grand officers; Provincial Grand Director of Ceremonies David Thomas, Provincial Grand Almoner Paul Broadley, Provincial Assistant Grand Director of Ceremonies Paul Fuery, Provincial Grand Steward Chris Brown, along with Lancaster Group Vice Chairman Scott Devine and group secretary Chris Larder.
The chapter was opened by first principal Allan Finney, second principal Carl Horrax and third principal Mike Craddock. On completion of chapter business, Allan requested David Liptrott to act as installing scribe Nehemiah. Provincial Grand Director of Ceremonies David Thomas was admitted and announced that the Grand Superintendent demanded admission, accompanied by grand and acting Provincial grand officers. Tony greeted the three principals, after which director of ceremonies Keith Lamb proceeded to present for installation Paul Thompson as third principal. Mike Craddock as second principal and Carl Horrax as first principal.
The robe addresses were given by Nigel Norris for the third principal, Dave Shaw for the second principal and Ray Griffiths for the first principal.
Allan presented the chapter charter to Carl who then presented him with his immediate past first principal's collar and jewel. A £400 cheque for the West Lancashire Freemasons' Charity was presented to Tony by Allan Finney.
The occasion was the fourth time that Allan Finney had been first principal in Sandylands Chapter, having remained in post since 2019 during the pandemic and was first installed in 2014. Allan has now been first principle a total of eight times in two chapters.
Scribe Ezra Stewart McVernon, who had recently celebrated 50 years as a Freemason, had decided to stand down after 17 years and handed over to Nick Baxter. Stewart agreed to take on the role as assistant scribe Ezra. Tony thanked Stewart for his long and dedicated service.