Fortitude Chapter No 281 held its 2022 installation convocation in December attended by Michael Threlfall Second Provincial Grand Principal representing the Grand Superintendent Mark Matthews. He was accompanied by Assistant to the Provincial Grand Principals Barrie Crossley and Provincial Grand Director of Ceremonies David Thomas with Lancaster Group Vice Chairman Scott Devine and Provincial Grand Steward Ken Needham.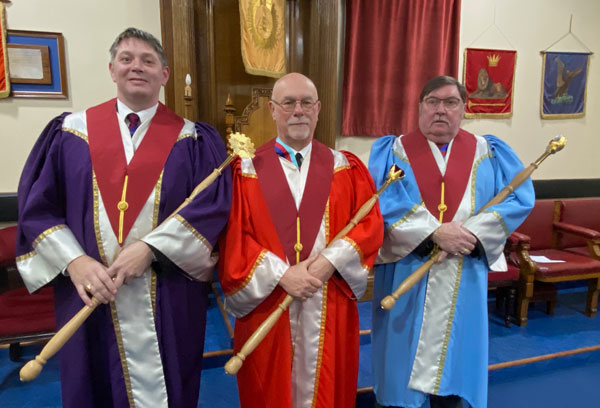 The ceremony was conducted by director of ceremonies David Moss. Malcolm Morrison was invited to act as installing scribe Nehemiah. David Grant was installed as third principal; Stewart Aimson was installed as second principal and Richard Parker was installed as first principal.
There were no robe addresses as all three principals had previously served as first principals in the chapter. A cheque for £200 for the West Lancashire Freemasons' Charity was presented to Michael Threlfall by immediate past first principal Paul Dent.
23 companions dined at the festive board and the raffle raised £80. The toast to the first principal was given by Scribe Ezra Anthony Gregg.
First principal Richard Parker was born at Queen Victoria Hospital in Morecambe in June 1957and is a 'sand grown un'! He attended Poulton-le-Sands Primary School in Morecambe and Ripley St Thomas Church of England Secondary School in Lancaster.
Richard began his working life as an apprentice joiner for Lancaster City Council in 1972 but left to join the British Army in 1975 where he served for 22 years in the Corps of Royal Engineers, retiring in 1997 with the rank of Warrant Officer Class 2.
On leaving the army, Richard worked as a lecturer at Lancaster and Morecambe College and later joined Lancashire County Council in 2004 as a health and safety officer. He took voluntary redundancy from the Council in 2012 and established Bay Safe Limited, a health and safety consultancy and training company as the managing director.
Richard is married to Mandy and has two boys from my first marriage. He is a grandad and a great grandad who currently lives in Bolton-le-Sands. His hobbies include reading, Freemasonry, walking his two miniature Schnauzer dogs and DIY.
Richard was initiated at Brigantes Lodge No 9734 on 2 June 2001 and was raised on 15 June 2002. He served in all offices of his Craft lodge and became the WM on1 March 2008. He was exalted at the Chapter of Fortitude on 3 February 2004 and became the first Principal in 2011. This is the second time he has been first principal. He was given his first Provincial Chapter appointment as Past Provincial Assistant Grand Scribe Ezra on 11 October 2018.
Richard had to resign from Brigantes Lodge due to the business commitments but hopes to rejoin at some point in the future. He is currently a member of Plantagenet Lodge of Installed Masters No 9357.