With the easing of the COVID restrictions it has allowed for happier times and long-awaited family visits across the country. This made the time appropriate for the presentation of a 50th celebration certificate to Neil Kennedy of Childwall Lodge No 5235, which happily fell on the occasion of his 92nd birthday.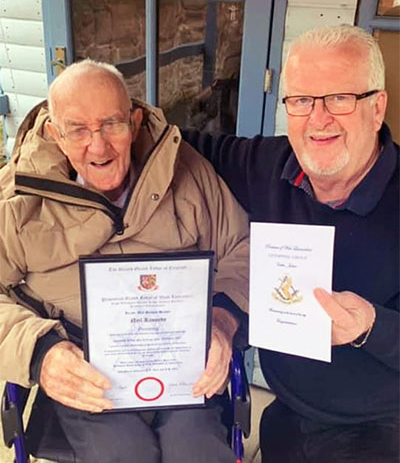 Neil was proposed into Childwall Lodge on Thursday 26 November 1970 by Ivor Sandham and Chris Millward, and was initiated on Thursday 25 February 1971. He was passed as a fellow craft on Thursday 25 March 1971 and raised to a master Mason on Thursday 22 April 1971.
Over his subsequent 50 years in Masonry, he has held many offices, including being installed into the chair of King Solomon on two occasions, the first in 1981 and then again in 1996. He has during this time always been a mainstay in Childwall Lodge from being chaplain, charity steward, almoner and assistant director of ceremonies, as well as proving more than able in performing many of the positions on the floor when required.
His enthusiasm and dedication were justly recognised with his appointment to the Provincial Grand Lodge of West Lancashire in 1992 as Past Provincial Assistant Grand Superintendent of Works. This was followed by promotion for Neil in 2003 to Past Provincial Senior Grand Deacon, achieving a further promotion in 2014 to Past Provincial Grand Superintendent of Works. Neil has been valued so much over the years that the members of Childwall Lodge bestowed upon him the accolade of making him a very well-deserved honorary member of his lodge. In Royal Arch Masonry, he was a valued member of Abercromby Chapter No 3699, being exalted in 2008, and only resigned in 2017 due to his health and the advancing years.
It was with great delight that Neil received his golden jubilee certificate celebrating his 50 years in Freemasonry at the care home in which he now resides.  Making it a doubly special event was the fact it was his 92nd birthday and his family, for the first time in a very long time, were able to visit him. Of great significance was that it was his son-in-law Mark Connell who carried out the presentation as WM of Childwall Lodge with the rest of Neil's immediate family in attendance.
Due to the restrictions being place, Assistant Provincial Grand Master Mark Matthews, along with Liverpool Group Chairman Dave Johnson were obviously unable to attend, much to their disappointment.  They sent a signed card on behalf of the group and to wish Neil all the very best for his birthday and achieving 50 years in Masonry, as well as thanking him for all his hard work for Childwall Lodge over those years.